The Mission of the Infantry
An infantry soldier is trained in combat skills and arms forming the backbone of any
modern military capability. The infantry is the main land combat force. They are
responsible for defending our country against any threat by land, as well as capturing,
destroying and repelling enemy ground forces.

History of the Infantry
The Infantry is the oldest branch in the Army. On June 14, 1775, the Continental Congress authorized ten companies of riflemen from Pennsylvania, Maryland, Virginia, to be marched quickly to Boston to be placed under the command of General George Washington. By December 1775, 49 Infantry Battalions (Regiments) had been raised. The oldest Regular Army Infantry Regiment, the 3rd Infantry, was constituted on 3 June 1784 as the First American Regiment. Fighting on foot and relying mostly on the individual soldier bearing small arms, the Infantry has been and continues to be the lynchpin for all American forces on the battlefield – from Boston to the deserts of Iraq and mountains of Afghanistan. The Infantry makes up about 15 percent of the Army.
Motto: Follow Me.
Authors Who Served in the Infantry
---
Patron: St. Maurice
Color: Blue
Recognition: The Order of St. Maurice recognizes Infantrymen and those who have served and supported the Infantry community contributing with the highest standards of integrity, moral character, professional competence and dedication to duty with distinction.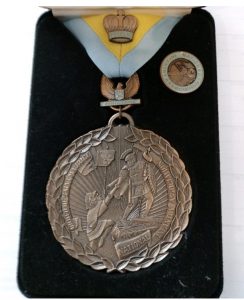 Infantry Notables: Sergeant Audie Murphy: Most decorated US soldier in WWII
Robert Foley Medal of Honor winner in Vietnam (mentioned in Unexpected Influence by Eric Robyn) (Notables suggestions courtesy of Bob St. Onge).