The Mission of the Field Artillery
The Field Artillery is one of the Army's combat arms, traditionally one of the three major branches (with Infantry and Armor). The mission of the field artillery is to destroy, neutralize, or suppress the enemy by cannon, rocket, and missile fire and to help integrate all fire support assets into combined arms operations. Artillery Soldiers are responsible for surveillance, target acquisition, and indirect fire to engage the enemy.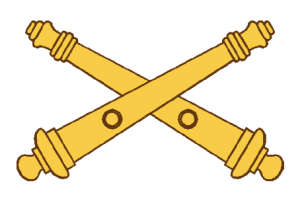 History of the Field Artillery
The United States Field Artillery began in 1775, when Henry Knox was appointed Chief of Artillery of the Continental Army. During the War of Independence, the Field Artillery evolved into a formidable entity on the battlefield, prompting General Marquis de Lafayette to remark at the Battle of Yorktown, "Upon my honor I speak the truth. American Artillery — one of the wonders of the Revolution." During the Civil War, Field Artillery officers became known as "Redlegs" because of the red stripe down the leg of their uniform pants.
Motto: King of Battle.
Authors Who Served in the Field Artillery
---
Patron: St. Barbara
Color: Scarlet
Recognition: Order of St. Barbara
The Honorable Order of Saint Barbara is awarded to those Air Defense Artillerymen who have "demonstrated the highest standards of integrity and moral character, displayed an outstanding degree of professional competence, served the Artillery with selflessness; and contributed to the promotion of the Artillery branch."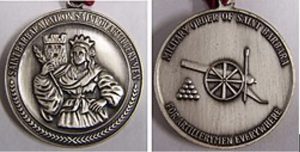 Notables: Henry Knox, Harry S. Truman, John Shalikashvili
The Artillery Order of Molly Pitcher is bestowed on women who have voluntarily contributed in a significant way to the improvement of the U.S. Field Artillery community. The award commemorates Molly Pitcher who distinguished herself in help for the Colonial Field Artillery during the Revolutionary War.