The Mission of the Finance Corps
The United States Army Finance Corps is a combat service support branch. The
Finance Corps funds operations, provides commercial vendor and contract payments,
provides pay and disbursing, banking, currency, and limited accounting services.

History of the Finance Corps
The first paymaster for the U.S. Army was James Warren, a civilian; he was appointed in July 1775 soon after the Pay Department was established in June 1775. The Finance Department began in 1920 under MG Herbert Lord. During the Great Depression, not only did the Finance Department have the responsibility to pay the Army, it was directed by President Franklin Roosevelt to administer the Civilian Conservation Corps. In 1946, the Army Finance Center was established in St. Louis in an old munitions factory, but was moved to Ft. Benjamin Harrison, Indiana by MG Emmett J. Bean because when the Korean War began the munitions factory was needed for the war effort. In 1950, the Finance Department became the Finance Corps. It is the smallest branch of the Army.
Motto: To Support & Serve.
Patron: St. Matthew
Color: Silver Gray and Golden Yellow
Recognition: BG Robert C. Goetz Medallion is awarded to those individuals who have shown unparalleled strategic vision and leadership in the Finance Corps. This individual must leave an indelible mark on the Finance Corps.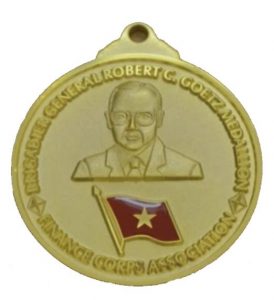 Finance Corps Notables: MG Nathan Towson, LTC Lewis L. Hawkins