Every five years, the members of the West Point Class of 1969 meet to reminisce about the years since their graduation, to greet old friends, and to remember members of the class who had passed into the unseen Long Gray Line in the preceding years. Their wives, Class widows and sometimes family members join them. Classmates arrive in New York from all parts of the world by the usual modes of transportation – bus, train, airplane, cars. However, in 2014, several grads and their wives arrived in a unique way: they pedaled across the USA on their bicycles from San Francisco to West Point. The editors of thedaysforward wanted to know more about this amazing feat, so we interviewed Rose and Tom Ramos about their incredible journey. Enjoy! Editors
How did the idea to bike all across the country from CA to the Class reunion come up?
Answer: Rose had completed a cross-country bike ride with two women in 2005, that's how I first knew about her, and I thought it would be quite an adventure to do another cross country ride, this time with classmates, to go to a class reunion. I asked Rose if she'd like to do another cross-country bike ride, and she looked at me and said, "Okay."
What preparations did you have to make?
Answer: Both of us have an ethic of working out daily, so we kept to our normal workout routines. (For instance, mine was a thirteen-and-a-half-mile daily bike ride into the Altamount Hills at noon. Rose did daily workouts at a local athletic club supplemented with bike rides with other women.) One year before the start date for the reunion cross-country ride, Rose decided we needed to augment our routines, so we signed up to do five or six "century rides" around northern California. A century is an organized bike ride with about a thousand riders, they take place on weekends and provide a lunch, and they usually come in two varieties, a hundred kilometers and/or a hundred miles. Our favorite was "America's Most Beautiful Ride," which is a seventy-two-mile ride around Lake Tahoe, and it occurs each year on the first Sunday in June.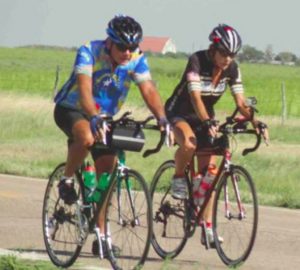 What was your favorite part of the ride?
Answer: This is rough to answer, because each part of the country had so much to offer. I like Rose's attitude that each day is an adventure to see new things – and that's what it was like. Scenery-wise, I loved bicycling across the Sierra Mountains. We went over Donner Pass and looked down on Lake Tahoe – and we got to rest at our cabin in the Pine forests of Truckee, California for two days. Cycling through the national parks in southern Utah was spectacular, and I remember one day leaving Capitol Reef Park and cycling along a river canyon eyeing Indian petroglyphs on cliffs along the way.
Crossing the Wasatch Mountains of Utah and the Rockies in Colorado offered more spectacular views. One day we were climbing up a mountain in eastern Utah; we were going at a steady three or four miles an hour, and I heard loud mooing coming out of a pasture. It was a cow protecting her calf from a large coyote that was snapping at the calf for a meal. Three other cows came up and chased away the coyote. As I was watching, there must have been twenty or thirty cars passing by, and I'm sure they all missed seeing this dramatic scene. That's the difference between driving across the country in a car and cycling across. You see much more while cycling, and you get to talk to people. In the East, we got to see in Kentucky how tobacco is grown and processed. Got to see bourbon country. Cycled the entire length of the Blue Ridge and Shenandoah Skyline Parkways. Some our best experiences though, were when we met and stayed with classmates and their families. We'll talk about that in a later question.
What was the hardest part of the trip?
Answer: For me, it was the day we had to cycle through an area where signs along the road said it was the "Desolation Wilderness." We had left Capitol Reef Park, entered into the desert, and had to take a detour south to a bridge that crossed the Colorado River to end up for the night at Hite Ranger Station. We misjudged our water supply and I remember drinking lots of water from our water bottles, and we ran out of water with ten miles still to go. When we reached the ranger station, we were parched for water; we drank from a fountain, but the ranger told us we couldn't take a shower. What a welcome! In Kansas, daytime temperatures reached 104 degrees, and I had to keep adjusting my rear-view mirror that was hooked to my sunglasses. The heat had melted the plastic arm holding the small mirror! And I didn't particularly like going through Hardin County, Kentucky and into Virginia. It seemed like everyone along the road owned a dog, they let the dogs roam free, and one dog snapped at Rose's leg. And there were Confederate battle flags hanging everywhere.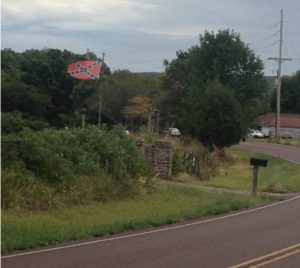 Was there Class participation on the trip as you traveled?
Answer: When I asked the class if anyone was interested in joining Rose and I on the bike ride, the first response came from Paul Ireland. Paul and I spent two years plotting out the route for the ride, and Paul even did a route reconnaissance in his car across the entire country the summer before our ride. Three months before we were to depart, Paul had a heart attack and left us, devastating us. John and Nell McBeth stepped up and offered to join the ride with their home RV, with Nell and John alternating days to cycle with us. Phil Clark and Tom Smith volunteered to join the ride, and Tommy came on and off through the country, while Phil stayed with us from San Francisco to Colorado. Some of the best highlights of the trip were meeting classmates and their families along the way. In Colorado, I got an email from Tommy Venard that we had to stay at his home in Gunnison.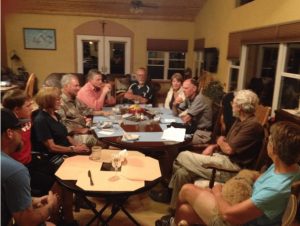 When we arrived, Tommy greeted us with cold beers in an ice chest. Polly Venard was gorgeous – she prepared a feast for us the night we arrived and we spent a wonderful evening with the whole Venard clan. Polly suffers from MS, so Tommy refurbished their home so almost every shelf can be reached from a wheelchair. It was so obvious how much he loved her. Johnny Peters and Mary Kay held a grand reunion for us when we reached their home in Pueblo – about five or six classmates showed up. Mary Kay set up signs on the streets of Pueblo to lead us to their home. Doug Fitzgerald joined us on his bike for a day – it was a one-hundred-mile day. Joe McCarville and Diane arranged for the local American Legion post motorcyclists to escort us into Hutchison, Kansas; people lined the streets to watch us parade into town. Joe and Larry Archer joined in the parade on their bicycles. Then, we enjoyed a dinner with a band of classmates, many of whom traveled hours to meet us. Jim Cox drove all the way from Texas to meet us in Kansas; he arrived with a bottle of Scotch and a band of cigars. Jim told us he spent a day at a shopping mall first to buy the Scotch and then to find some cigars whose flavor matched the liquor. Jim drove his Mustang along a road at five miles an hour to act as a windbreak against the wind, and that night, we sat down outside our motel and had a "mid-country" celebration as we smoked cigars and drank Scotch. In Illinois, Suzanne Rice (https://thedaysforward.com/suzanne-rice/ and her sister Stephanie traveled from Georgia to meet us in Carbondale. They presented us with a basket of fruit and goodies and we had a wonderful dinner together.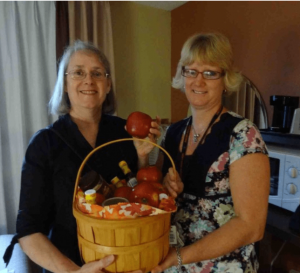 Next, we were met by Karl Ivey (https://thedaysforward.com/karl-ivey/ ), who escorted us through Illinois and all the way to the Ohio River – and found us a wonderful rental home to stay in during a thunderstorm.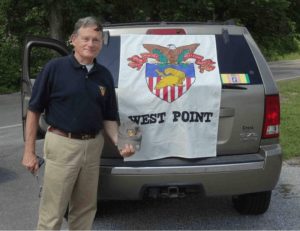 As we passed into Kentucky, we were joined for a day by Bill Ryneasrson and Terry Strickler. Bill cycled forty miles with us and escorted us through Bourbon country before putting us up at his daughter's home. While in Kentucky, Carl Oborski drove fifty miles from his home to have dinner with us. A few days later, Beast Squad mate Bob Setzer and Gail drove from Dayton, Ohio to escort us through Kentucky for two solid days. Gail met us every ten miles or so in her car and kept us supplied with fruits and goodies. Passing into Virginia, Red Taylor and Sharon put us up for a night in their home and Red took us on a VIP tour of VMI, and we spent and evening with Casey Brower. The next night Guy Miller (https://thedaysforward.com/guy-miller/ ) and Noreen offered us their home. Then, we descended on Phil and Claudia Clark (https://thedaysforward.com/claudia-clark/) at their home where they put us up for four days and hosted a reunion with all sorts of classmates.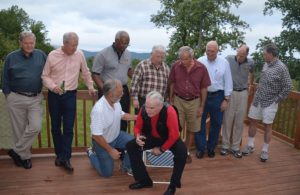 What great hosts they were. Mike Allen joined us for the rest of the bike ride to West Point. In Pennsylvania, John Lagere joined us for a day of cycling, and Bobby Jannerone (https://thedaysforward.com/bob-jannarone/) and Linda arranged for their local chapter of the American Legion to host us for a wonderful dinner.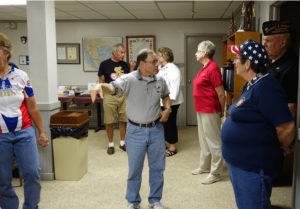 Bob and Holly Kimmitt met us at the Antietam Battle Site and Holly joined us for the ride to Gettysburg.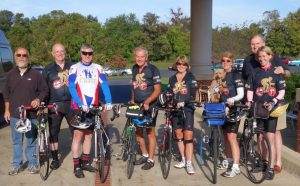 A covey of classmates arrived, and Larry Swesey gave us all a wonderful tour of the battlefield. Joe Casillo joined the bike ride for two days through Pennsylvania. And Dave Metzler and Mary Theresa offered us their home along with Bob Jenkins and Terry, and we all met at John Leone's home for dinner. Next stop, Mike Collacico and Gayle met us at Camp Buckner and helped us get escorted in through Washington Gate.
Set the scene with the clowns.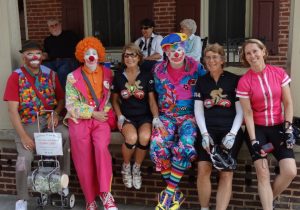 Answer: That photo with the clowns was taken at a small town outside of Gettysburg, Pennsylvania, it was an apple festival, and the clowns were members of a local charity group who had volunteered to be escorts at the festival.
How long did it take to ride across the entire USA?
Answer: It took us two months to cross the country. At a few points along the trip, we took one- or two-day rest breaks – we took a rest break every ten days or so. We averaged cycling 65 miles a day, each day we cycled. It was a surprise that we should keep to that pace, but I found that the morning after a 65-mile day, my body felt fine, and I looked forward to having new adventures.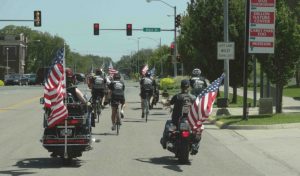 For further information on Rose and Tom's amazing adventure, you can read their blog written along the way: https://gatetopoint.tumblr.com/