Born in post-World War II Japan as the sons of a Battalion Commander in the 11th Airborne Division, Karl and Glen Ivey hold an unusual distinction – the 13th set of twins that have graduated from USMA (the ninth set that graduated together).
Karl and Glen, had been inseparable for 18 years before their admission to West Point. As Cadets, they often enjoyed fooling upperclassmen, classmates and even dates as to which was which.
After graduation, both chose Airborne Ranger with Glen going to parachute duty in Panama and Karl went to the 82nd Airborne Division. Karl then served with the 173d Airborne Brigade in VietNam and Glen followed him to VietNam with assignments to the 1st Cavalry Divisioin and then as an Advisor to the Vietnamese Airborne Division. Glen was killed on 6 May 1972 when his firebase was over-run after Glen's Vietnamese parachute unit had previously escorted civilians, military and political leaders from an isolated provincial capital to safety.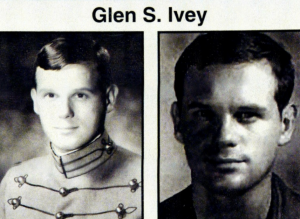 Karl returned to the Army in further Airborne assignments after finishing law school and was the first serving military Judge Advocate General (JAG), of any service to be awarded the Marine Corps' Gold Parachutist Wings. He returned in 1989 to be near his parents in Fulton, Kentucky where he took over his father's law practice.
Karl recently closed his one-horse law firm in his one-stoplight town in West Kentucky. He now delights in telling all that he is a "recovering attorney".  As expected, Karl may occasionally be caught following Sally's directives as they make the move to their retirement home to another one-stoplight town in West Florida.
If any of you see someone looking like The Clampett's of The Beverly Hillbillies driving down I-65 South of Nashville, it probably is Karl and Sally, so wave, laugh and enjoy the visuals…..