"You have the right knee of a 60-year-old man!"
The year was 1995 and I was 48 years old.
The Army doctor conducting my retirement physical was surprised when I replied: "Thank God, that is great news … my knee has gotten younger in the last 18 years!" I then told her sincerely how much I appreciated Army doctors over 26-plus years of active duty service. And I meant every word!
When I was a cadet in 1967, Dr. (then-Major) John Feagin (USMA Class of 1955) operated on my right knee, injured during intramurals. **
**Note: Intramurals (or company athletics) was heavily emphasized by Douglas MacArthur's arrival as West Point Superintendent in 1919, in order to provide competitive athletic experiences for every cadet in a wide variety of sports. The most gifted cadet athletes competed on Corps Squad (intercollegiate) teams, but the rest of us were assigned to a new sports team every quarter with our company-mates. "Every cadet an athlete" is more than just a cliché!
That day in January as I lay flat on my back under local anesthesia, he cheerfully explained the new procedure being used. He was drilling numerous small holes on the back side of my kneecap to encourage cartilage growth. His continuous "step-by-step" description was informative and obviously meant to distract me from the nerve-wracking sound of the electric drill at work. Success was in his results. He got me up and running (literally) in relatively short order.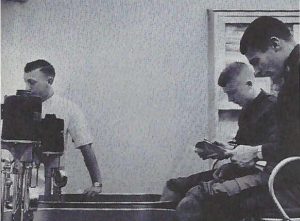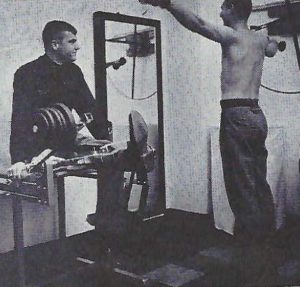 When I graduated in 1969, I left West Point fully qualified medically for Airborne, Ranger and all the other physically demanding activities required of young officers, including combat duty in Vietnam, and more than 2 years of battery-level command of troops.
In 1976 I returned to West Point as a Tactical Officer and re-injured the same knee playing squash. Once again, I went under the knife, this time by the hand of Dr. (Major) Gordon Kimball. During surgery on that cold January day in 1977, I heard a familiar voice from 10 years earlier. Colonel Feagin, then the USMA Hospital Commander, took time to stop by and check up on me and my knee. Ever the caring physician, he told me he wanted to see how his work had held up after 10 years of ground-pounding abuse!
Although this second surgery was successful, my knee obviously was not up to what it once was able to do. An Army medical board reviewed my case and placed a permanent "profile" in my file, exempting me from running and other activities stressful to my knee. I was told at the age of 30 that I was walking on the knee of an 80-year old man! In spite of this pronouncement, I remained on active duty for another 18 years.
Fast forward to 2004. I had one more encounter with Dr. Feagin. He had just been named the worthy recipient of the USMA Distinguished Graduate Award, so I decided to drop him a congratulatory note. Considering the intervening years, I referred to having been one of his "old patients he had probably long forgotten." After all, how many knees had he seen over a career? Amazingly, he wrote me back. He not only remembered me but said he had recently been reviewing my case file! Who would have guessed that old medical files provided reading material in retirement? Or that mine held any residual interest? But I appreciated his love for his profession and his thoughtfulness to reply to an old patient.
Now 25 years into the golden years of retirement, I am much older than my 60-year old knee. It is my left knee that now causes more pain! I guess at age 73 the arthritis is to be expected. Could be worse! To borrow (with a twist) the response Plebes were taught to recite about their first squad leaders: "Everything my right knee is – or ever hopes to be – I owe to John Feagin!"
One final shout out to Army docs involves the ever-recurring story of cadets and their knee injuries.
Our son Paul (USMA Class of 1992) while a yearling (sophomore), was engaged in barracks horseplay, twisting his knee. Fellow classmate and former fellow field artilleryman, Bruce Wheeler (https://thedaysforward.com/colonel-bruce-wheeler/) called very early one morning to my quarters at Ft. Sill where I was assigned as a battalion commander. As all commanders know, early morning calls seldom bring good news. Bruce, now the orthopedic surgeon assigned at Keller Army Hospital, anticipating my anxiety, greeted me, "Hey, Eric, don't worry, Paul is OK!" He then went on to explain the relevant details of this cadet mishap. Paul was in good hands. Thank you, Bruce, for following in the line of great docs who keep cadets and soldiers on their feet and running!
PS: Although I was not a Corps-Squad athlete, I learned over the years that many West Point athletes and graduates knew and loved Dr. Feagin. So, in memory of Colonel John Feagin, USA Retired (USMA 1955), here is an excerpt from his obituary of September 2019:
Dr. John Autry Feagin Jr. died peacefully at the age of 85 on September 1, 2019 at his home in Jackson Hole, WY, amid friends and family. Born on May 9, 1934, he was the son of the late COL John A. Feagin, Sr. and Katherine Terrell Feagin.
Dr. Feagin was a 1955 graduate of the United States Military Academy at West Point. Following two years as an Army artillery officer, he was offered admission to the Duke University School of Medicine and was the first West Point graduate to attend medical school while on active duty.
… He served as an orthopedic surgeon in Vietnam 1966-67 with the 85th Evacuation Hospital in Qui Nhon … returned to West Point and served as an orthopedic surgeon at Keller Army Hospital and team physician for the Army athletic teams from 1967-72
… He retired from the Army as a Colonel in 1979 after a final assignment at West Point as the Commander of Keller Army Hospital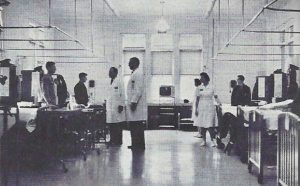 … practiced orthopedic surgery in Jackson, WY from 1979 to 1989. During this time he also served as team physician for U.S. Olympic teams and the U.S. Ski Team … he returned to Duke in 1989 as Associate Professor of Surgery and team physician for Duke Athletics, where he reunited with Head Men's Basketball Coach Mike Krzyzewski, who had been a basketball player at West Point when Dr. Feagin was team physician.
In 2009, the Feagin Leadership Program was established at Duke University to honor and build on Dr. Feagin's legacy of leadership in medicine, … mentoring the Feagin Scholars throughout the last ten years of his life.
Dr. Feagin was … president of the American Orthopedic Society for Sports Medicine (AOSSM) … His contributions were recognized through numerous awards including the United States Military Academy's Distinguished Graduate Award, and induction in to the Army Sports Hall of Fame and the AOSSM Hall of Fame.
Dr. Feagin humbly influenced an entire generation of orthopedic surgeons worldwide in ways that transformed the understanding and treatment of knee injuries. He was a founding member of both the Anterior Cruciate Ligament Study Group and the International Knee Documentation Committee. His book, The Crucial Ligaments, remains the standard text on ligamentous injuries of the knee. He was an exemplar of patient-centered, selfless leadership and his legacy lives on through the thousands of people he influenced for the better throughout his life.
He always tried to live the West Point Cadet Prayer: "Encourage us in our endeavor to live above the common level of life. Make us to choose the harder right instead of the easier wrong. … And grant us new ties of friendship and new opportunities of service."
**Photos courtesy of the Jack Engemann Collection at the University of Maryland, Baltimore County