FIRST DAY
The next morning, we deployed around the LZ. Our small, "air mobile" earth-moving equipment, ¾ ton dump trucks, jeeps, M450 bulldozers, D5 bulldozer, and scrapers were broken down for sling loading. We were also sharing the assault lift with an infantry battalion of the 5th Infantry Division (Mechanized). The pathfinders (forward troops who controlled our aircraft loading) were all set.
Then, as I guess happens in war, chaos takes over. The sky was cloudy at dawn and the largest group of slicks (Huey helicopters) I had ever seen approached the LZ. They landed but had their numbers in the windows all mixed up. My guys shouted, "what do we do?" and I answered get on one of the birds as they were supposedly all going to the same place. We jumped on with our enormous rucks and weapons and lifted off.
Khe Sanh was actually on a plateau and as we looked at the hundreds of choppers of all kinds in the air, we could see that a low cloud cover had just lifted enough to provide a "tunnel" up the main valley along QL9. Our pilot turned slightly north and landed on a hill top. I asked what was up and he told me he could not risk the congestion and would wait until things cleared a bit. He was right — the air traffic was unreal. We broke out some C-rations and ate lunch at about 0800. We finally got clearance and went to Khe Sanh. I later found out that the XO (Executive Officer) had made it through and had listed our birds as "missing in action" for a while. I thought that news had better not get to Mary Ellen before it was corrected.
We landed on the old matted air-strip and jumped out. One of my NCOs, SSG Vance, was a short stocky guy and fell over on his back. The ruck was so heavy he could not right himself and was flailing around like a turtle. One of his guys was yelling "they got Sarge." I recognized no rounds were heard and shouted, "He's OK, help him up!"
We secured our area and met with the XO. The old Marine matted airfield was full of holes and had a destroyed sub-grade material base under matting which was the result of NVA bombardment in 1968. Using it for C130 landings would require taking it up and completely rebuilding it. It would become our air cavalry squadron's helicopter landing area. The decision was made to build a new strip parallel and just south. We started to try to clear through the elephant grass and along the road using detectors looking for the "booby traps" – none were found. We did see some infantry guys loose legs to the Marine mines – nobody apparently had a map or location (which was doctrine in the Army) and the mines seemed to be all around.
The opening of QL9 was taking more time than planned. So, I was told we would work back toward our other platoons. We gathered our jeep and some ¾ ton dump trucks and assembled a D5 bulldozer. We started down the road from Khe Sanh to QL9. We decided to drop the rucksacks and take ammo, detectors, and weapons only. The sweep along the dirt road was too slow. The shrapnel in the ground from all the previous fighting gave readings every few feet – but contrary to our intelligence briefing we found no booby traps, nor did we encounter any NVA. I decided we had to do a "visual" sweep and get moving. The road was slightly overgrown but could be seen. I mounted the front of the jeep, my legs dangling over the grill, and told my driver, SP4 Martin (a great 19-year-old kid) to move out and stop immediately if I yelled. If I missed something, he would never know it, anyway. We made progress.
Just about dark we hit the intersection of the main road and LTC Rodolph landed in his LOH (Light Observation Helicopter). He told me the other platoons had put in the bridges and had approached the last site (bridge #36) before Khe Sanh some kilometers from my location. I needed to get there that night – in other words perform a night mine sweep and road repair in the dark through what may be an enemy infiltrated area. We would be on our own as there was no infantry support available. He said he would like to be with us on our endeavor but that division "needed him in Quang Tri" that night. He took off as the sun set. My platoon sergeant rendered his LOH a single finger salute as he flew away.
The road was an old French hard surface, probably a mixed bituminous treatment and overgrown, but findable. We set the D5 bulldozer to the front behind a couple of point troops to mark the way. The D5 had a light and we had the jeep and two ¾ ton dump trucks. The mufflers were off the trucks, so they sounded quite noisy. We certainly would sound intimidating as we moved along. At this point we really did not believe the bobby trap threat although our other platoon working farther east had taken a casualty from mines on the road.
We started off to make our link up. It was a sight — all our guys (about 35) chugging along behind the bulldozer and trucks making as much noise as possible. We probably sounded like an armor outfit. We hit some snags when we came to a spot that had been pulverized, probably in 1968, by B52 500lb bombs. The craters were quite large, and we had to snake a route around them.
(I witnessed only one such B52 raid in country. They were called "Arc Lights" and we had to be at least 4 kilometers from the target. You never heard the planes which flew from as far away as Guam, or the falling bombs. The ridge would simply erupt with explosions and you could see the condensing of the air from the shock waves around the explosion. It was said that if the NVA survived many were found dazed and bleeding from the ears.)
We then came to a spot where a number of folks were running around in the dark shouting in Vietnamese. We kept moving forward, they ran, and not a shot was fired! We speculated they were probably NVA support troops as there were not supposed to be any ARVN in the area yet.
Finally, we were moving downhill to the last bridge site. On the hill above, fires were burning from earlier air attacks and we heard what sounded like weapon discharge. We kept moving. I was in contact with John and Steve by radio and they were dug in along the road on the other side of the river. At this point Steve had only a few guys as many had dropped off at the other bridge sites. The old French bridge abutments were way too far apart for our helicopter- delivered bridge frame. We needed to blow some rock with demo charges to create abutments and use the bulldozer to cut a bypass to drop the bridge frame on. Steve and John had the panels to fill it out. We decided that placing charges in the dark and trying to survey the needed work was not a smart thing. My guys were exhausted, and we were concerned that whomever we had "met" along the way or was on the hill above might give us a problem. We made a one rope river crossing ala Ranger School and took refuge behind their positions and got a couple hours rest. We reported our link-up to battalion headquarters.
SECOND DAY
Just before first light, we re-crossed the river, secured our stuff, and planted the charges and cut the bypass. We blew the rock, used the bulldozer to help complete the makeshift abutments, and we called for the bridge. It had to be dropped in by a CH 54 crane.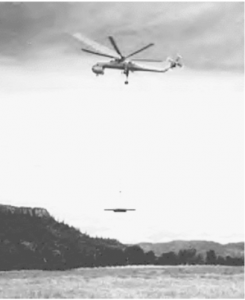 I sent the bulldozer and the bulk of the platoon back along our route to fix the B52-cratered area so the tracks could pass. The path we used in the dark was quite serpentine.
About this time a slick (Huey helicopter) carrying a one-star general of the 5th Infantry Division (Mechanized) landed on the abutment. He was furious. His column was strung out and stopped all along QL 9 back to Quang Tri he said. When were we 101st Airborne Division idiots going to get the damn bridge completed? At this moment the crane with the bridge, accompanied by two cobra gunships, was orbiting the site awaiting clearance to bring the frame in. I kind of lost it and told him "Sir, as soon as we get that f*%$kin bird out of the way." He glared, asked my name, and got in his chopper.
The bridge went in and Steve's and John's troops began filling the frame. I scrambled to catch up to my guys. We fixed the road at the cratered site as best we could and welcomed the first Mechanized Infantry vehicles as they came up the road. They had signs proclaiming to be the First to Khe Sanh – my guys took issue with the claim.
We returned to Khe Sanh and started the airbase construction phase. It was quite a couple of first days of the operation. Some of us would later get the Bronze Star with a "V" (for valor) as well as a Vietnamese Cross of Gallantry with Silver Star for the events of these days.