By Suzanne Rice wife of COL Bill Rice, 1-84 Field Artillery, Ft. Lewis, Washington
     Yellowstone National Park is on fire!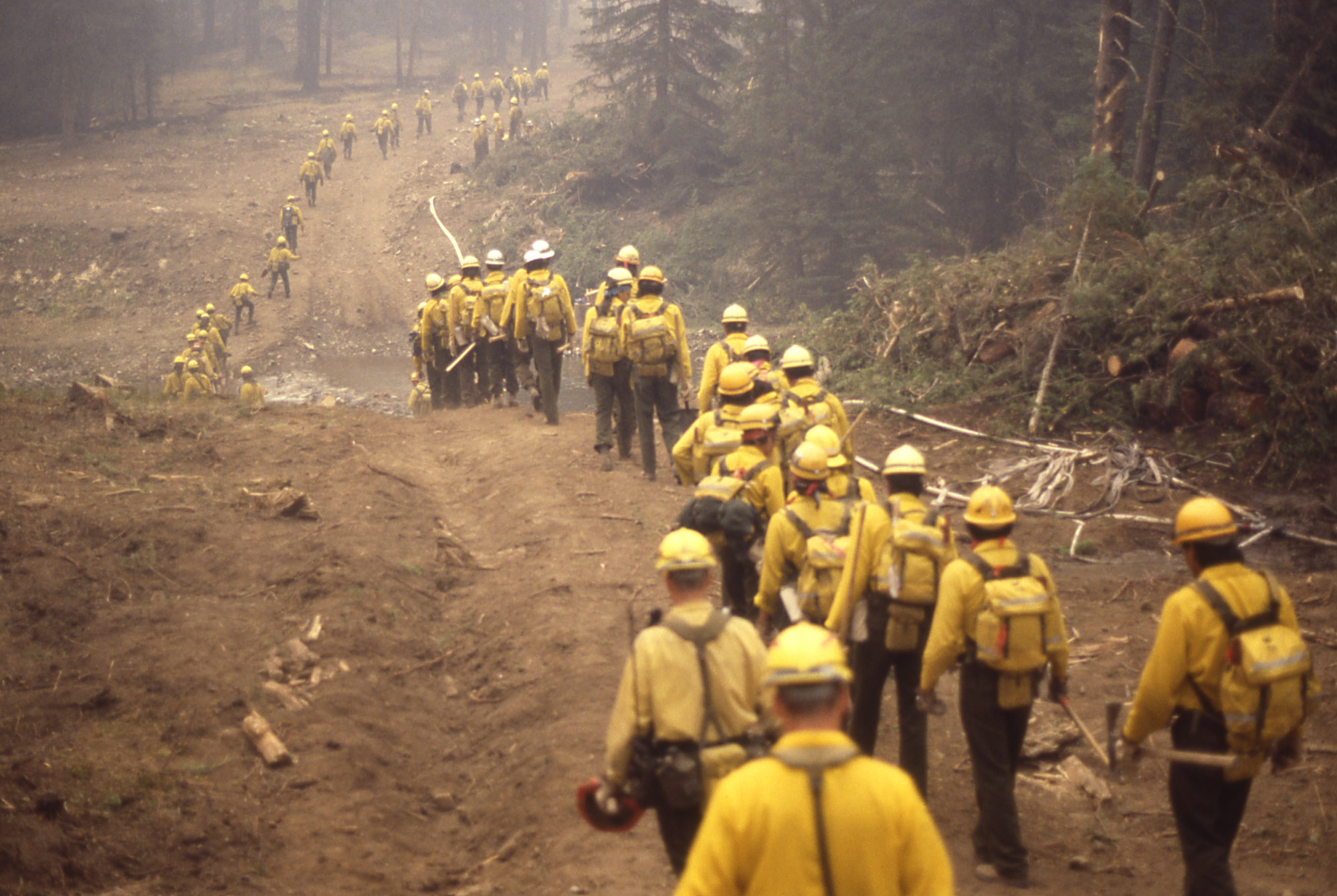 In the 1940's, fire, like disease, insect infestation, and weather damage, was considered a normal agent of change for the forests in the United States. In the 1950's and the 1960's, the Forest Service began to experiment with controlled burns to rid the forests of underbrush and dead trees in the national forests. By the 1970's, Yellowstone Park itself had instituted a fire management plan – in part, they believed that lightning-caused fires could be allowed to continue to burn. This plan was devised because many species living in the park are fire-adapted. The Lodgepole pines which make up 80 percent of the park's forests have cones that are sealed by resin until the heat of fire cracks them and releases the seeds inside. Fire also regenerates sagebrush, aspen and willows and although the above ground parts of grasses and wildflowers (forbs) are destroyed by flames, the root systems remain unharmed. Some of these native plants even increase after fires. Between 1972 and 1987, 235 fires were allowed to burn with only 15 of these fires burning more than 100 acres and all were extinguished by natural conditions.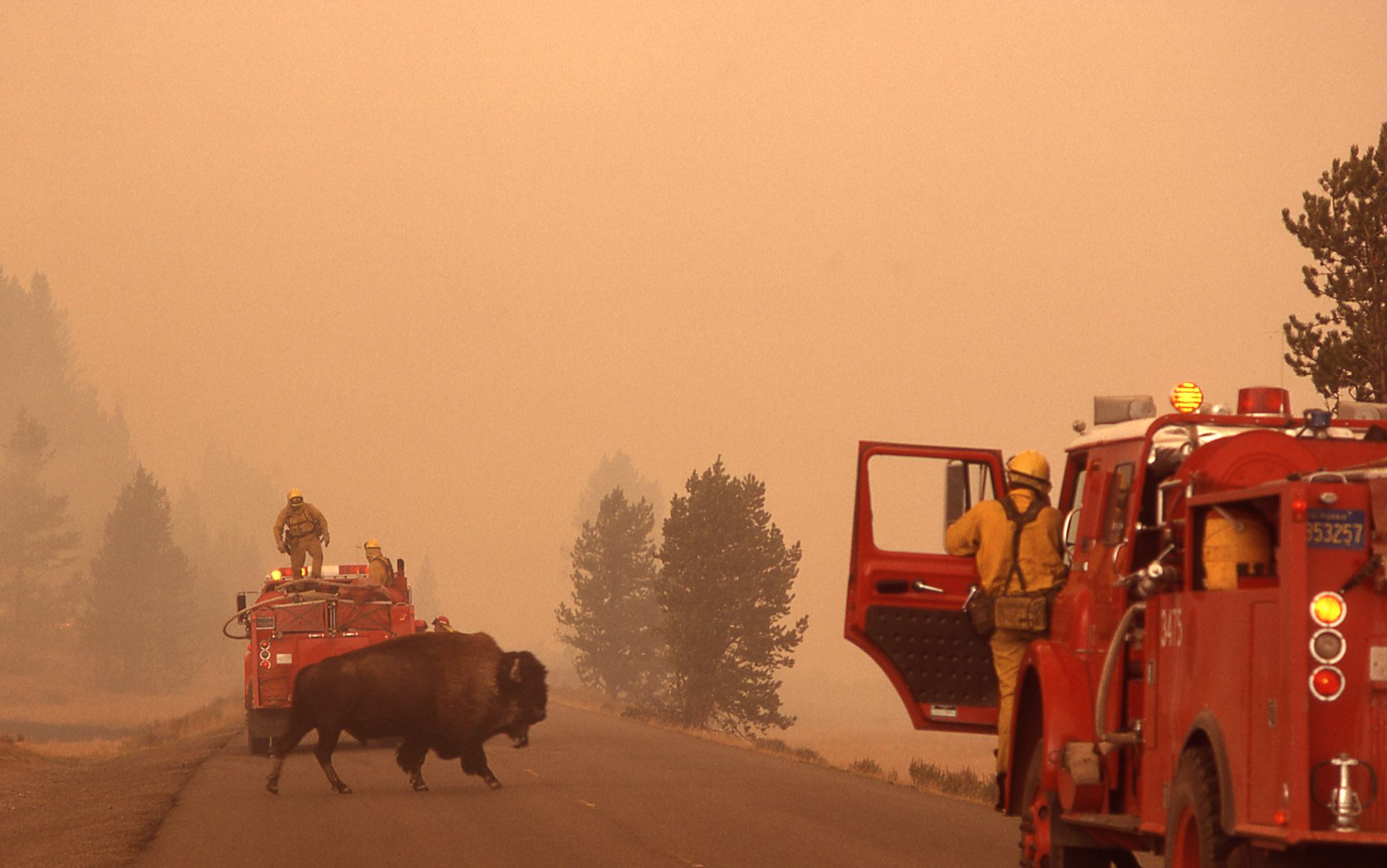 The weather conditions from 1982-1987 were wetter than normal, so this plan was well received by visitors to the Park and from those living nearby. The months of early 1988 seemed to be continuing the same weather pattern until June, when a severe drought began. That summer became the driest on record in Yellowstone National Park and in June a fire began at Storm Creek. By July 15, the smoke from additional fires had become noticeable to visitors and in only a week 150,000 acres were burning. Park facilities and roads were closed to the public and residents of nearby towns outside the park were fearful of destruction to their property.
Call in the Army! For several months brave civilian firefighters fought the fires, but as the 253 fires were fed and spread by hot weather and gusty winds throughout June and July, it was clear that these heroic firefighters were coming to the point of exhaustion. Soldiers from Fort Lewis, Washington were called to service. The soldiers were given several weeks of fire training and then shipped off to Yellowstone to help. Many of these were soldiers in the Ninth Infantry Division Artillery.
As the Battalion Commander of the First Battalion, 84th Field Artillery (LAR – the only Light Artillery and Rocket Battalion in the U.S. Army), Bill went to Yellowstone several times in August to learn about where and how his Battalion would be used to help fight the fires that had been raging in Yellowstone all summer. At Ft. Lewis before going to Yellowstone, along with his soldiers, he received detailed instruction on how to successfully assist in fighting the fires and to be able to protect themselves from injury. His battalion was scheduled to leave Ft. Lewis for Yellowstone Park on 12 September to replace members of another Field Artillery Battalion.
In life, as the old saying goes, timing is everything. Much to the relief of the families of 1-84 FA, an amazing thing happened on 11 September 1988: two inches of snow fell in Yellowstone Park! That snow stopped the fires and the soldiers of 1-84 FA, who had finished their fire training, had their duffle bags packed and were ready to board planes for Yellowstone Park, were told to stay home! What a blessing for Yellowstone Park, for the residents of nearby towns, for visitors to the park and especially for the exhausted firefighters who had been on the fire line for so many months. Between June and September 1988, almost one third of Yellowstone National Park had burned. Many firefighters and soldiers from Ft. Lewis fought to keep the fires under control. American soldiers can never be sure how they will be asked to serve our country, but they are always ready to do whatever they are asked when our nation calls.