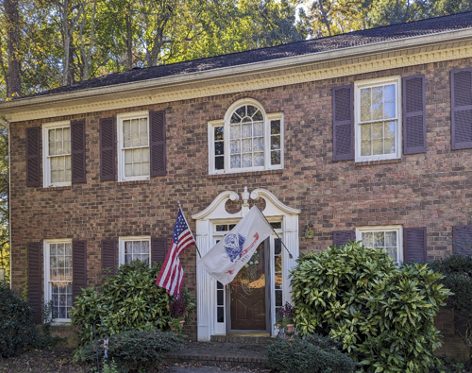 To read part 1, go here first.
November 12, 2016 Near Atlanta, GA
A friend's husband was going to be out of town, and she asked me to spend the weekend with her. We had been friends for several decades and it was a chance for us to have some quality time together. I was delighted to have the opportunity. I was at her house when I woke up on Saturday, 12 November 2016. Our son, Christopher, had been stationed at Bagram Air Force Base but was leaving Afghanistan with his unit on that day after his second tour to that war zone. The whole family was delighted that he would soon be back at Ft. Carson. It would be several days before he would land in the US after leaving Afghanistan.
When I woke up, I reached for my phone to check the time (oh, too early!). It was 4 a.m. in Atlanta. Since it was so early, I took a look at the newsfeed on my phone. Oh, my gosh! Oh, no! The title of the first article was "Terrorist Attack at Bagram Air Force Base". What? How could that be? Bagram was thought of as the safest post in the war zone. I was horrified, worried and immediately fully awake. What do I do next? It was too early to wake up my friend to tell her. Instead, full of worry, I got up, dressed, repacked my overnight bag and got ready for the day, still pondering what I ought to do.
Having been around the military for several decades by this time as an Army wife and later, an Army mom, I knew that when there was some sort of tragedy in the military, all personal communication would stop and only a military spokesman would be giving out information. The theory was that the next of kin of those injured or killed would need to be contacted before the full story would go out to the public. That also gave the military time to investigate the situation. This also kept rumors from flying around. It might take a day or so to contact the next of kin. Oh…that is me.
At six o'clock, I decided that I needed to get home as fast as possible. How could any Army representative get in touch with me if I wasn't home? I woke up my friend and told her the situation. She was shocked, horrified and concerned. Our church has overnight Adoration on Fridays and into Saturday morning; since it was the six a.m. hour, I decided I would have time for a few minutes of prayer before anyone would come to my house to tell me the fate of our son. I was a little shaky, but since my friend lives close to church, it didn't take me long to drive over where I found another friend there praying. I asked her to keep Christopher in her prayers. She knew him from a child and was happy to be in prayer for him, but shocked and concerned about his fate.
Then, I rushed home where I tried to get my mind off the situation in Afghanistan, though I did check the news, but found nothing; it was all I could think of – why wasn't there news? Where was Christopher? What had happened? Was there any additional news? Flip on the television, again. No additional info just the Alert that there was a terrorist attack at Bagram. How can I keep my mind occupied? Should I call other family members – or will they just worry like me? I tried to keep the worry to myself, when I realized I needed to get people praying for the victims. I called Christopher's sisters in MD and then, went back to my personal worrying.
At about noon, out of the blue, came a call from one of my husband's West Point classmates. I don't believe he had ever called me before and I don't remember now what he had planned to talk about, but in the midst of whatever it was, he asked about Christopher. "Thank you for asking…you'll never believe what is going on." He hadn't heard about the attack. He reassured me that he would keep Christopher, his men and the soldiers/airmen at Bagram AFB in his prayers. I believe God inspired his call to me to reassure me.
I was well aware that I would not hear from Christopher for some time, if ever again. What I didn't know was where he might be. Would he still leave Afghanistan? Was he injured? Was he alive? It was hard to think of those things, but I needed to be prepared. I had to think how I would handle each of those possibilities. Among all those thoughts, I kept looking out the window to see if I would see the dreaded Army vehicle on my street.
It was a very long Saturday – no matter that it started at 4 a.m. It was the uncertainty of the situation. Should I pack a bag to get to Ramstein, Germany where badly injured soldiers would be taken? There wasn't much information from news outlets. All I could do was wonder and try to figure out how I would handle the situations that might confront me and my daughters. All I knew for sure was that I needed to stay home until more information came my way, so that is what I did. Eventually, since the day had gone by without any personal news, I had to give up and try to sleep. It was hard to put the difficult thoughts to bed even when I was in bed myself.
Sunday morning came and there still was no communication from Christopher or anyone. Eventually, I learned from the media what had happened. At 5:30 a.m. that Saturday morning in Afghanistan, a group of more than 100 soldiers and American contractors had gathered for a Veterans' Day run. At about 5:38 a.m., a man approached the group and detonated a suicide vest killing two soldiers and two contractors, injuring 16 Americans and 1 Polish national. How in the world did a terrorist get into Bagram? Later investigation revealed that the terrorist had worked for an American contractor and had been making a suicide vest for some time. What a terrible tragedy. At this point, however, I still had no idea whether Christopher and his soldiers might have been a part of the group celebrating Veterans' Day 2016.
I tried to compose myself that morning, still trying to figure out what I ought to be doing besides continuing to pray. Should I leave home to go to Sunday Church or must I stay home? Later, that morning, the phone rang. "Mom? I'm OK. We're in Kuwait. I can't talk now, but I'll tell you more when I get back home." He told me later what a strange, chaotic day it was as his unit tried to understand what had happened and what they ought to do. At the sound of the blast, those assigned to Bagram Airfield immediately donned their full battle gear not knowing what terrorist activity had caused the blast across the flight line. In the transient quarters, the remaining members of Task Force Red Warrior realized they had no battle gear – no means of personal protection. In the hubbub of trying to figure out what was going on, they discovered their only immediate defense – one soldier still had his firearm; their unit's defense was, oddly enough, the chaplain's assistant.
Now, I could breathe again, but immediately, my mind went to the other mothers and families who didn't get the good news I received. My prayers went out to them; I had suffered right along with them, but their news was devastating. Gold Star families suffer each day with the loss of their brave service members.
We must keep them in our prayers.