by Suzanne Rice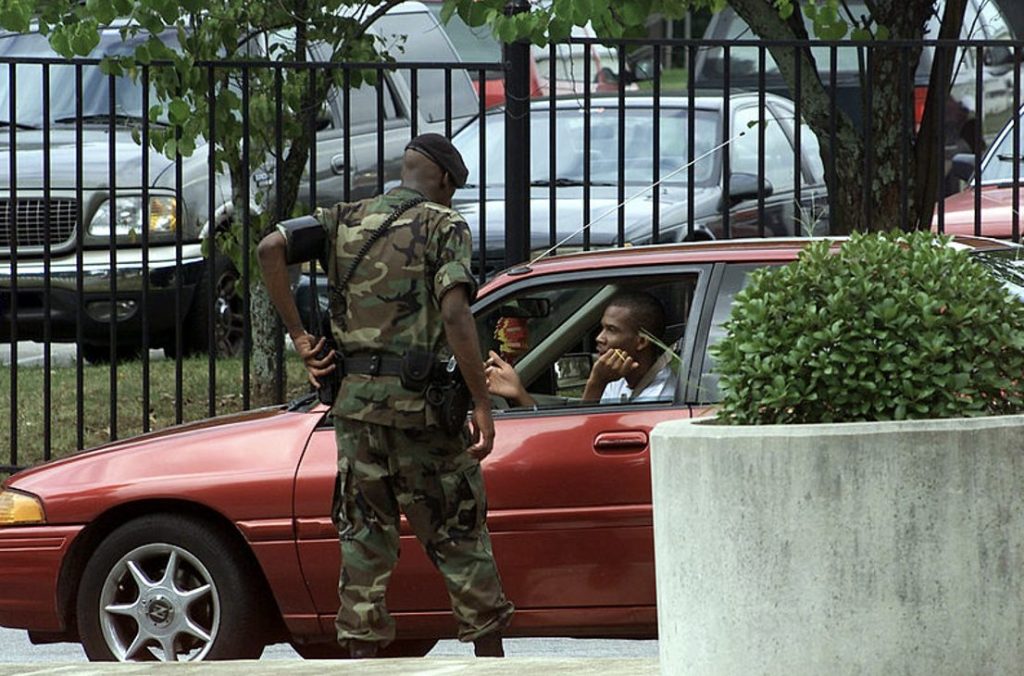 Like every American who was alive on September 11, 2001, when the anniversary comes around each year, I remember the horrors of that day felt even from far away in the state of Georgia. It was like any other day when it began. Early, Bill was off to work at Third U.S. Army at Ft. McPherson. Our elder daughter was working at the Archdiocese of Atlanta Office of Refugees and Migration in downtown Atlanta. She rode each day to work with Bill since there was a MARTA stop right at Ft. McPherson; it was easy for her to hop on the train and get to her office each morning from there. Our second daughter was in Irving, Texas, just beginning her Senior year at the University of Dallas (UD). I had gotten our eighth-grade son on the bus for school and the house was quiet. I spent some time answering emails in our office. When I completed that task, I walked into the bedroom, flipped on the television just as the second plane flew into the World Trade Center and heard Jon Scott on FoxNews say, "This must have been deliberate." It was hard to believe even when I watched it with my own eyes. Even as I listened to the commentary, I was stunned and wondered what to do.
Within seconds, the phone rang. It was our daughter in Texas. She had turned her radio on and the program that she expected had been preempted. She had tuned in just after 9 (8 a.m. at UD), so she had come at the end of the emergency announcement. "Mom, what is happening? Do you know?" Of course, I was as confused and perplexed as she was. I tried to reassure her, and then, we ended our conversation because she needed to finish getting ready for class.
When I recovered my sanity, I thought to call Bill to see if he was aware of the situation. Yes, they had put the news on the televisions there and were trying to figure out what was going on and what to do there at the Headquarters of Third U.S. Army, and the Headquarters of Forces Command. He said he would be needed there for the time being. (He had retired from the Army in 1996 but was serving as a contractor there creating the first Mobile Command Post for the Army – https://thedaysforward.com/inventing-the-mobile-command-post-1995-2002/
After the impact of Flight 77 into the Pentagon at 9:37 a.m. and soon after that the crash in Shanksville, Bill called me and told me that they were getting intelligence about what else might be happening, what other sites might be next. He said he wanted our daughter to get out of downtown Atlanta; it would be evacuated soon. There was speculation that Ft. McPherson, Hartsfield Airport and even the CDC might be other targets. He told me to call our daughter and drive to the Ft. McPherson MARTA station to pick her up and get her out of there. We would not be allowed into Ft. McPherson, where in normal times we went weekly to the Commissary and PX. Security at Ft. McPherson became immediately stringent and would remain at a heightened level for months into the future. Not knowing a thing about the attacks, she was stunned when I contacted her, but grabbed her purse, walked to the MARTA station and got on the train. It was as I drove to get her that I heard the radio announcer say that the North Tower had collapsed – it was 10:38 a.m. We got out of there immediately and drove right back
home, driving mostly in silence as we listened to the radio commentary and tried to come to terms with what was happening.
Like every other American citizen, I was reeling with the events of the morning. When we got home, I began to wonder about our son. Of course, he was in no danger at the Middle School only blocks away from home, but I wondered what they were going to tell the students. If it was shocking to adults around the nation and world, how would the youngsters react? What should I say to him when he came home at the end of the day? Would Bill be home to explain further? I kept tuned in to the news all day trying to make sense of the horrors of the day. It all seemed impossible. When our son got home, he said that his science teacher, in the last class of the day, had let them watch the television news so he was pretty well-informed by the time he got on the bus for home.
We three spent the rest of the day glued to the news and wondering when Bill could come home. He wasn't integral to any official Army planning, but he had spent five years as the Third U.S. Army Chief of Plans and then, G-3, so he was there as an extra mind to help evaluate information that was coming in. It was late that night, when there had been no other attacks that day, that he arrived back home again. It was a harrowing day for all Americans even as far away as Georgia. We Will Never Forget.
Epilogue: Having been stationed in the Middle East several times working with military members from Saudi Arabia and Kuwait and having been the Third Army G-3 with their area of operation located from the Horn of Africa throughout the Middle East (except Israel), Bill thought we needed to understand better what had happened to the U.S. He was well aware of the significance of the date of September 11 to Islamists and how connections to particular dates were important to them. What else should we know? Within a day or two, Bill made a list of books for the Rice family to read. We could each choose one of the books to read so that we could talk about what we learned. Here are some of the books he chose for us: Judith Miller's God Has 99 Names, Bernard Lewis's Islam and the West, Thomas Friedman's From Beirut to Jerusalem, Benjamin Barber's Jihad vs McWorld.