Editor's note: Every five years, the Class of 1969 meets for a reunion. At each reunion, a memorial service is held to commemorate the lives of those classmates who have died. It is a solemn yet beautiful occasion that reminds all that these men who once shared the classrooms and fields of West Point have been taken home, but they are not forgotten and cherished still by their classmates, family and friends. Jim Russell presented this reading to the assembled classmates and families as they marked the 50th year since their graduation from West Point and remembered 124 of their classmates.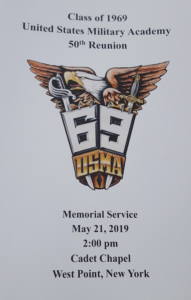 I'm going to read an excerpt from a book by a 20th century German Jesuit theologian, Karl Rahner (1904-1984). The book is structured as a series of letters to God, each posing a complaint about some aspect of the human condition.
One chapter, about losing long-term intimate friends, seemed particularly salient now, as we're losing about a classmate per month. And unlike the combat losses we fully anticipated 50 years ago, these losses to the ravages of age are in some ways harder to accept.
Here's Karl Rahner on losing his friends:
O Lord, I should like to remember my dead to you, all those who once belonged to me and have now left me. There are many of them, far too many to be taken in with one glance. To pay my sad greeting to them all, I must travel back in memory over the entire route of my life's long journey.
When I look back in this way, I see my life as a long highway filled by a column of marching men. Every moment now, someone breaks out of the column and goes off silently, without a word or wave of farewell, and is swiftly enwrapped by the darkness of night stretching out on both sides of the road.
The number of our marchers becomes smaller, at first slowly, and now more quickly. The new men coming up to fill the ranks don't really replace those who have gone. The only ones really making this pilgrimage with me are the ones whom I set out with, the ones who were with me at the start of my journey, the dear ones who are close to my heart.
The others are mere "companions of the road", who happen to be going the same way as I. There are many of them, and we all exchange greetings and help one another along. But the true procession of my life involves only those bound together by real love, and this group grows ever smaller. One day I myself will break off from the line of march and leave without a word or wave, never to return.
My heart will always be with them, with my loved ones who have taken their leave. There is no substitute for them; there are no others who can fill the vacancy when one of those, whom I have really loved, departs, and is with us no more.
In true love, no one can replace another, for true love loves the other in that depth where he is uniquely and irreplaceably himself. And thus, as death has trodden roughly through my life, every one of the departed has taken a piece of my heart with him.
So, that's Karl Rahner on the subject.
He wrote these words in 1938. I doubt he ever heard of West Point. But he captures the experience we're having, losing our brothers, brothers who in our case have been with us nearly since our birth as men, and certainly since our birth as a class.
We West Pointers are privileged to love one another better than most men can do in their lifetimes. What a gift, but also what pain, as we watch our brothers "breaking out of the line and going off to the darkness of the night."
God bless our classmates.
God bless our class.
Karl Rahner, Encounters With Silence, written in 1938 and published in the US in 1999 by St. Augustine's Press, South Bend, IN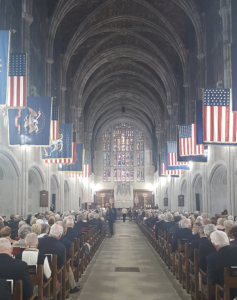 (Over 800 classmates and family members assembled from all over the world for the 50th reunion.)