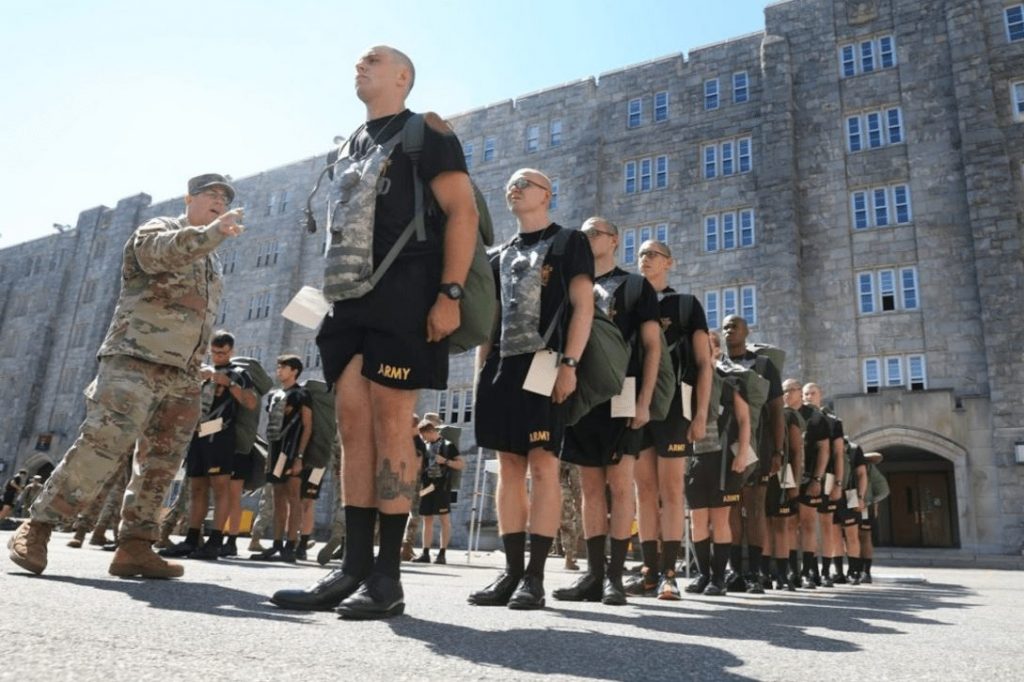 One of the jobs I had in the Army Reserve was an Attachment to the United States Military Academy as a Military Academy Liaison Officer, in addition to being Assigned to the Army Corps of Engineers, New York District. I worked in Western New York centered in Rochester with two other more senior officers at first, and when they moved on, I was the senior man and recruited two others to work with me. I interviewed candidates for the Military Academy and advised them of the opportunities afforded by West Point and by the Reserve Officer Training Corps (ROTC), as a college option. I always told them that West Point was hard, and that they wouldn't like it, but that it was very worthwhile. Most years, the area that I covered produced at least seven cadets. I loved being the top guy, as I was the last several years I was in Rochester. It was also nice to see how the cadets had matured during their years at West Point. When they were home on leave at Christmas time, we had a social event, inviting that year's candidates to meet them. We had another event to send off the new cadets who were entering that summer. It was also nice to receive an Army Commendation Medal and later a Meritorious Service Medal for the work I did as a Reservist for the Military Academy. I did that for thirteen years, 1976-89. Then, I became the Associate Director of Admissions at West Point as a Department of the Army civilian employee.
I was responsible for 4 three-day visits by high school guidance counselors, and one Admissions Participant Conference. I led the Invitational Academic Workshop each June, where about 400 rising high school seniors would come for a week-long program. Also, to be conversant with what the Admissions Officers were doing, I was responsible for the admissions files for the state of Kansas and was the officer on duty for the day on a rotating basis, for calls that came in from anywhere. I left Admissions after four and half years and went to work for the Army Corps of Engineers in the West Point Resident Office. As a reservist, I became a Drilling Individual Mobilization Augmentee and went to work in New York City once a month, first at New York District headquarters, then later at the North Atlantic Division headquarters.
     When I was promoted to Colonel, in 1997, I again became a Military Academy Liaison Officer. Although I wasn't the senior officer, I was the only one who had actual experience in the Admissions Office. I usually answered any questions posed by parents when candidates were taking the Physical Aptitude Exam in the West Point Gym. The exam took about an hour: it was pull-ups for men or a flexed-arm hang for women, a standing long jump, an awkward positioned basketball throw, and a 300-yard shuttle run. It counted 10% of what West Point calls a Whole Candidates Score but must be passed or the candidate is disqualified. (Sometime, more recently, that test was changed.  The pull-ups or flexed arm hang remains.  So does the basketball throw.  The standing long jump was eliminated.  The shuttle run was changed to 40 yards.  There are now two minutes for modified sit-ups, two for push-ups, and a one-mile run.)
The parents asked lots of questions. I particularly remember how I answered some. A parent asked, "When will we know?" I said, "Well, Sir, you never know for sure, so don't give up hope, but most offers are made by mid-March. Make sure to complete the file, because even if not offered admission, you might be offered USMA Prep School; Civil Prep, a program where students could go to a civilian school for a year and be provided special consideration under terms acceptable to the NCAA (funded by donations to USMA); or a three-year advanced ROTC scholarship. "Then, I told this story. A father from Kansas (First District, in the Kansas City Metroplex area) called asking that same question, and I gave him that response. What I didn't tell him was that four candidates from that District already had offers of admission. I had already told this group of parents waiting for their son or daughter taking the Physical Aptitude Exam, that West Point had one of the highest "Capture Rates" of any college. Ours was always around 75%. That meant that for an entering class of 1200 students, we would offer admission to 1600 candidates. As an aside, when I visit candidates in their homes, I explain that Service-Connected nominations come from the President, who has 100 vacancies to fill each year, offspring of Active Duty or Retired soldiers; 100% disabled veterans, who have 12; ROTC and Junior ROTC who have 20. Soldiers, either Active Duty or Reserve get 170, with most coming from USMA Prep. Congressman and the Vice President have a total of 5 vacancies to fill throughout the four-year program. Most have one vacancy to fill each year, and two every fourth year. For every Congressional vacancy coming open, the congressman can nominate ten.
     There are three classes of Appointments. Vacancy Fills, 150 Congressionally-nominated Qualified Alternates; or Additional Appointees from any nomination source for desired Class Size or Class Composition goals—Minorities, Women, Athletes, Soldiers, Leaders, or Scholars. In this case, of the four who were offered Appointments, two were Early Action candidates. More than 90% of those candidates accepted their offers. I figured that three out of four would ultimately accept, and since their scores were better that this man's son, the son would not get an offer as the vacancy fill for that district, nor was he rated high enough to get an offer as a Qualified Alternate or Additional Appointee. In late March, one non-Early Action candidate declined his offer. A week later the second one did, too. The Early Action candidates waited until close to the National Reply Date, May 1, when all colleges expect answers from their offers. The last one rolled in on April 29. All four had declined. They most likely went to Air Force, much closer to Kansas than West Point. Some might have gone to Navy. We lose most decliners to the other Service Academies. So, by law, his son, fully qualified, and next in line in that district, had to be offered admission. Normally, the Congressman advises the candidate that West Point will make an offer of admission to him or her. Once the Admissions Committee meets and decides to make an offer, our office in DC is notified, and they in turn notify the Congressman. Then, we wait three days before sending a packet to the candidate. We're not supposed to upstage the congressman. I called the house in Kansas. I told the father that his son would get an offer from West Point, but that the Admissions Committee would not meet again until May 7, and the Congressman would be notified first; he would notify his son by phone call or letter, and his son would get a packet from West Point about May 15. It brought laughter when I said that we're not supposed to upstage the Congressman, and here I am telling a whole roomful of people that I did that. (However, I never told my boss that I did.)
The father wanted to know if he and his son could visit West Point before making a decision. I made arrangements, and they came two days later, on May 1. The Committee met on May 7, approved his offer, DC was notified, the Congressman was notified, the packet from us was sent. About ten days later, his postcard declining admission was received. He had accepted an offer from Pittsburg State University, a state school near the Missouri border. Since the other five candidates from that district had not completed their files, there was no one to fill the congressman's vacancy that year. So, you never know.
Another parent asked what to do if her kid didn't get selected. I related another story. A candidate from the 5th District of Kansas, which encompasses the whole western half of the state, applied. The candidate's father was career enlisted, so she got a Presidential nomination right off the bat and applied to her Representative and the two Senators from the state. All candidates are advised to do so. She got a nomination from her Representative. Found lacking academically, she was admitted to the USMA Prep School at that time at Fort Monmouth, NJ, for the next academic year. She struggled academically at the Prep School and was not recommended for admission to the U.S. Military Academy by the Commandant of the Prep School. But as far as West Point was concerned, she was qualified. She had nominations again from the President and her Representative in Congress. Only a handful of candidates had applied in her district, most had not completed the full file, and those who had been offered admission had declined. The latest one had done so in early June. So, she got an offer, accepted, and reported with the rest of the Prep School students. She struggled mightily at West Point, had to go to the Summer Term Academic Program several summers, but survived to graduate with her class. The last I heard, she was a Major, still serving on Active Duty. The last question was "When is the best time for someone to apply?" The answer was in the summer or early fall of senior year of high school. Then, I related this story, which, I told the parents, had a tragic ending.
I was the duty officer one day in the week before Christmas. A parent called, asking for an application for his son. They lived in Maryland. I wrote down the information and sent it to the Records and Testing Office, who sends out the Pre-Candidate Questionnaire along with some materials that explain the application process. It is a quite involved process, which includes nominations from a Congressional or Service-Connected source before a candidate can be offered admission. Two weeks later, the parent called again because nothing from West Point had come. I guess it was lost in the Christmas mail rush. So, I personally sent another packet, and called the home a week later to confirm that it got there. The son sent in his Pre-Candidate Questionnaire, which showed that he was a viable candidate, so he was sent a Second Step Kit, scheduled a Physical Aptitude Exam, and a medical exam. The kit included papers to be filled out by high school officials detailing sports and non-sports leadership experiences. That counts 30% of the total score. For those keeping track, 60% of the score is for academic achievement: high school class rank and SAT or ACT scores. The Medical Exam process is administered by the Department of Defense Medical Exam Review Board, located at the Air Force Academy. They review exams for the Service Academies and ROTC Scholarships. Though not part of a Whole Candidates Score, it must be passed. The young man came for an overnight visit to West Point. I met him myself, and I was impressed. He was disqualified by the findings on the Medical Exam, but because he had a good total score, West Point recommended him for a waiver. But this was getting late in the admissions cycle. Early Action candidate had their files complete by the end of November and were acted upon in December. Most other vacancies were completed by the middle of March. Second-try candidates who'd gone on to college had their files reviewed in early April. Very few offers were made beyond that time; those were mostly vacancy fills for a Congressional district where a candidate declined an offer of admission. Late in April, the Admissions Office determined that three people, next by Whole Candidate Score on the waiting list, would be offered admission.
The son was at the top of the waiting list, but had not received a medical waiver, so he was passed over. There were no more offers of admission off the waiting list that year. The next day his medical waiver came through, good for the next admissions cycle, too. He applied again for the next year, went to college, did well, and was very likely to be offered admission when the second-try candidates were processed. Then, we received word from his family that he had been killed as a passenger in a car accident. What a shame. He would have been a great cadet and army officer.
Admissions, according to a Superintendent of West Point while I was there, is the most important part of the process; more important than Academics or Military Training. While complicated, from my experience, it is a very positive process. We look for reasons to qualify a candidate rather than to disqualify. We have some great candidates and we encourage them to complete their files. We encourage those who don't make it on their first attempt to try again. After all, I'm the son of a man who didn't get a nomination the first three times he tried. But on the fourth try he did, and he received a Vacancy Fill Appointment, finished first in his class in General Order of Merit, and became a General Officer.