In the spring of 2018, Sallie and I accompanied our granddaughter's school outing on a field trip to France and Belgium to honor the end of the First World War. The trip schedule took us to Normandy, also, to see the Normandy beaches and other sites of the invasion.
As you would expect, we visited the Normandy US cemetery. But my story begins back before we left. We did research on local Oconee County veterans who were buried at Normandy and, in particular, that were killed on or about D-Day, 1944. There were only a few, but one was to stand out and humble me forever, Pvt. James B. McDaniel.
At Normandy, luckily, as the rain had fallen steadily for several days and walking on the grass was discouraged, we found his grave site and took a photo.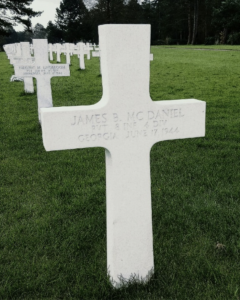 When I returned home, a local paper wanted to interview me about the trip and the photos, and I agreed. As I prepped for the reporter interview, I begin to wonder: are there any relatives of Pvt McDaniel still here in the area? So, I begin to search using an online genealogy tool. After being discouraged somewhat, the ancestry tool came through. Literally, on Memorial Day 2018, I discovered that, indeed, his widow, Helen McDaniel, was still alive and living about 30 minutes away. I decided to pay her a visit. My wife said, "be sure to take flowers!"
So, away I went to Winder, GA. I found her house- no one home. Then I remembered the genealogy tool had given me a phone number, so I called her number and listened for it ringing inside the house. Not a sound. Just when I was about to give up, she answered.
"'Hello'. Ms. McDaniel?
Yes.
Ms McDaniel. My name is Dick Wallace and I am at your house. Are you home?
You are at my house? Well, I don't need anything. Thank you. I don't want to buy anything.
Ms. McDaniel. No, you misunderstand. I don't want to sell you anything. I was just in France and I have a photo of your husband's gravesite at Normandy. And I have you some flowers! I would like to give them to you.
You have flowers for me?!
Yes, ma'am. Can I come see you?
Well, I am in a retirement home now. I had stroke about five years ago and had to move out of my house.
That's ok- where are you located, and I will come by.
Well, it's Magnolia Estates. Not too far. But lunch is at noon. (It was about 1115 now)
Yes, ma'am and I will be there right away. I won't interfere with your lunch.
Ok, then."
So off I went to Magnolia Estates and found it easily. As I walked up to the front doors, they begin to open from the inside and as I pulled them all the way open there stood Ms. McDaniel, pushing the door open with her walker.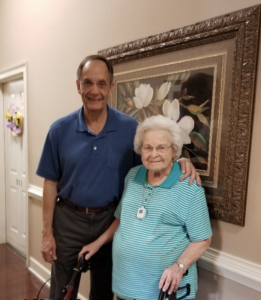 After the greetings with staff, she escorted me back to her room and there is where this story took a turn.
She sat in her big easy chair and across from her on the wall was a collage of memories and photo of her husband, James. She told me their love story and how they had been married only 10 days before he deployed to France.
"A bride at 18 and a widow at 18" she lamented. She never remarried.
But what tore at my heart most was the last letter she received from James just before he left for Normandy. In fact, it was a poem and she had framed the original and also a calligraphy copy a friend had made for her. The words are below:
Towering Faith
How I have missed you
So sweet your lovely smile
Like glittering stars of heaven
Presenting the comfort of your eyes.
In the moonlight sphere above me
I picture your loving face.
So innocent, kind, virgin, pure
And filled with maidenly grace.
Like towering trees you stand
In pose you face the breeze
Your lovely curls are flowing
Like the drifting of the sea.
Your sad heart with its plea
Cries out in soundless screams
With mind and soul both lonely
You sigh with sleepless dreams.
But forever you'll be waiting
With all the love we knew
Until the storm is over
And I come home to you!
' Jim '
She shared that she was able to communicate in writing to Jim's good wartime buddy. His biggest revelation was that Mac had died on the 10th of June, not the 17th in the Army record. He knew that for a fact because the German mortars that wounded him had killed James. But she took the Army's dates for record and every 17th of June honored him with altar flowers in their local church.
She invited me to stay for lunch with her. I did, of course. And she liked my flowers!
The local paper printed her story and more.
Leaving, I was humbled and awed at the immensity of their sacrifice- all of their tomorrows and dreams gone that momentous day back in 1944. No national treasure can repay. And they are only one of those who shared the same sacrifice.
For my own catharsis I wrote a letter to her husband. Civilization owes a great debt to the James and Helen McDaniel's of that generation.
I still visit with her from time to time.
Letter to Pvt. James B. McDaniel; KIA Normandy France June 1944
Dear Pvt. McDaniel,
I met your widow today, Mac. I report that she still holds your memory dear. The poem you wrote to her from England, Towering Faith, hangs on her wall, along with a calligraphy copy lovingly done by a friend or relative. A reader comes to tears upon reading. And, of course, your photo is center set among the poems and rests above the memorial flag sent to her in commemoration of your sacrifice. I note you were married only ten days before you left for France.
You know, Helen never remarried. I can only surmise you were her first and deepest love and she couldn't really replace it with another. She honors your death every June 10. Yes, June 10th. Your buddy, Bill Koch, told her he was with you when you were killed, the same moment he was wounded. You both were hiding in the hedgerows we have heard so much about since, and German artillery took your life. The Army reports your death as June 17th but Helen relies on Bill's recollection.
Helen has been surrounded by loving family, however, all her life: her mom and dad, nieces and nephews and sisters and brother. From her picture collage in her room, there are photos of church lady friends also. I can also tell you they are all Georgia fans as many graduated from Georgia, Helen proudly recounts.
A former mayor of Winder and his wife took Helen to visit you in Normandy many years ago, maybe she said 1995. The cemetery caretaker there put sand into the marble inscription on your resting place marker so that she could get a clear photo. Otherwise, your name was indecipherable from the blazing white marble. I think there is some symbolism there.
Pvt. McDaniel, I am so grateful, as is your nation, for the sacrifice you and Helen have made for our country. You two sacrificed all of your tomorrows together and all the memories those future days would hold and create- children, grandchildren, ball games, recitals, careers, and your Memorial Days at the beach, perhaps. There is no national treasure that can repay.
I report to you, though, that your sacrifices were not in vain as heart rending as it was to you both. The world has been and is a safer and more prosperous place; civilized and mostly at peace. Citizens of Europe and the Americas live in peace and hundreds of millions now can chart their futures guided only by their dreams; as great an epitaph as a man from Georgia could want.
Deepest, Deepest regards,
Dick Wallace
A Fellow Soldier and Georgian for all Georgians