The Mission of the Transportation Corps
The Transportation Corps is tasked to move the Army and Army materiel from place to place using whatever transportation is necessary – truck, air, sea and rail. Transportation Corps soldiers are trained to maintain and operate these varied modes of movement including convoy operations, traffic management and cargo transfer and documentation.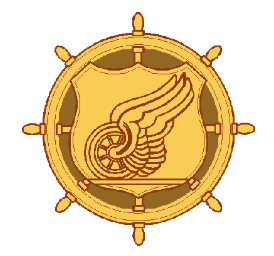 History of the Transportation Corps
During the Revolutionary War George Washington appointed Wagon Masters to move and supply the Army. In 1818 General Thomas Jesup was appointed Quartermaster General and beginning programs to improve the movement of the Army. To encourage exploration to the West, building the Great Military Road of 1836 helped link the east and west of the U.S. In the years before WWII, the transportation needs of the Army were shared by the Quartermaster and Engineer Corps. In 1948, soon after Berlin was isolated by Russia, the Transportation Corps helped supply vital supplies to the besieged citizens of Berlin. President Truman established the Transportation Corps in June 1950.
Motto: Spearhead of Logistics.
Patron: St. Christopher
Color: Brick Red and Golden Yellow
Recognition:  The Ancient Order of St. Christopher – The Ancient Order of Saint Christopher is the more distinguished of the two levels of the Military Order of Saint Christopher. The Ancient Order is reserved for those few individuals whose careers embody outstanding achievements and accomplishments in the spirit, dignity, and sense of sacrifice and commitment epitomized by Saint Christopher.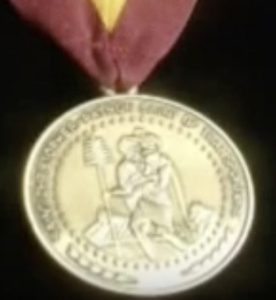 Transportation Corps Notables: Medal of Honor recipients – LTC John UD Page, William Seay and Larry Dahl