The "Tales from Nick's FARRP" series are a fictionalized version of real events and are dedicated to the memory of friends and classmates from the Class of 1969.
"So, Rod, you knew him better than anyone else.   Tell me about my Uncle Nick."
*     *     *     *     *     * 
I was talking to Rod Jordan, an Army Chief Warrant Officer and Master Aviator, sitting across from me at my bar.  My Uncle Nick opened this bar, called Nick's FARRP, when he had to leave the Army because of cancers he got from some chemical he was exposed to during his tours in Vietnam.  He died a few months ago and left the FARRP to me.  It is located in Fayetteville, North Carolina, just off post from Fort Bragg.  My name is Gil Edwards, by the way, and I know nothing about the Army, so I keep asking questions of the regulars here in the FARRP.
*     *     *     *     *     *
"Well, New Guy, I'm glad you asked," Chief Rod replied.  I knew that "New Guy" was his affectionate term for me.  "Your Uncle Nick and Miss Peggy's late husband Mike and I were known as The Three Musketeers during our days serving together in the Army."
Miss Peggy was the lady standing beside me behind the bar.  When Uncle Nick opened the FARRP a couple of years ago, he brought her on as his bar manager.  She is now my special guardian angel, teaching me about running a bar and keeping me from getting in trouble with the regulars here."
"The three of us were in the same Basic Training company at Fort Benning, Georgia, when we enlisted in the Army in 1961.  While we were going through infantry Advanced Individual Training there, some aviation recruiters came up from Fort Rucker, Alabama, looking for people who wanted to go to flight school and become Army aviators.  We had no idea what that involved, but they told us aviators get to fly helicopters, and get extra pay to do it.
"That sounded good to us, better than being infantry grunts living in the mud, so we applied.  The first thing that happened was that they gave us what they called the Flight Aptitude Test.  It was a crazy test that asked questions about whether we ever raced cars, or rode motorcycles, or rebuilt engines.  It showed us little pictures and had us answer what we thought an airplane was doing, and had us chose which arrows would move a dot in a certain direction.
"Of the 17 of us that took the aptitude test, only eight passed.  Then they sent us eight to the airfield to get flight physicals from the flight surgeon.  Everyone but us three flunked the flight physical, mostly because of less-than-perfect eyesight.  Mike, Nick and I were accepted to be Warrant Officer Candidates but had to wait a couple of months after we finished AIT for the next flight school class date.
"During the waiting time at Benning, they made us do menial things, like painting rocks and picking up pinecones.  To get out of those details, we volunteered to go through Jump School, which was actually a lot of fun.  We were in super physical shape in those days, and none of us had any fear of jumping.  Once we were parachute qualified, we volunteered for more schools to stay off pinecone duty.  Mike and I got to go through jumpmaster school and pathfinder school, but that idiot Nick begged to go to Ranger school.
"By the time we finally reported in to Camp Wolters in Texas for warrant officer candidate training combined with flight school, all three of us were hot stuff paratroopers bursting with airborne pride.  Little did we suspect that once we began flight training, the Army would never let us jump again.  Jump wings were a dime a dozen, but with Vietnam starting to heat up, aviators were invaluable.
"Being warrant officer candidates, or WOCs, was like basic training again, only more so.  At the same time that we were earning aviator wings, we were being made into officers, which was a double dose of work and pressure.

The first four weeks at Wolters were hell, but once we started flying, it got a lot better.
"Our primary helicopter trainer in those days was the OH-23, better known as the 'Hiller killer'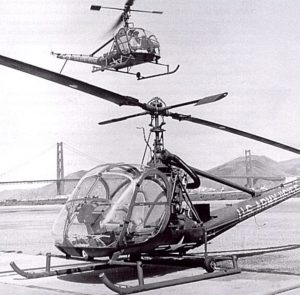 It was weird to fly, because instead of hydraulics, the rotor disk was controlled by gyroscopic precession.  That means the controls operated a pair of paddle blades, which then forced the rotor disk to tilt 90º later.  So, there was always a delay between control input and the aircraft response."
"Rod," spoke up Miss Peggy.  "Tell me about my Miguel.  He never told me anything about those days."
"Sure, Peggy," Chief Rod replied.  "Being Puerto Rican, Mikey spoke with a slight accent, which sometimes made people think he wasn't too bright.  But he was always the smartest among the three of us.  Nick was the best pilot, but Mike was the sharpest.  He was the only man in our class who could handle the brain-work of flying instruments well enough to earn a standard instrument rating at Rucker, while the rest of us just got what was called a 'tac ticket.'.  That meant if we punched into a cloud inadvertently, hopefully we could trust our instruments well enough to keep the bird straight and level and get back on the ground alive.  During the pre-Vietnam days, that was the best they could hope for.
"During the tactics phase at Fort Rucker, just before graduation, our class flew down to the Florida Ranger camp to practice formation flying and to fly the Rangers in air assault operations.  We had been told that the Rangers are always starving, and it was customary to bring candy bars to hand out to them during the flight.  But Nick had been a Ranger himself, and he told Mike and me that what Rangers really need was meat.  So, he bought a case of Spam for us to hand out instead of candy bars.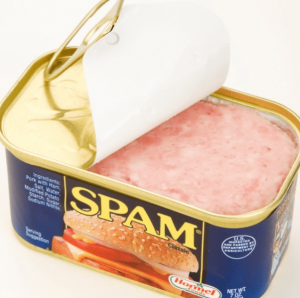 "So, I handed out cans of Spam to the Rangers on my bird, and their eyes got huge.  They cut off the lids with those twist keys that were attached and began wolfing down the meat.  Damn if one of the idiot Rangers wasn't so ravenous that he sliced his tongue open on the can edge and bled all over the helicopter.  I always kidded Nick that he proved it didn't require a lot of smarts to get through Ranger school, but he never thought that was funny.
"Before graduation, the Army asked us our preferred next assignments.  They told us that some helicopter units were being sent to Vietnam, which sounded like a real adventure to us, plus the chance to earn combat pay.  We three volunteered to go, and got sent for transition to H-21s, the old 'flying banana' helicopters.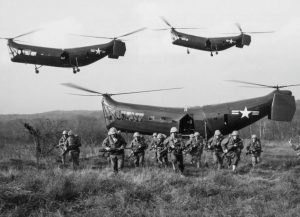 In those days, the Army considered helicopters as transportation machines, same as trucks.  In Vietnam we were assigned to the 8th Transportation Company [Light Helicopter], flying in support of the Vietnamese Army troops.
"The H-21 was huge, with two rotors, front and rear.  They were designed for the Air Force to use in the arctic to service radar sites and worked really fine in the cold.  But Vietnam was way too hot for them to work efficiently, and a lot of times we couldn't carry more than five Vietnamese troops at a time.  Sometimes it was so hard to get them flying that we had to hover them sideways into the wind to get both rotors into translational lift.
"In June 1963, the Army closed down four helicopter transportation companies in Vietnam and sent most of us aviators to Fort Benning.  The Army was getting ready to create a special unit to test how the Army could use helicopters to move and support infantry troops in mobile combat.  The unit, called the 11th Air Assault Division [test], would have hundreds of their own helicopters.  They assigned us aviators to the 10th Transportation Brigade, a part of the 11th Air Assault.  As air combat veterans who had already served in Vietnam, the three of us were considered the old men of the unit.  And we weren't even 21 years old yet.
"In the summer of 1965, the 'test' division was renamed the First Cavalry Division [Airmobile], and President Johnson ordered us to deploy to Vietnam.  The 1st brigade of the division was all airborne, at least for the first year in country.  So, Fort Benning ran 659 Cav troops through jump school in ten days before we deployed.  We loaded 16,000 men and 470 aircraft aboard Navy ships and sailed halfway around the world.  By September we had moved into the 1st Cav Division basecamp at An Khe, and were becoming operational.
"Lots of people have called the 1st Cav the "Air Cavalry Division," but that's not right.  Only one unit was actually Air Cavalry, which means they fought from their mounts.  That was the 1st Squadron [Air] – 9th Cavalry, better known as "first of the ninth."   It had four air cav troops, each with their own scout helicopter platoon, gunship platoon and aero-rifle infantry platoon.  The rest of the division consisted of infantry battalions with 'cavalry' names.  These were actually dragoons, meaning infantry who rode to the battlefield and fought on foot.  Plus, there were all the supporting units, including aviation battalions, helicopter-transportable artillery and engineers, and all the service supporting units.
"I was assigned as section leader of a scout platoon in one of the air cav troops in the 1-9th.  Our scout helicopters were the old Korean War vintage bubble OH-13 helicopters like you saw in that movie MASH.  Our job was to fly low and slow, hoping to get the bad guys to shoot at us, whereupon the gunships that were covering us would roll in with rockets and machine guns blazing.  We didn't even have any weapons except for the personal .38 revolver we carried.
"Right away, us scout guys decided that would never work.  So, we duct-taped M-60 machine guns to our skid crosstubes, and tied commo wire to the triggers so we could fire them.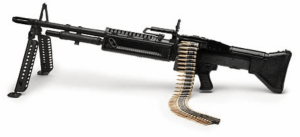 It wasn't authorized, but, like we said, 'What are they going to do?  Send us to Vietnam?' Trouble with the duct tape was that after a hundred rounds or so of machine gun fire, the tape melted through.  We lost a couple of weapons that way, before the maintenance guys figured out a better way to secure the guns.
"Mikey was a gunship section leader in the 229th Aviation Battalion, and Nick was the principal Huey instructor pilot in a company of the 227th Aviation Battalion.  I only got shot down twice in 14 months with the Cav.  Both times I got extracted by the aero-rifle platoon, we called them the 'blues,' within less than an hour.  Never got hurt.
"We all got reassigned to Fort Rucker by the end of 1966.  They were just starting to get the new turbine-powered OH-6 scout birds as I was leaving, so I didn't get much time in them."
"So, Rod, you said my Uncle Nick was the best pilot of the three of you," I asked.  "Is that right?"
"No doubt about it, New Guy," Rod replied.  "He was the first man in our class to be able to hover, and the first man to solo, and was the honor graduate in our class.  Nick was just a natural aviator."
"But, Rod," Miss Peggy asked, "you said my Miguel was really the smartest one, didn't you?"
"Absolutely no doubt about it," Chief Rod answered.
"What makes you so sure?" replied Miss Peggy.
"That's obvious," said Chief Rod.  "He married you, didn't he?"
In memory of Bill and Terry and Eddie and Jerry