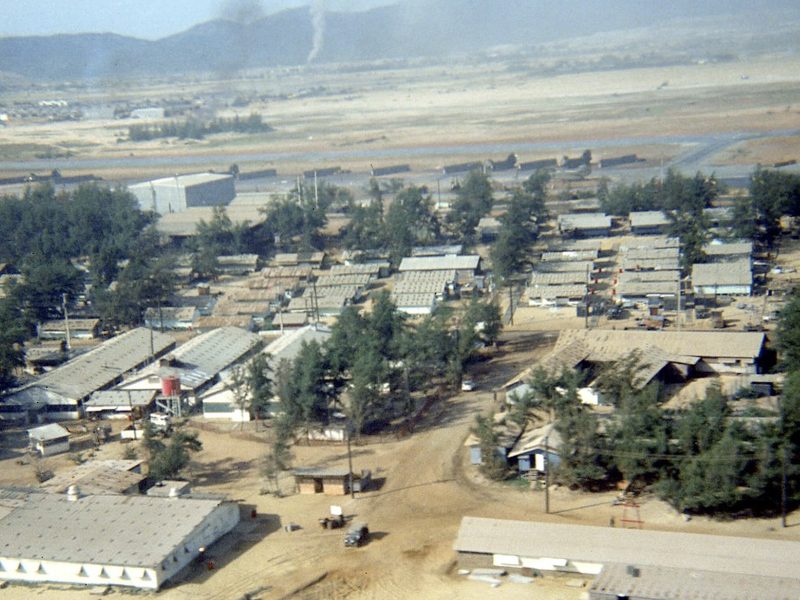 I arrived in Vietnam in August 1970 as a 1st Lieutenant and was assigned as a Platoon Leader of 2nd platoon, B troop of the 1st Battalion of the 1st Cavalry Regiment, which was often confused with the 1st Cavalry Division.

The difference was we were Armored Cav with tanks and Armored Personal Carriers (APC), and they were Air Cav with helicopters. During the big troop build-up, a couple of years earlier, the Americal Division was formed by combining existing units already in-country: the 3rd Brigade of the 25th infantry Division based in Hawaii, the 1st Brigade of the 101st Airborne Division, and the 196th Light Infantry Brigade. We were often attached to the 196th to provide some armor capabilities for their operations.
We spent most of our time out in the field running search and destroy operations, based at Firebase Hawk Hill, or Blackhawk Hill, or Hill 29 as it was variously called. My platoon was equipped with M551 Sheridan tanks, M-113 Armored Personnel Carriers, and M-113 ACAVs, which were APCs with more armor in front and a cupola on top with a .50-caliber machine gun. The Sheridan was a "light," tank, only 17 tons fully loaded. It replaced the venerable, but heavier Patton tank, and had been designed to be airdropped with the airborne units. That meant it had an aluminum body and very little armor and designed primarily as a fast recon vehicle with a 152-millimeter main gun.

Intended for warfare in Europe, the Sheridan was configured to fire a Shillelagh missile, which could stop any tank in the world, or fire conventional rounds. However, even the conventional rounds were unusual in that the ammunition was "caseless," – no brass casings. The casing was flammable and burned up in the gun when the round was fired. Due to some wiring glitches,the missile system was ineffective in Vietnam, and was removed from the Sheridans. My unit only fired HE.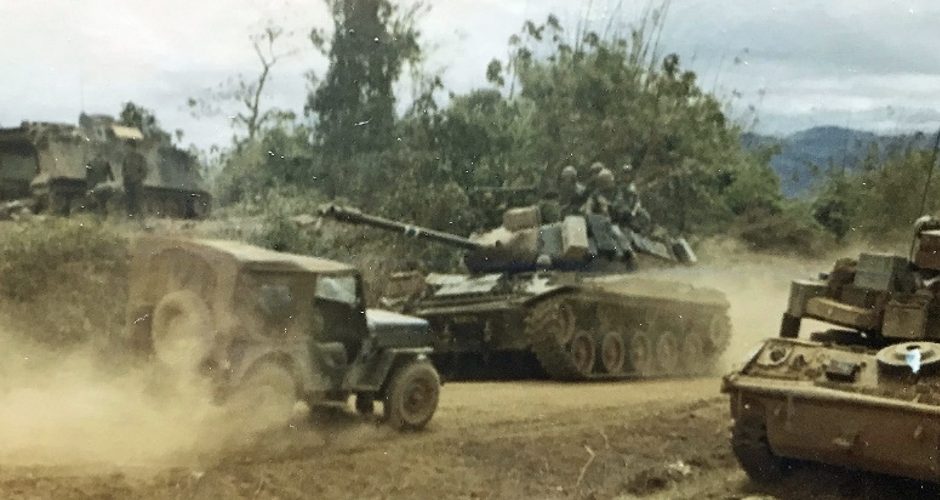 (high explosive) rounds and my favorite, the "beehive" round, was simply a large shotgun shell containing 5,000 – 7,000 flechettes (dart like projectiles that act much like a shotgun round). Unfortunately, the main gun often did not fire. Creatively, many platoon leaders worked around that glitch by "hot wiring" the gun – running an electrical wire from the tank battery and then touching the live wire to the main gun's firing pin. Once you got the hang of it, it worked pretty well, but it could be very dangerous if you didn't know what you were doing. Still, it beat having no gun at all.
My platoon normally had 35 men and ten vehicles. Three were Sheridan tanks and the rest were ACAVs or APCs. On a normal day, eight or nine vehicles would be available, and the others in for maintenance. We would go out about 25 kilometers, to the edge of the jungle, "circle the wagons" and conduct a series of 12-man patrols looking for the enemy.
It was usually two weeks out and one week back in base camp. During the two weeks out, the platoon searched for enemy base camps and tunnels, set up mechanical ambushes (mines placed on a trail or along a likely avenue of approach) along the trails, and then went into a night defensive position, circling up like a wagon train in the Wild West – guns out, 360-degree perimeter.
I was wounded twice in Vietnam and received two purple hearts, both times because of shrapnel from booby-traps. The first time, in October 1970, we were rolling through the countryside and came to a dry river crossing. We used a bangalore torpedo (an explosive charge placed within one or several connected tubes) to blow the crossing. A secondary explosion sent shrapnel my way and I did not duck fast enough. My father often reminded me that his army training taught him to duck. Then, in early January, my unit was operating in some very muddy terrain. We were seeking high ground and dry ground. My driver saw such an avenue of "escape" from the mud; however, there was barbed wire blocking the exit. My driver exited the APC and before I could stop him, he pulled on the barbed wire. He set off a booby-trapped grenade which sent shrapnel flying my way. As the driver exited the vehicle, I instinctively turned my back and the shrapnel hit me there. The driver received shrapnel wounds to the lower extremities and groin area. He lived and was sent home.
During one of the unit's "search and destroy" missions, Viet Cong sappers (enemy demolition commandos trained in the skills of tiptoeing, duck-walking, crawling and other stealth movements used to penetrate a fortified area and avoid detection) and infantry ambushed our platoon. I radioed for fire support, but no army or air force assets were available. The forward observer then told me that the Navy had a cruiser offshore with 8-inch guns that could take on the fire mission. I immediately questioned whether I was going to trust the NAVY gunners, miles away, on a deck that was bobbing up and down in the waves? The forward observer assured me that the Navy was very good at close fire support. By this time the enemy was closing rapidly, perhaps a football field and a half away, so I requested the fire mission. Eight-inch high-explosive shells pack a major wallop, and those swabbies put them right on target, just in front of us, one after another, totally breaking up the enemy attack with earth-shaking detonations. I quickly realized that I was alive because of the United States Navy. After that, except on Army-Navy football game days, you won't find me saying a bad word about the Navy.
Another activity in which the platoon participated was the turn-in of unexpended ammunition. The Americal Division established this turn-in place at the unit's garbage dump and would buy back unexploded ammunition brought in by the locals. Gangs of local kids would go out, dig up "stuff", and turn the "stuff" in for the money we were paying. I admit that it was very disconcerting to see an eight-year-old Vietnamese kid carrying a live 105 millimeter-howitzer round on his back; but we got hundreds of them like that. Better to have paid money that way than to have them turned into booby-traps by the VC.
In late January of 1971, my platoon was one of the lead units that reopened the road to Khe Sanh. This was the early stages of Lam Son 719. (https://thedaysforward.com/invading-laos-1971-part-1/; https://thedaysforward.com/invading-laos-1971-part-2/ ) We continued the mission all the way to the Laotian border. Of note, was the fact that American ground units were not permitted to cross into Laos during this operation. My unit was temporarily assigned a mission of preventing American units from crossing the border into Laos. As background, it is important to note that Lam Son 719 was a large, preemptive the Army of South Vietnam (ARVN) strike into Laos. Several Vietnamese divisions tried to cut off the Ho Chi Minh Trail, destroy the North Vietnamese Army (NVA) base camps and supply depots there, and disrupt their plans for a later invasion of South Vietnam. Unfortunately, it was poorly planned and executed. After advancing well into Laos without any major engagements, the ARVNs finally faced major NVA resistance, got themselves surrounded, and would have been wiped out if it hadn't been for US airpower. It was very demoralizing to the Vietnamese government and to Washington. It was the precursor of even worse things to come with the NVA Easter Offensive in 1972 and then the NVA final offensive and subsequent fall of Saigon in March-April 1973.
The platoon continued to work the border area, attached to the 196th Light Infantry Brigade. During one such operation, my platoon came upon a major NVA bunker complex. That was when I lost my senses and decided to enter the complex and look for myself. It wasn't long before I came face-to-face with an NVA soldier with an American .45-caliber pistol in his hand. He raised his; I raised mine. His weapon misfired; I captured him. When he was interrogated later, it turned out he was an NVA junior officer assigned to the Vietcong and subsequently shared a lot of invaluable information on enemy troop locations, arms caches, and the hospital.
I now had completed eight months with the Armored Cav, and my two-year detail to the armor branch was approaching the end. Division headquarters decided to act early and removed me from the field. So, in March 1971, I said farewell to the platoon and transferred to the 635th Military Intelligence company based at Chu Lai and part of the Americal Division.