The Mission of the Quartermaster Corps
The Quartermaster Corps helps to sustain the supplies necessary for the soldiers of the Army. The Corps acquires, sustains and distributes supplies such as petroleum, water, food service and general supplies excluding ammunition and medical supplies. Mortuary services are included in the Quartermaster Corps.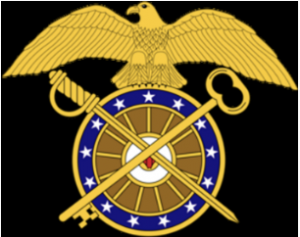 History of the Quartermaster Corps
The Quartermaster Corps was established on 16 June 1775. On that date, the Second Continental Congress passed a resolution providing for "one Quartermaster General of the grand army and a deputy, under him, for the separate army". Authorized by Congress to appoint a Quartermaster, General George Washington chose Major Thomas Mifflin, who was an aide-de-camp and formerly a merchant from Philadelphia. The third Quartermaster of the Army was General Nathaniel Green who served from 1778-1780 before being appointed Commander of the southern Continental Army. President Thomas Jefferson disbanded the Corps in 1802, but it was reinstated in 1812. Soldiers of the Quartermaster Corps have served in every military conflict in the history of our nation.
Motto: Supporting Victory.