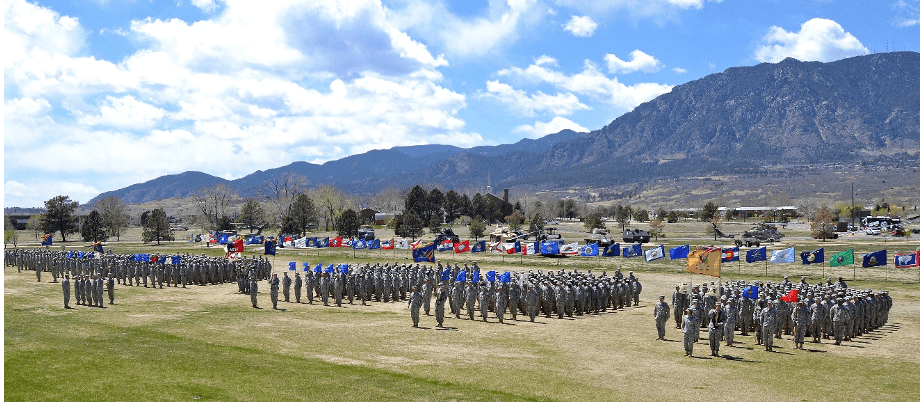 During the class of 1969's tenure at West Point (1965-69), the peak of the Vietnam War occurred. US combat units were dispatched in 1965, the bloodiest week of combat occurred during Tet of 1968, and the peak strength of 549,500 was reached in 1969. Our daily lives, especially with respect to military training, were inundated with war-themed events. When the time for branch selection and assignment preferences arrived, a significant percentage of us volunteered for Vietnam.
In June 1969, we graduated, took our 60 days of leave and the vast majority of us went on to Airborne School, Ranger School and the branch basic officer's course. Army policy at that time mandated that all Vietnam volunteers had to complete two months of stateside unit duty, before deploying to the Republic of Vietnam (RVN).
I had been assigned to Fort Carson, Colorado to the 5th Infantry Division (5th ID), later redesignated the 4th Infantry Division (Mechanized) (4th ID Mech), which had rotated back from RVN. I was the battalion Assistant Operations Officer (Asst. S-3) in the 2/10 Infantry. My new bride, JoAnne, who had a degree in education, but was unable to find work as a teacher, did secure temporary employment using her sewing hobby skills as an associate in a fabric shop. Since nearly a year had passed without me receiving my orders for Vietnam and Jo wondering when I'd be leaving, I decided to call Infantry Branch. I was connected to a major, whom I'll call Prevaricator. I identified myself, explained the situation and waited while he pulled up my file. After a few minutes, he said, "Let's see. Oh, yes. Well, with the drawdown of US troops in country, the earliest you'll be there is March of '72. Now, I just finished filling an October requirement for 150 Captains, but I could swap you out for someone on the list and get you there sooner." I respectfully declined and said that March of next year would be soon enough. Before hanging up, I repeated March of '72, which he confirmed.
In addition to my regular duties, I performed "other duties as assigned", to include sitting on a brigade board considering promotions to the grade of Staff Sergeant (E6). About three weeks after I talked with the Infantry Branch assignments officer, one of the brigade administration NCOs, who had played on the brigade softball team with me, appeared before the board for an interview. After the board adjourned, as I was leaving brigade headquarters, he approached me and asked how he did. As I was not permitted to discuss actions of the board, I told him I couldn't reveal the results. He jokingly said," Well sir, if I don't get promoted to E6, I'll have to put you on orders for Vietnam." I simply smiled.
I continued assisting the Battalion Operations Officer (S-3) in planning field operations and riot control training for the Battalion. Then one day, I received a call from that brigade admin NCO, who said (somberly, "Sir, I've got some bad news; I just received a Request for Orders (RFO) for you for Vietnam. "Back in those days an RFO was the precursor to receiving a hard copy of reassignment orders. Thinking this was part of a joke, I glibly responded," Sure Sgt., and let me guess, I've gotta be there in two weeks." "No sir, not two weeks, but by 1 November." I could tell from his tone that he was serious. Just having been assured by the assignments officer that the soonest I would be there was March of '72, I assumed somebody had screwed up.
I waited until the following day to call Major Prevaricator and when I finally got a hold of him, he said he had just received a rush requirement for another 150 captains and was scrambling to fill it, by moving everybody up to a sooner deployment. Since there were few American troop units still remaining in Vietnam, he told me I would be assigned to Military Assistance Command, Vietnam (MACV).
Later that night when I got home, I told JoAnne about our accelerated schedule and suggested we revise our calendar to shift to the earlier date. Like the fine understanding Army wife that she is, she contained her consternation and decided that we would make the change sooner rather than later.
At the appropriate time, we completed the Permanent Change of Station (PCS) process, spent time with family, said our farewells, and I boarded the "big iron bird" headed for Oakland Army Air Terminal enroute to RVN.
Once I arrived in-country, 1 November 71, I began in-processing. During my initial reporting in to the administrative Specialist 4 (Spec4) at Military Region III (MR III) headquarters, he looked at my orders, glanced at me, uttered an epithet, followed by, "Sorry, sir, the last thing I need is another captain. I'm not sure what to do with you, since I have no open slots." This revelation appeared to contradict what Major Prevaricator led me to believe. Fancy that.
In the midst of doing the initial processing at Bien Hoa, I was suddenly told to report to the MR III adjutant. When I did, I found out that it was our classmate who was better known as the hockey team captain, who had just been tasked to recommend a Captain (O-3) for consideration as the MR III deputy commander's aide de camp. He was reviewing files of O-3 officers who met the criteria and saw my name. Not wanting to put him in a bind and being somewhat curious, I agreed to be interviewed by the general (whose name I've forgotten). During the interview, I expressed appreciation for the opportunity, but thought I'd be more effective in that role after some combat time in the field. He appreciated my honesty and deferred to my wishes.
I was assigned to MACV Team 89 in Dat Do District, Phuoc Tuy Province, 50 miles southeast of Saigon on the South China Sea.
With Richard Nixon's Vietnamization program in full swing, our orders were basically: "don't get wounded, captured, or dead."
For the most part, activity consisted of inspecting Vietnamese local force units, gathering intelligence and setting ambushes and patrolling with those local force units. We had a few enemy contacts, but activity was relatively "quiet". The village in which our team compound was located was stable, although in other parts of the district, there was some guerrilla activity, typically handled by the Vietnamese. During this time, Jo and I stayed in touch via mail, and once I was even able to break away to the US base at Vung Tau, to my south, for a MARS call (the telephone/volunteer ham radio connection. (To learn more about a MARS call, read: Keeping in Touch With A Soldier). We began planning for my Rest and Recreation (R&R). Every soldier in Vietnam was permitted one R&R during a year's tour of duty. One had to complete 30 days in-country to be eligible. Of the various choices, we had decided on Hawaii, which allocated seven days (including travel time). I put in my request and waited for the dates to be assigned. Jo, who was living with her parents, was then enrolled in a graduate program in education at the State University of New York (SUNY) – Oneonta, which would factor in to the logistics of us meeting in Hawaii.
Time passed, Thanksgiving came and went and a month later Christmas care packages arrived. Jo even sent me a small tree for our hooch. My mother-in-law, bless her heart, sent me a hip flask of bourbon (verboten) and a puzzle of the 1971 Playboy Playmate of the Year. That's right – my mother-in-law! She always was very cool.
The American holidays of Christmas and New Years were mere precursors to the Lunar New Year (Tet) which was celebrated by the Vietnamese during the February timeframe. Prior to 1968, the holiday had been the occasion for an informal truce in the Vietnam War between South Vietnam and North Vietnam (and their communist allies in South Vietnam, the Viet Cong). But the fiasco of Tet of 1968, while an overall failure tactically, but a victory psychologically, put an end to that notion. We paid close attention to intelligence reports, planning operations carefully. All indicators were positive so we cautiously and optimistically, were still hoping for a "come home early surprise" – a 60-day drop. In any event, Jo and I had Hawaii to look forward to. When I finally received my R&R orders, the timeslot was a week, including Memorial Day on the front and & my 25th birthday on the back. Jo made arrangements to stay at the Honolulu Hilton, and we would meet after my flight arrived and go to the hotel. This was done via snail mail, since Al Gore had not yet invented the Internet. Jo was, and still is, a master at vacation planning.
Little did we know then, what was in store…