The Mission of the Navy
The role of the U.S. Navy is to project force into areas beyond the borders of the USA and to frustrate our nation's enemies. Navy corpsmen train and equip Naval forces who are capable of deterring aggression and maintaining freedom of the seas. They protect sea-lanes, carry troops, attack other navies, and protect ports and shore installations.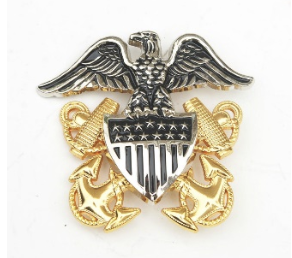 History of the Navy
The debate in Second Continental Congress about establishing a naval force was resolved when George Washington commissioned an ocean-going schooner, the USS Hannah, to interdict British merchant ships; he reported the success to the Congress. On 13 October 1775 when the Second Continental Congress passed a resolution authorizing the purchase of two naval vessels to be armed against the British merchant ships, the Continental Navy was born. By August 1785 as the Revolutionary War was at a close, Congress sold the last ship remaining in the Continental Navy due to lack of funds to support a navy. Then, on March 27, 1794, Congress established a permanent standing Navy and ordered construction and manning of six frigates. John Adams was a strong proponent of the Navy and has been called "the father of the American Navy".
Motto: Semper Fortis.
Mascot: US Navy Seals – Sammy the Seal
This is the mission statement for the Navy: To recruit, train, equip, and organize to deliver combat ready Naval forces to win conflicts and wars while maintaining security and deterrence through sustained forward presence.
The U.S. Navy has seven numbered fleets six of which are led by a vice admiral; one led by a rear admiral. A fleet is composed of an Aircraft Carrier, an amphibious Ready Group, surface combatants, submarines, maritime patrol and reconnaissance aircraft and logistics ships. Each vessel in the Navy is named according to protocol established by Congress in 1862, Title 13, section 1531 of the U.S. Code that states:
The vessels of the Navy shall be named by the Secretary of the Navy under direction of the President according to the following rule: Sailing-vessels of the first class shall be named after the States of the Union, those of the second class after the rivers, those of the third class after the principal cities and towns and those of the fourth class as the President may direct.
According to this naval protocol, ships have been named after battles, U.S. States, volcanoes, Native American tribes, fish and sea mammals, stars.
Notables: Commodore John Barry, George H.W. Bush, Richard Byrd, Jimmy Carter, Stephen Decatur, Gerald Ford, John Kennedy, Stan Musial