The Mission of the Navy
The role of the U.S. Navy is to project force into areas beyond the borders of the USA and to frustrate our nation's enemies. Navy corpsmen train and equip Naval forces who are capable of deterring aggression and maintaining freedom of the seas. They protect sea-lanes, carry troops, attack other navies, and protect ports and shore installations.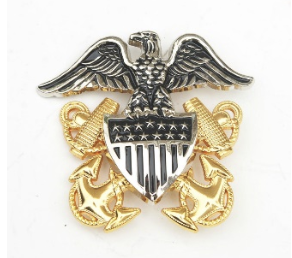 History of the Navy
The debate in Second Continental Congress about establishing a naval force was resolved when George Washington commissioned an ocean-going schooner, the USS Hannah, to interdict British merchant ships; he reported the success to the Congress. On 13 October 1775 when the Second Continental Congress passed a resolution authorizing the purchase of two naval vessels to be armed against the British merchant ships, the Continental Navy was born. By August 1785 as the Revolutionary War was at a close, Congress sold the last ship remaining in the Continental Navy due to lack of funds to support a navy. Then, on March 27, 1794, Congress established a permanent standing Navy and ordered construction and manning of six frigates. John Adams was a strong proponent of the Navy and has been called "the father of the American Navy".
Motto: Semper Fortis.