The Mission of the Military Police Corps
The Military Police Corps has responsibilities on the battlefield as well as in law enforcement. Their combat zone responsibilities can include damage control, route reconnaissance, search operations, patrols, and escorting convoys and personnel. Investigations are done by military police investigators or the Criminal Investigation Command. MP's are the police for the military, enforcing discipline and the maintenance of law and order.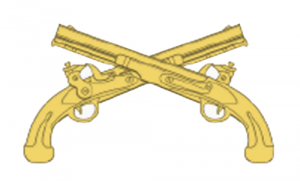 History of the Military Police Corps
George Washington requested a Provost Marshall to deal with discipline in the new American Army. In January 1776, William Marony was appointed as the first Provost Marshal of the Continental Army. Needing more help for disciplining the soldiers, on 20 May 1778, Congress established the Provost Corps. On 1 June 1778, Captain Bartholomew von Heer, who was a German speaking officer, was appointed the first commander of the Provost Corps, which George Washington called Marechaussee Corps (means Marshalcy) The Marechaussee was disbanded in November 1783. In WWI the military police were instrumental in coping with many prisoners of war. The Military Police force has been involved in vital engagements throughout our history until today.
Motto: "Assist. Protect. Defend."
---
Patron: St. Michael
Color: Green and Yellow
Recognition: Order of the Marechaussee – The Military Police Regimental Association's mission is to promote the history and preserve the traditions of the Military Police Corps Regiment while supporting Military Police Leadership, Soldiers, and Families Army-wide. The Order of the Marechaussee recognizes a degree of professionalism, high standards of integrity and morality, and esprit de corps consistent with the long-standing history and traditions of our Regiment.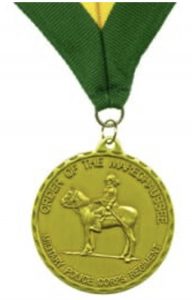 Notables: Theodore Shigeru "Ted" Kanamine, MG William Maglin