by Bob Jannarone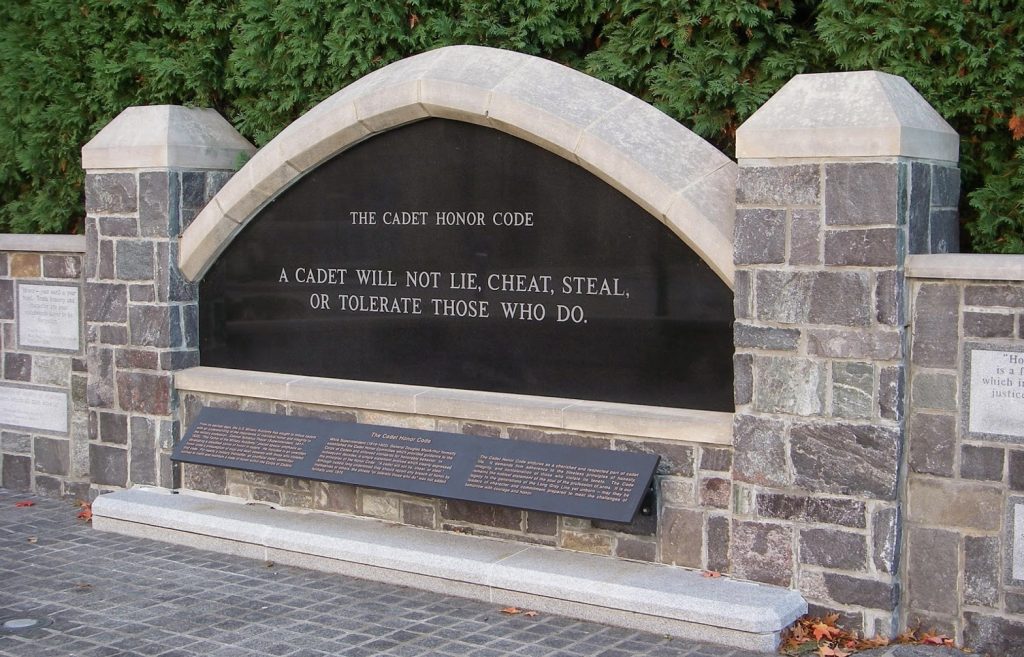 While I may think I have always been scrupulously honest, I must admit that I have a mischievous streak in me. That might have come from a record my parents and us kids listened to in the 1950s. Tom Lehrer was a Harvard math professor, but on the side, he composed and sang songs about people who did, let us say, strange things.
I think my father must have told my mother about my refusal to submit a false Morning Report when I commanded an Engineer Construction Company at Fort Benning, Georgia. That is the subject of another story https://thedaysforward.com/defining-moment-1972/ For a few months after I left command, I was farmed out to the Post Engineers while I finished an M.B.A. program before reporting to the Engineer Advanced Course. Home on leave at West Point that Easter, I brought my mail with me as I left the post. I had a bill from BankAmericard—now VISA. My bill was probably less than $100. When I opened it, there was also another bill in the envelope, for some other person. Obviously, it was a mistake. The bill was for just over $3,000. So, I asked my mother if I could borrow $3,000, and showed her the bill, but I covered up the name on the bill. When she asked why I had run up such a debt, I made up an on-the-fly a story about how as a Company Commander I had purchased a TV, a stereo and sound equipment and furniture for my Company's Day Room, writing a check for zero dollars but saying I had enclosed the full amount each month. Now I had been found out. My younger sisters were hearing this, too. They all were aghast.
I was horrified that they seemed to actually believe this ridiculous story. In a way, I was also annoyed. Then, I showed them the name and address on the invoice, and then wrote to BankAmericard telling them that they had sent someone else's bill along with mine, and that they shouldn't penalize him because he didn't have his bill to pay.
Some years later I hurriedly wrote a check for $300 to a mutual fund account. I wrote it on a Saturday and put it in our mailbox, and it was picked up a few minutes later. The next Saturday, the mutual fund responded that they had credited my account $10,000. I called them immediately, but the person on duty on a Saturday said I had to talk to someone during the regular workweek for something like that. So, I did, and I called again a month later, and again a month after that. When I got my checking account statement and cancelled checks, I found that I had not signed the check, but it was cashed for the $300. Finally, I got a notice that the mutual fund had taken the extra $9,700 plus earnings out of the account.
Not long after that, I deposited a check in an ATM machine after business hours. Out came the receipt and two twenty-dollar bills. I called the bank the next morning, told them what happened and asked them to deduct that money from my checking account. I got a very nice letter from the bank, which I still have, thanking me for my honesty.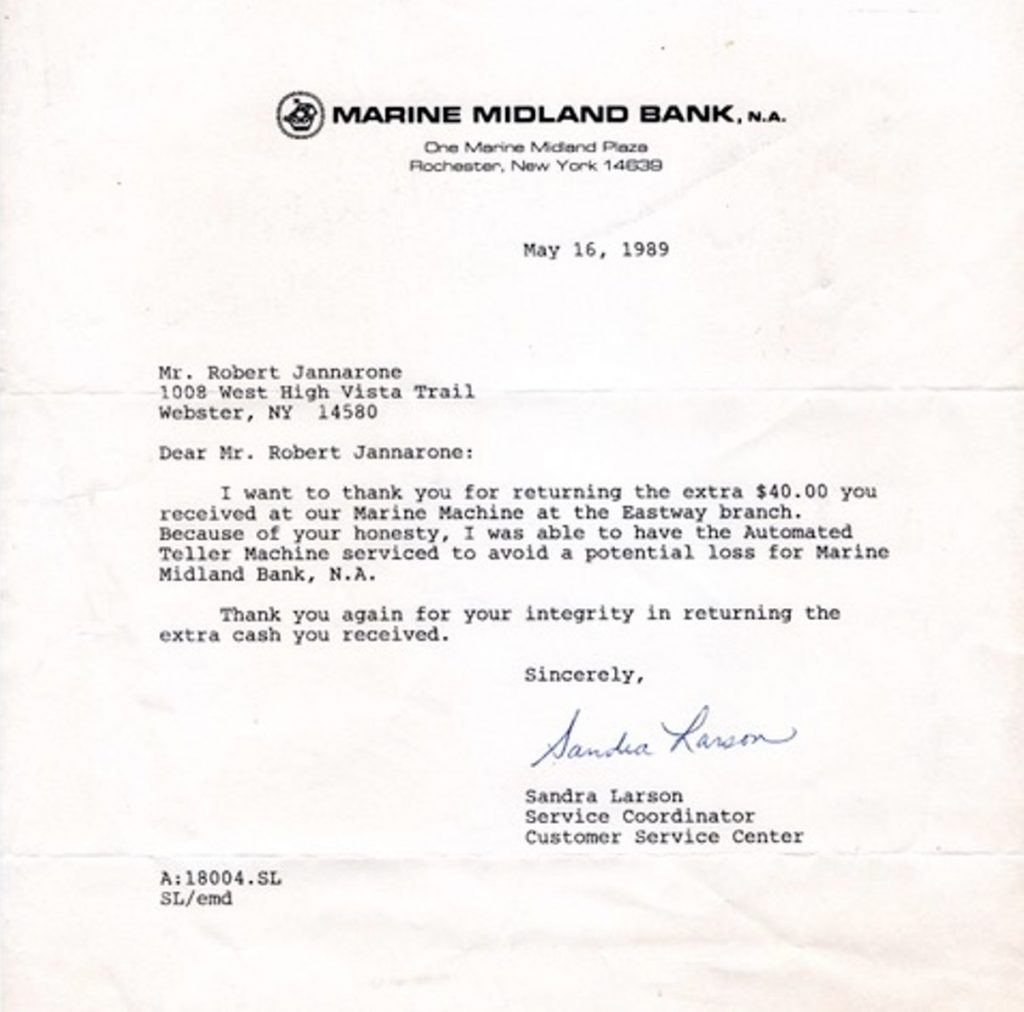 My young daughter found a watch one time when we were swimming in Lake Ontario. She wanted to keep it, but I told her that it belonged to someone else, so we should turn it in to the lost-and-found. Unfortunately, after a week, one of the lifeguards took it for himself. When I complained about that, it was returned to the lost-and-found box, but it was never given to my daughter. No one but the person who lost it will ever know where it was lost, but my daughter knows my stand on the issue.
Then, there's the Internal Revenue Service. I had to file an amended return for 2015 because my military retired pay for November and December of that year, all of 2016 and eight months of 2017 had just been declared non-taxable because I had contracted prostate cancer from exposure to Agent Orange in Viet Nam. I was getting Veterans Administration compensation, which is also non-taxable, starting in November of 2015. It took a long time, but the Army confirmed that it was combat related. So, my Army Retirement pay had been converted to Combat Related Special Compensation, which is not taxed, based on the same date of my VA compensation. I kept getting that until December of 2018. Since my pay is based on mostly Army Reserve service, it was less than VA compensation, so all of it was now non-taxable. Knowing that the money I paid each month into a Survivor Benefit Plan for my wife was already not taxed, I asked for a refund on taxes paid on the balance for those two months. The IRS gave me back money based on the full amount of my pay for those two months. I'm sure it's not often that a taxpayer wants to give back some money to the IRS. It is also somewhat complicated, as it was only in the first year that this was an issue. I wrote them explaining that they had given me back money that had never been taxed in the first place. After more than two years of back and forth letters with them, I finally spoke to someone from the IRS, who claimed he understood, but said that the amount of money was within their tolerance, so thanks for the honesty, I'll put a note in your file, but you can forget about it. The IRS was not going to want the money back.
But once again, the whole truth had been won.**
**Guiding principles from the The West Point Cadet Prayer
O God, our Father, Thou Searcher of human hearts, help us to draw near to Thee in sincerity and truth. May our religion be filled with gladness and may our worship of Thee be natural. Strengthen and increase our admiration for honest dealing and clean thinking and suffer not our hatred of hypocrisy and pretense ever to diminish. Encourage us in our endeavor to live above the common level of life. Make us to choose the harder right instead of the easier wrong and never to be content with a half-truth when the whole can be won. Endow us with courage that is born of loyalty to all that is noble and worthy, that scorns to compromise with vice and injustice and knows no fear when truth and right are in jeopardy. Guard us against flippancy and irreverence in the sacred things of life. Grant us new ties of friendship and new opportunities of service. Kindle our hearts in fellowship with those of a cheerful countenance and soften our hearts with sympathy for those who sorrow and suffer. Help us to maintain the honor of the Corps untarnished and unsullied and to show forth in our lives the ideals of West Point in doing our duty to Thee and to our Country. All of which we ask in the name of the Great Friend and Master of All. Amen.