Ol' Weird arrived in Vietnam early in 1972 and served entirely in the mountainous part of II Corps, the central section of South Vietnam, mostly flying Huey helicopters in support of the Korean Army [ROK] White Horse and Tiger Divisions.  He got as far north as Marble Mountain, outside Da Nang, and as far south as Phan Thiet, the nouc mam [fermented fish sauce] capital of the world, east of Saigon.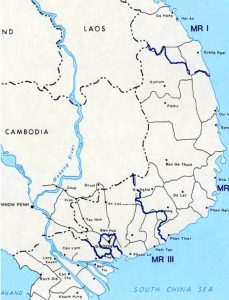 When Ol' Weird was there, the Vietnamization program had been under way for three years under President Richard Nixon and GEN Creighton Abrams.  The idea was that, if the US would continue to provide aviation, intelligence and logistics support, the US would transition all ground combat over to the Vietnamese forces to assume the entirety of the fighting and bleeding to defend their country.  That was the deal – our definition of winning the war.
When 'Ol Weird arrived in early January, all of South Vietnam was holding their breath, because intelligence said the North Vietnamese Army (NVA) was planning something really big and nasty for Tet (Vietnamese New Year), the end of January.  But Tet came and went and nothing happened, so MACV headquarters in Saigon heaved a huge sigh of relief and resumed drawing down the US forces.  First came 30-day drops from the one-year tour length, then 60-day drops, then 90-day drops, and by the end of March, 180-day drops were stripping troops out wholesale.  By that time, there were more ROK troops in country than Americans.
On the first day of April 1972, everything changed.  The NVA came out of the woodwork in the so-called "Easter offensive," rolling tank formations across the Central Highlands and using heat-seeking missiles against some of our helicopters, which had become accustomed to flying at 2000' altitude. That got scary, as we tried to devise techniques to survive the missiles.  The fighting was so bad that the NVA actually drove the ROK Tiger Division out of the An Khe pass.
In II Corps, QL 1, the major national north-south coastal highway, was jammed with refugees fleeing the onslaught, streaming south.  The South Vietnamese Army may not have done well elsewhere, but back in their own home villages the Regional Forces/Popular Forces, so-called "Ruff-Puffs," dug in and fought like hell.  They took horrific losses, but where 'Ol Weird was they stood their ground and eventually, with our support, drove back the NVA.  They had done everything we had asked of them in the Vietnamization program.  In 1972, we had won the Vietnam war!!!
It makes his blood boil when 'Ol Weird hears people, including military types who should know better, saying we lost that war in Vietnam.  Anyone who saw what 'Ol Weird saw in 1972 knows damn well we had won it, by the standards we had established.  The NVA threw everything they had against the south, and they lost it all.  That is why they were finally willing to come to the bargaining table – they had been wiped out.
In fact, the day the North Vietnamese finally agreed to sit down at the peace table was his 366th day in country [leap year, no less], his departure date or DEROS, so Ol' Weird has always told people he is the guy that won that war.
One great thing about serving in Vietnam is that we had Royal Australian troops as allies, fighting alongside US forces as they have in every American conflict for the last century.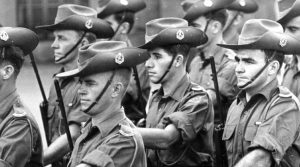 When Ol' Weird was there the troop count may have been way down, but the chow supply still worked the same: a whole shipload at a time, provided by the lowest government bidder.  When a shipload of chicken came in, the mess halls in country served chicken three meals a day until it was gone.  Then tough stringy beef three meals a day, and so on.
But every so often, a ship arrived with beef from Australia.  The Aussies took great pride in supporting their troops, so the beef they sent was the very best they grew.  For a couple of weeks, the troops got to eat the finest, most tender steaks imaginable.  No one will ever enjoy more superb meat than the troops in Vietnam did when the Australian beef ship came in.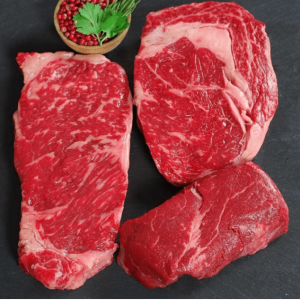 One other benefit from Australian logistics was the liquor.  Alcohol purchases by the troops in country were closely controlled using ration cards, which limited the duty-free liquor per troop to "one bottle per month."  American booze was shipped in fifth bottles [about 26 fluid ounces], and European liquor came in liter bottles [about 33 fl.oz.], but the Aussies provided the system with huge Imperial quarts, measuring over 38 US ounces**.
Ol' Weird determined to souvenir himself some of a famous-brand liquor with a black label for his trip back to "the world."   The day of his departure on the so-called "Freedom Bird," he carried his helmet bag with him, containing his liquid treasure.  The plane that day was an ancient narrow-body Convair 880, the kind with two seats on the left of the aisle and three on the right.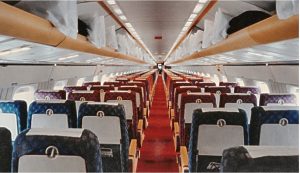 As soon as the plane took off and had cleared into international airspace, to the great cheers of all aboard, the stewardess started down the aisle taking beverage orders.  When she got to Ol' Weird, she offered his choice of hot beverage or soft drink, but he said, "Just a cup of ice, please."
"Is that all?  Can't I get you something to drink?'

"No, thank you very much.  Just some ice will be fine."
After she brought the cup of ice and moved on down the aisle, Ol' Weird reached under his seat, extracted his Imperial quart of the famous liquor, and poured a healthy cupful over the rocks.  He set the bottle on the tray table in front of him and settled back to enjoy his first drink with ice in months.
When the stewardess passed by the next time, she noticed his bottle sitting there.
  "I'm really very sorry to have to tell you this, sir, but alcoholic beverages are not allowed on this contract flight.  My, but that's a really big bottle, isn't it?  I don't think I have ever seen one so big.  I'm afraid I am going to have to secure your bottle in the storage area in the back of the plane until we land in Honolulu in nine hours.  You can have it back after we are on the ground, but you aren't allowed to keep it while we are flying.  I'm really very sorry to have to tell you this, because I know that you have had to do without for so long, but I just have no choice.  I hope you can forgive me."
Ol' Weird smiled at the stewardess, and said, 'That's ok.  I don't mind at all," as he handed her the bottle.
"Are you sure?  I'm just so very sorry to have to enforce this rule on you."

"Don't think twice about it.  It's fine, I assure you."
And as she turned to carry the bottle to the back of the plane, Ol' Weird reached under his seat to his flight helmet bag.  Very quietly, he brought out his next Imperial quart bottle, poured himself another inch over the remaining ice, and tucked it back under the seat.
It really was nice to be flying home.
** By the way, the whiskey was a Black Label Sour Mash bottled in Tennessee in Imperial Quart bottles, exported to Australia, and then shipped to Vietnam. Ol' Weird was unknowingly bringing it right back to the USA!