The "Tales from Nick's FARRP" series are a fictionalized version of real events and are dedicated to the memory of friends and classmates from the Class of 1969.
"SO, MISS PEGGY, what does FARRP mean, anyway?"
"I was standing behind the bar at my uncle's cozy watering hole for Army guys in Fayetteville, North Carolina, just outside Fort Bragg, which I had only recently found myself the new owner of. My Uncle Nick, whom I barely knew when I was growing up, opened the bar after he had to leave the Army several years ago because he got really sick after all his tours in Vietnam. Two weeks ago, I found out he had finally died, and to my astonishment he left the establishment, called Nick's FARRP, to me.
I had just arrived here a couple of days ago, to learn that it was being run most effectively by Miss Peggy, widow of Uncle Nick's long-time Army buddy Miguel, who died in 1972 when his Cobra gunship was shot down in Vietnam. Because of her deep affection for my Uncle Nick, Miss Peggy has really taken me under her wing. Knowing nothing about the Army, I have to ask lots of questions in order to try to understand what these Army guys are talking about.
"Well, Gil," Miss Peggy replied [my name is Gil Edwards], "the best person to answer that question is sitting right in front of you." She nodded to a stout fellow sitting at the bar. "Rod, can you explain the term FARRP to Gil?"
"Sure, New Guy, that's really a good question," he began with a twinkle in his eye. He always referred to me as New Guy. "Your Uncle Nick was a master Army aviator, right along with me and Miss Peggy's husband Miguel, that we all called 'Mikey.' We three all entered the Army in 1961, then went through flight school as Warrant Officer Candidates, and served together from time to time in aviation assignments over the years. We were known as the Three Musketeers.
"Your Uncle Nick came down with cancers while we three were all serving here at Fort Bragg in senior aviation positions. The Army gave him a medical retirement, because he was a few years short of the twenty years' service it takes to earn a regular Army retirement. Because his cancers were caused by exposure to Agent Orange during his three flying tours in Vietnam, he received full disability health benefits. He decided to open this bar as a watering hole for his aviation buddies, as well as any other guys who wanted to hang around.
"Several years ago, the Army's battle doctrine evolved to apply maximum use of the aviation lessons learned from Vietnam toward the Soviet threat in Europe. They established stations to refuel and re-arm combat helicopters as far forward toward the battle zone as possible. These stations were designated as Forward Area Refuel/Re-arm Points, or FARRPs for short. When your Uncle Nick opened this bar, he chose that name to represent a refuge where his aviation buddies could relax and recharge themselves from the stresses of duty here. Hence, Nick's FARRP."
"I get it," I replied. "It's a helicopter pilot's refreshment place. But all the guys in here aren't helicopter pilots, are they?"
"Good point, young lad. Sitting next to me here is Captain Kenny Wayne. Kenny, tell this New Guy what your connection to aviation is."
"Right, Chief," spoke the fellow in starched Army fatigues. "I have the distinction of having over 65 more aircraft take-offs than landings."
"That's crazy," I replied to Captain Kenny. "How can you take off in an aircraft but not land in it?"
"What Kenny is trying to say, in his clever way," spoke the man on the other side of Chief Rod, "is that he is a master paratrooper, what we call a Master Blaster. The mathematical difference between his take-offs and landings is the number of successful parachute jumps he has made. And as you have seen in these past few days here, paratroopers are really proud of those silver wings on their chest."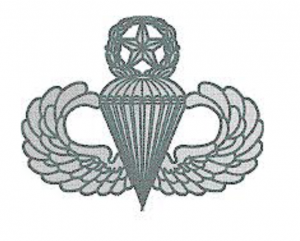 "Okay," I said to Major Tony Williams, "I know about the parachutist wings with the wreath on Kenny's chest. But you have two types of wings on your chest. What are they, anyway?"
"Sure," replied Tony. "My upper wings that go out long and narrow are aviator wings.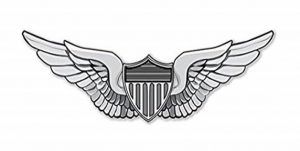 You see mine are plain, but the aviator wings Chief Rod wears have a star surrounded by a wreath on top. That's because he is a master aviator who has been flying for 16 years, since 1962. Below my flight wings are my parachutist wings, with a star on top which means I am a senior parachutist. But you see the big insignia on top of Captain Kenny's jump wings? That long rifle with a wreath wrapped around it is the Combat Infantryman's Badge, known as a CIB. That means he served in combat in an infantry role. That is the most highly esteemed award you see around this bar."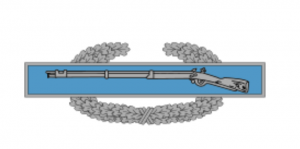 "But, Kenny," I replied, "I thought you are an engineer. How did you get your CIB?"
"Well, Gil, it might interest you to know that all Army engineers have the secondary mission to fight as infantry. However, I did not get this CIB as an engineer. Originally, I was commissioned as an Armor lieutenant, and served my first two years in armored cavalry. In Vietnam I served in the armored cavalry unit in the 173rd Airborne Brigade, E Troop of the 17th Cavalry. Armored cavalry units, even at the platoon level commanded by a lieutenant, always contain an infantry section, along with their scout sections, tank sections and mortar sections.
"We were organic to an infantry brigade and we had infantry troops in our command, and we operated primarily with modified infantry armored personnel carriers. The brigade headquarters assigned all the officers in E Troop the secondary specialty code of mechanized infantry and awarded us the CIB after we had served a few months in combat."
"So, Tony," I asked, "you wear a CIB too, over your aviator wings. I thought you told me you are in Military Intelligence. So how did you get that?"
"Well, Gil, when I graduated from Texas A&M in 1965, I was commissioned an infantry lieutenant and assigned to a mechanized infantry battalion in the Panama Canal Zone, the 4th battalion of the 20th Infantry (Mechanized). It was pretty neat in the Canal Zone, because the Army element of the Southern Command, the 193rd Infantry Brigade, contained our mechanized infantry battalion, plus a straight leg infantry battalion and an airborne infantry battalion. On top of that, the 8th Special Forces Battalion in the Canal Zone operated a jump school plus the Jungle Operations Course, known as Jungle Warfare School. I spent almost two years down there, and went through both schools, earning my jump wings and 'the coveted Jungle Expert tab.'
"It was while hanging around those Special Forces guys, the Green Berets we called 'snake eaters, 'that I decided SF was what I wanted to do. I completed the Special Forces Officer Qualification Course here at Fort Bragg in 1967 and served two years in 5th SF Group in Vietnam. They awarded me my CIB."
I was puzzled. "But why did you tell me you are Military Intelligence?"
"Gil, in Special Forces everyone on a twelve-man A-team has specialties, besides their language qualifications, such as medical, explosives and engineering, weapons and communications. As the senior officer on the team, my specialties were operations and intelligence. After Vietnam, while still an infantry officer, I served in several intelligence roles in various places. When the Army created Military Intelligence, or MI, as a new officer branch toward the end of the Vietnam war, it became a magnet for duds and turds who weren't competitive in their own branch to get a fresh start. MI branch had a bad name, so I avoided it like the plague.
"After I made Major and completed Command and General Staff College at Fort Leavenworth in 1976, the Army sent me on an exchange assignment to the Mexican National War College. I could never have performed that assignment if I had been in MI, because the Mexicans would have regarded me as a spy and never let me in country. But once I completed that assignment and became a fully qualified Foreign Area Officer for Latin America, MI branch finally won me over."
"But why do you have aviator wings too?" I had to ask Tony.
"Well, Gil, in 1971 I applied to go to flight school before returning to Vietnam for my second combat tour. So, I flew Huey helicopters in Vietnam from January 1972 to January 1973. My last day in country was the day the North Vietnamese finally agreed to sit down at the peace table, so I have always told people that I am the guy who won the war."
"Wow! So, you're the guy! But I am really puzzled. 'A lot of you guys are helicopter pilots, but you keep saying the word 'aviator. What is the difference between a pilot and an aviator?"
"All right, New Guy! That's the best question you have ever asked," replied Chief Rod. "The Air Force has pilots. All those guys do is operate aerial machinery. An Air Force pilot colonel does exactly the same thing that an Air Force lieutenant does – fly an airplane. The only difference is that the colonel is at the front of the formation and the lieutenant is flying the last bird. The Air Force does their own thing pretty much, sometimes supporting the Army with airlift or close air support. But they never know the people they are supporting.
"In the Army, aviation is integrated with the ground forces. Major troop units all have their own organic aviation assets, guys they eat and sleep with and know face to face. A pilot is a machine operator, but an aviator is a pilot who is primarily focused on the troops he is integrated with. In fact, for commissioned officers like Tony here, who we Warrant Officers like to refer to as RLOs, meaning real live officers, being aviation rated is considered an additional skill. Tony started out as a combat arms officer, was still a combat arms officer when he was flying in Vietnam supporting combat troops, and remains primarily a combat arms officer, if you want to consider MI a combat branch. That is the difference between a pilot and an aviator."
"Yes, Gil," concluded Miss Peggy. "We have a lot of aviators here at the FARRP, but we hardly ever see a pilot."
IN MEMORY OF BILL AND TERRY AND EDDIE AND JERRY