Jim Bachta was our perennial Brigade Boxing Champ at 132 lbs1.  He graduated 189th in our class.  I was 35 files behind him at 224.2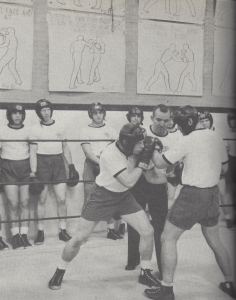 We both branched Armor.  Luck of the draw moved us nearly simultaneously from the Armor Officer Basic course to Airborne School (where we shared an apartment with classmates Lew Riggsby and Don Smith) and Ranger School to a tour in Germany to a tour in Vietnam to a second tour in Germany.  During the second tour in Germany, we'd occasionally weekend together, touring parts of Europe we could reach on our BMW motorcycles.  One summer we traversed North Africa, which is another story.
When the Army had finished with us in 1975, we moved into an apartment near Heidelberg and enrolled in an international relation master's degree program, intending to find civilian work that would allow us to stay in Germany.  It turned out that employers were hiring only MBAs for the interesting jobs.  We should have checked first!  We dutifully got ourselves into the MBA program at Stanford, and again rented a place together off-campus.  Among the things the sparsely furnished house lacked was a coffee maker.
To economize, we went looking for a used Mr. Coffee at the local Goodwill store.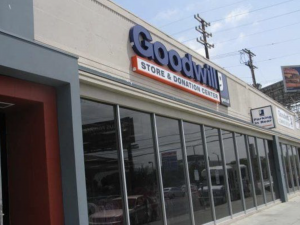 We found three.  One looked much better than the other two.  I picked up the nice one and headed toward the cash register.  "Just a minute," says Jim.  "Maybe, we should plug it in first, to at least see whether the little pilot light comes on."  I thought that was overdoing it for so simple a device, but out of respect for my classmate and friend, I sought out a power outlet.
When I plugged in the nice-looking Mr. Coffee and switched it on, we heard a large circuit breaker nearby open, and all the overhead lights went dark.  And no pilot light on our Mr. Coffee.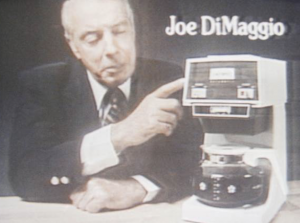 We told the staff about that defective Mr. Coffee, and selected one of the scruffy ones to replace it.  When the store lights came back on, we plugged that one in.  The little pilot light came on nicely, and the hotplate under the pot began to warm up. The store lights stayed on. We bought that one – $6, I think – and took it home.  It was still working fine when we graduated from business school 18 months later.  We donated it to the rental house.
The lesson:  Class rank matters.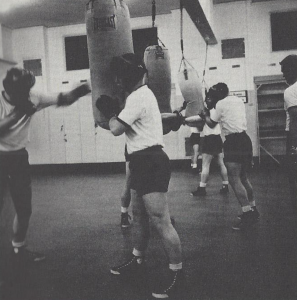 Notes:
Boxing was and remains a mandatory plebe (Freshman) physical education course, and also a winter intramural sport. The best boxers are encouraged to enter the annual Brigade Open Boxing Tournament, where single-elimination matches determine a brigade champion in each weight class. Unlike most other sports at West Point, boxing was new to practically everyone, so it was a good measure of native athletic ability.  Usually cows (Juniors) or firsties (Seniors) won these individual brigade championships, because it took experience to develop the skills. Jim Bachta was an exception to the rule. He won the championship during his plebe, yearling (Sophomore), and firstie years.  During cow year, he had broken his nose sparring with Jim McDonough, a heavier classmate and, I think, our only Golden Gloves alumnus. The boxing program in 2019 is similar, with two additions:  1. When women joined the Corps in 1976, they initially took a female-oriented self-defense course in lieu of boxing.  Over time they demonstrated their toughness and lobbied for taking the same boxing course as the men.  From 2016, they have taken the same boxing program as the men, boxing other women.  2. In 1976, boxing returned to the intercollegiate sports world with the birth of the National Collegiate Boxing Association.  Army has fielded a team from the beginning of this era, and is consistently dominant, having won seven national championships.  At this writing, Army is the defending national champ.
Class rank: Most things cadets do – academics, leadership, sports – are graded in one way or another.  These grades are continuously tracked and combined into a single evaluation, "General Order of Merit".  Individuals' GOM scores are rank-ordered to determine class rank. For firsties, class rank determined order of selection for branch and first duty station.  At graduation, we received our diplomas in order of class rank.  Everyone's class rank was published, and we all knew well where we stood.  Although class rank has other components, academics are most important.  We commonly gauged our classmates' intellectual capacity by their class rank.
Cadet photos courtesy of the Jack Engeman Collection, the Photography Collections, University of Maryland, Baltimore County