The "Tales from Nick's FARRP" series are a fictionalized version of real events and are dedicated to the memory of friends and classmates from the Class of 1969.
"They cashed in their horses for choppers and went tear-assin'
around the Nam looking for the shit."
~ (Apocalypse Now)
"What is that about, Rod?" I asked, pointing to the large sign hanging over the bar.
__| IF YOU AIN'T CAV, YOU AIN'T — |
Chief Warrant Officer Rod Jordan, an Army helicopter pilot, had been my Uncle Nick's best friend ever since they went through Army flight school back when I was little. After several tours in Vietnam, Uncle Nick got cancer and was medically retired from the Army. So he opened a bar called Nick's FAARP in Fayetteville, NC, just outside Fort Bragg. Last month Uncle Nick died, and, surprise, surprise, (to me anyway) he left me the FAARP. It was just a couple of weeks ago that I arrived here, and I know nothing about the Army. I would think all the Army guys here at the bar are getting tired of my questions by now.
"Well, New Guy," Chief Rod replied, nodding at the sign I had asked about. "There's some things you should understand about the guys who come in here." (My name is Gil Edwards, but I had figured out by now that "New Guy" was his affectionate term for me.) "There's three kinds of troops that think they are God's gift to the Army.
"First there are paratroopers. These guys believe that by virtue of their undeniable insanity of jumping, voluntarily and repeatedly, from an aircraft while in flight, they are elevated far above the pathetic remainder of humanity. In fact, they derisively refer to non-airborne personnel as 'legs,' frequently preceded by a spitting gesture."
"Airborne!!" exclaimed Captain Kenny Wayne, who was sitting beside Chief Rod. When I looked puzzled, he explained, "That is the all-purpose exclamation paratroopers use for approval, agreement, enthusiasm, emphasis or just because they feel like it. Airborne!! Look at that," he said, pointing to a small black embroidered patch on the chest of Rod's uniform.
Looking closer, I saw a tiny parachute between curled wings. "That is officially called a novice parachutist's badge, better known as jump wings. It takes five jumps in jump school to earn them. Since Fort Bragg is the home of most of the Army's airborne units in the world, a lot of the guys in this bar have jump wings, as you can see. But look there," he said, indicating the man on the other side of Chief Rod. "Major Williams there wears senior jump wings."
I saw that the man I knew as Major Tony had a star over his jump wings. "That means that Tony has had the honor of serving on jump status for at least 24 months, has at least 30 jumps to his credit, and is a certified Jumpmaster."
"What Kenny is leading up to," interrupted Major Tony, "is that he wears the exalted Master Parachutist wings. You see that his jump wings are topped by a star surrounded by a wreath. That means Kenny has at least 36 months on jump status and 65 jumps, mostly night combat equipment jumps. Our Kenny is what is known as a Master Blaster."

"Getting back to my dissertation," resumed Chief Rod, "the second category of guys who think they are God's gift to the Army are aviators. Despite the proven fact that a chimpanzee can be taught to fly an aircraft, every guy who has ever been entrusted with the operation of Army flying machines is absolutely convinced that he is among an extremely selective and sophisticated elite. And during the Vietnam era the Army trained over 40,000 of them.
"Looking around this barroom, you see the guys in these green fuzzy uniforms like mine?" Chief Rod went on. "These are flight suits made of nomex, a supposedly fire-resistant material, which serves as the distinct costume for people on flight status. The aviator badge is those narrow wings that stick straight out. Most of the Army's aviators are warrant officers like me. But here and there you find commissioned officers, like Major Williams there, who have managed to acquire the 'additional skill' of flying."
Major Tony interrupted Chief Rod again. "Warrant officers have a special term for us commissioned types who have aviator wings. They call us 'RLO's."
"What's that mean?" I inquired, realizing I was asking that question a lot these days, trying to learn about all this Army stuff.
"RLO: Real Live Officer," Rod grinned as he jabbed Tony on the arm.
"Gil," Tony added, "just like jump wings, there are levels of achievement for aviator wings. You see my aviator wings are plain, because I only had one flying tour in Vietnam and barely got a thousand flight hours. A star and wreath over the wings means a master aviator like Rod here has thousands of hours, usually multiple tours in combat. How many flight hours do you have, Rod?"
"Barely six thousand, so far," Rod replied. "Hey, Peggy, bring me another beer, would you?" he called. Miss Peggy was my bar manager and guardian angel. She had been with Uncle Nick ever since he opened the FAARP.
"So, how long have you been flying, Rod?" I asked.
"Well, your Uncle Nick and I, along with Peggy's late husband Mike, all graduated flight school together back in 1962. Guess I'm the only one left now. Which brings me back to what I was telling you about the guys who think they are God's gift to the Army.
"Since before the days of the Civil War, cavalry troopers have thought they are the finest beings to walk, or rather ride, on this earth. Genghis Khan, Custer, J.E.B. Stuart and Patton are typical of cavalry troops, always flamboyantly dashing wherever they go. The job of the cavalry has historically been reconnaissance, to be the Army's eyes and ears, and to move quickly. Cavalry means men who fight from their mounts. Cavalrymen have always thought they are the swiftest, smartest, best-looking warriors in creation.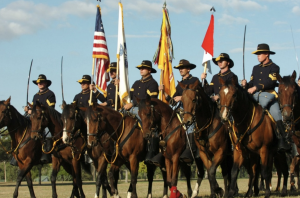 "Up until this century their mounts were always horses. Sixty years ago they traded in their horses for tanks, and thirty years ago they converted to tracked reconnaissance vehicles. Cavalry units have to be very mobile, but since they usually operate beyond conventional Army forces, they need to have their own firepower and the ability to mess up the bad guys. So armored cav units, even at the platoon level, contain their scout elements, but also infantry, tanks and indirect fire support. The Army calls that kind of integrated forces a 'combined arms team.' Usually combined arms teams are found at battalion or higher levels, commanded by colonels. But in armored cav units, brand new lieutenant platoon leaders command them.
"Beginning in Vietnam, air cavalry units were born. These guys have the same cav mission, but the mounts they fight from are helicopters.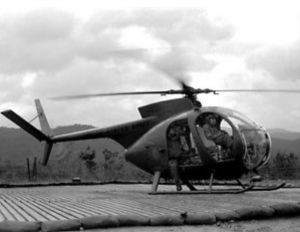 An air cavalry unit, called a 'troop,' contains a platoon of helicopter scouts, but they also have their own section of helicopter gunships for fire support, plus their own helicopter-transported infantry platoon, called the 'blues.' But the mentality is still the same – all cav troopers look down their noses on everyone else in the Army.
"If that wasn't enough, in 1964 the Army created an experimental 'airmobile' division, which meant some 15,000 infantry troops owned hundreds and hundreds of their own helicopters. In 1965 the Army deployed this airmobile division to Vietnam, under the colors of the historic First Cavalry Division. That meant that all nine of its infantry battalions were designated 'cavalry' units, plus its organic Air Cavalry squadron. You see all these guys in here wearing big yellow patches with a horse head on their right shoulder? That means those troops served in combat in Vietnam with the famous and prestigious First Cav.
Chief Rod paused. "Now, Gil, exam time. What did I just tell you? What are the three kinds of troops I told you are insufferably arrogant?"
"Well," I replied, realizing this was a check of how much attention I was paying. "There are paratroopers, and aviators, and cav. Right?"
Chief Rod nodded, and went on. "Captain Kenny there is a Master Blaster. Kenny, what are your cav credentials?"
Kenny Wayne nodded his head. "I may be an engineer officer now, but before I branch-transferred I was an Armor officer. I jumped with the world's only Airborne Armored Cavalry Squadron, the 1st of the 17th Cav in the 82d Airborne Division here at Fort Bragg. As a platoon leader I had my own scout section using jeeps mounted with machine guns, plus an infantry squad, also in gun jeeps, and an 81mm mortar section, plus Sheridan light tanks, all air-droppable. Over in Vietnam I served in E Troop of the 17th Cav, in the 173d Airborne Brigade. And after I branch-transferred to engineers I commanded combat engineers in the First Cavalry Division, as well. So, yeah, I'm Cav."
"Major Tony," Chief Rod went on, addressing Tony Williams, "what are your Cav creds?"
"I was airborne as Special Forces my first tour in Vietnam," Tony replied. "After I came back, I went to Army flight school, and then flew for my second Vietnam combat tour in 7th Squadron, 17th Cavalry, a composite Air Cav unit. Plus, on an exchange tour in the Mexican Army, I actually rode horse cavalry. So I'm Cav, too."
"Dang, Tony," I interrupted. "you'll have to tell me about the Mexican Army some time."
"Gil," resumed Chief Rod. "You asked me about that big sign over the bar? It just about sums up the attitude of most everyone in here: If you ain't Cav, you ain't shit!" He motioned with his head. "So, Gil, look around this bar. Every single person in here, except for you and Miss Peggy, is at least one of those three categories: airborne, aviator or cavalry. The FAARP here is one of the few establishments in the world where most of the clientele are a combination of two of those, and quite a few, like Major Tony, me and your late uncle Nick, are all three. So you probably should be wearing a flak vest when you are here."
"Why on earth do you say that? Is there some danger?" I asked in astonishment.
"Yeah, there really is," replied Chief Rod. "The egos in the FAARP here are so over-inflated that this whole place could explode at any minute."
IN MEMORY OF BILL AND TERRY AND EDDIE AND JERRY