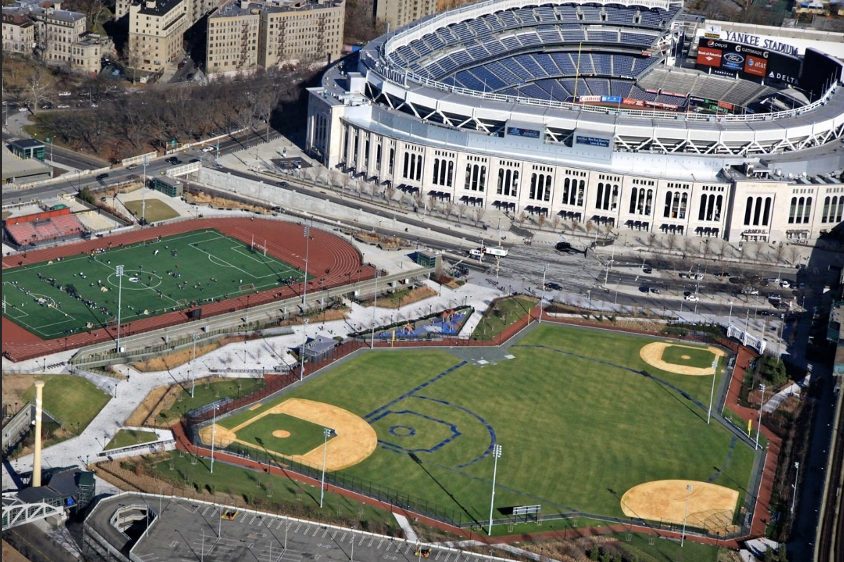 I had a few things going for me on the baseball game we developed. The kids (even girls) were interested in the sport, and all had their favorite professional players. Both the Mets and the Yankees were good and popular teams at the time. I believe the Mets had just acquired Mike Piazza from LA, and of course the Yankees had Derek Jeter. Our school was only 10 blocks from Yankee Stadium. As teachers we could take our kids for free on the Subway. We took a couple of trips to Yankee stadium, and although we couldn't get in, there was a playground we used right across the street. The playground at our school was off limits, taken over by drugs and drug lords.
When you think about baseball, there is a lot of math involved: from the geometry of the infield diamond, to player batting averages, velocity and distance, design of the fields, and Yes, probability. A left-hand hitter has a better chance of getting a hit against a right-hand pitcher than a right-hand hitter. The lefty will see more of the ball leaving the right-hand pitcher's hand than the right-hand hitter. I used a lot of these factors in the design of the game.
We started by having each student design their own ballpark. I gave them distances they had to use for left and right field foul lines, dead center field, 90 feet between bases and 60 feet from pitcher's mound to home plate. By this time in the school year, most kids were used to drawing to scale. For this project we used one inch to 10 feet. We had plenty of construction paper so they could work in different colors for bleachers, score boards and foul territory. Our infield diamonds came out as squares as opposed to a real infield which is more like a diamond. Kids came up with some very clever names for their ballparks.
After the fields were made, we started on the spinners (see photo). These were made on file folders and had to have 12 almost perfect 30-degree wedges measured with protractors. I gave them the different hits they could use, but they could place these hits wherever they wanted on their spinner. After the spinners and arrows were made and tested, we moved onto the lineups.
I gave them the averages they could use. The pitchers had averages of .100 (one hit out of 10 at bats). Every team had one .350 hitter which would be the best in their lineup (3.5 hits out of 10 at bats). The kids would name their players when they were ready to play and put them in the lineup – one thru nine – wherever they wanted.
To actually play the game, several things had to fall in place. The fields had to be mathematically correct, the spinners had to be accurate and tested, and we needed at least two students in this position. When this happened, I assigned another student as umpire to try and keep the game fair. This proved to be a difficult hurdle in almost every game we played. These kids would do anything to win.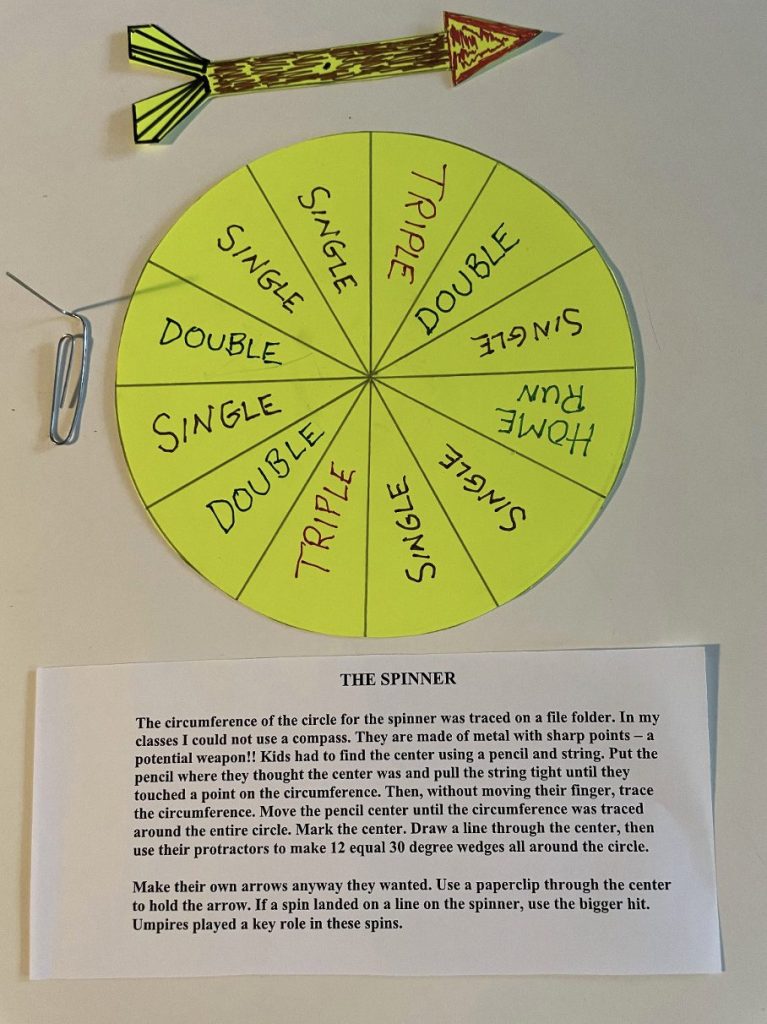 The game started with the visiting team's first player coming to bat. We used a bucket with 20 marbles for every hitter in the lineup. For example, if a player at bat had a .250 batting average (2.5 hits out of 10), we put 5 yellow marbles and 15 red marbles in the bucket. The student whose team was at bat would hold the bucket behind their back. If they pulled a yellow marble, it was a hit. If they pulled a red marble, it would be an out. If the outcome for that batter was hit, they would move to their spinner, and spin the arrow to see what hit that batter would get. If he or she pulled a red marble, it was an out and they would go to their next batter in their lineup. After pulling three red marbles, their team was out, and the home team would be at bat. When we first started playing these games in the classroom, I used checkers rather than marbles for the bucket. These proved too easy to doctor. They could put nicks and gouges in the checkers so they could get a hit every time. We moved to marbles because they were a little harder to disfigure. Every umpire had their hands full keeping these games fair. It was always a challenge.
The players moved around the bases as the games were in progress. We used chess set pawns to represent the players on base. If a team started with a double, we put a pawn on 2nd base. If the next batter hit a single, there would be pawns on 1st and 3rd base. There were no errors in our games and no stretching out hits. Most of our games ended after 5 or 6 innings, especially if there was a large score difference.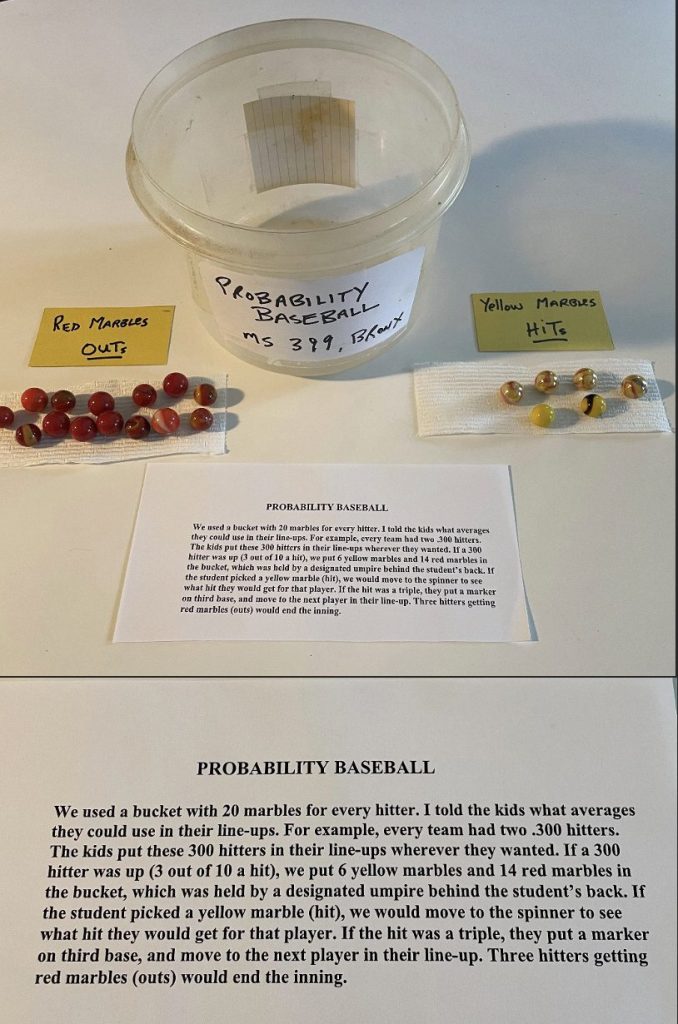 I will end my story by saying I did not perform any miracle. Maybe these kids still couldn't get a 3 or 4 on the state test. I think I did show them that math doesn't have to be like learning a foreign language. Math can play a part in many activities we view as fun and entertainment.
I finished my school year at MS 399 without ever taking a sick day or vacation day because I somehow folded this into my challenge. I ended up teaching one more year of classroom math, but it was in Dobbs Ferry, NY, not in NYC. You won't (or shouldn't) find this game in any book or video. As far as I know, I retired it with MS 399 and didn't use it again. I think many of us have been in situations, military or civilian, where we hit the wall and the finish line is nowhere in sight. My love for baseball, which I still have, helped me find another path.
Editors note: MS 399 in the Bronx, NY was closed in 2012 for bad academic performance according to News 12. It has earned a "D" on progress reports and had been placed on the State's list of persistently dangerous schools.