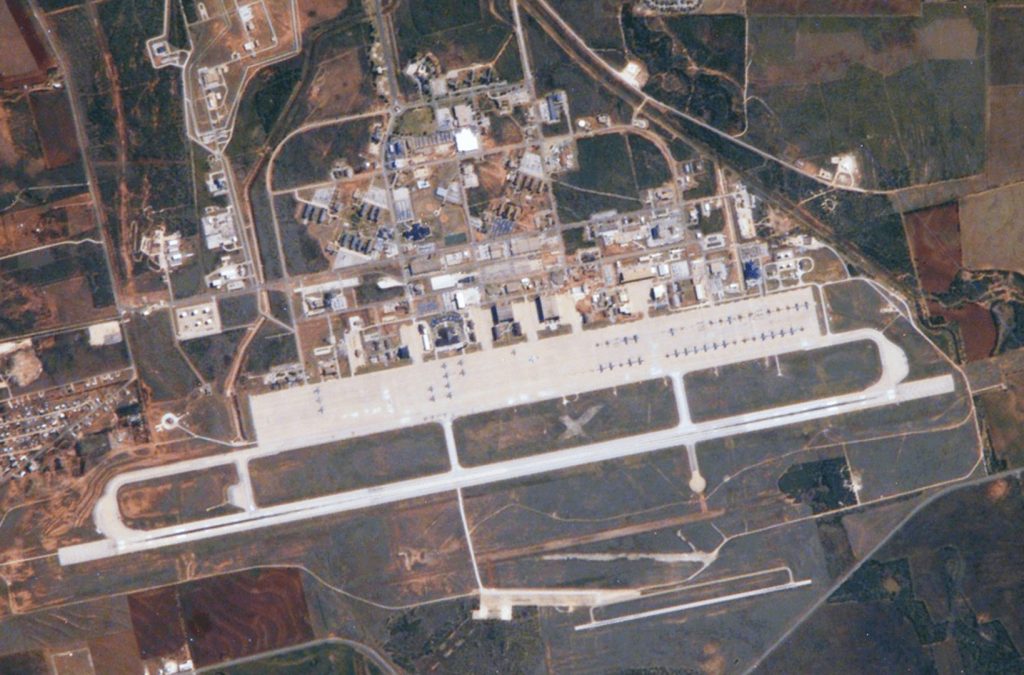 "This is the Sign of the True Professional – To March to the Sound of the guns." For those of you who have not looked in a while, this is the quote by General Westmoreland on the inside cover of the Class of 1969 yearbook. I tried to let these words guide my career.
After graduation leave, I wound up in pilot training at Vance AFB, OK with Dick Jarmanas my roommate. It was a fun and challenging year. Afterwards, we both went to Castle AFB, CA for Combat Crew Training School – Dick in KC-135 tankers and I in B-52s. Then, on to my first duty station at Dyess AFB, TX.
At the time, each B-52 unit was deploying about three crews to Southeast Asia flying combat sorties out of U-Tapao Royal Thai Air Base, Thailand.
I quickly volunteered to go thinking the war might soon be over and I didn't want to miss my chance. That didn't happen but by volunteering I became quite popular with my fellow co-pilots; they had all been there several times. Each "short tour" was 180 days, sometimes a little less. Flying six missions a week allowed me to get pretty comfortable with my job. I volunteered to go back after each tour – in all I went six times for a total of two and a half years in theater, 232 total sorties, 32 of them over North Viet Nam.
For my ground-pounding classmates, I'm sure it wasn't at all like your tours in Viet Nam. We returned to base after each mission, ate in the Officer's Club, and slept in air-conditioned trailers.
I didn't get credit for my first mission up north. I flew with Dick on a refueling mission. (https://thedaysforward.com/global-air-adventure-1971-73/) Although he was supposed to orbit over Laos refueling fighters that had missions over the North, an F-4 Phantom called saying he would run out of gas before he could reach the tanker. Dick and his crew, with no hesitation or discussion, turned into North Viet Nam. They made the rendezvous look entirely normal and routine. I doubt they even got credit for the "save." Dick flew one mission with me, but it wasn't nearly as exciting – just a routine bombing mission over the South.
As I mentioned, I got the opportunity to go North a few times. Those were a little more interesting. Even though we were at 30,000 feet, we experienced AAA (100mm anti-aircraft artillery),
quite a few surface-to-air missiles (SAM), and one fighter attack. One night over Hanoi, as usual, we were being barraged with SAMs. One was a little more interesting than most. With the gunner in the tail giving us continuous updates as he tracked the SAM visually, it exploded almost under our wing but fortunately just short – maybe a bad proximity fuse – but close enough to make my aircraft commander flinch.
As to the MIG attack, I'd like to thank the F-4 pilot that put a missile up his tail pipe before he got off a shot at us.
One war story: you may remember the press reported that the Cuban embassy in Hanoi was bombed by mistake one night. That was us. The bombardier missed a step in his checklist and failed to close the release circuit disconnect, a manual safety feature. When we reached the bomb release point, nothing happened and when you're dropping 108 500# bombs, you can definitely feel it. Panic at the bombing/navigation station until they quickly (certainly less than 30 seconds) figured out the problem. They closed the circuit and released the bombs. As luck would have it, I'm not sure if it was good luck or bad, we hit the Cubans. At any rate, nothing much was ever said to us about the incident.
Just as a footnote, 20+ years later, on my promotion recommendation to colonel, the first line read "232 combat sorties over Viet Nam; 32 over North Viet Nam." All something I had done as a lieutenant/captain while marching to the sound of the guns.