This is a story about when we were in Thailand. It was in 1997 and I was the Westinghouse Country Manager in Bangkok. My wife, Susan, convinced me it would be a lark to visit the Bridge that Spring, (Rainy Season), especially as her mother and cousin Cyndi were visiting us from Florida. The Bridge, long famous to those of us, who either descending from or identifying with Aussie, British, and American forebears, had relatives or known others to have been the unfortunate guests of the Japanese Imperial Army stationed near the Thai village of Kanchanaburi, or Tha Ma Kham in the local dialect. The primary purpose the Japanese sent so many of the Allied prisoners there, and held them, was to construct a major railway bridge over the Mae Khong River, (Khwae Yai), dividing Thailand and Burma, using forced POW labor. It was a project of considerable strategic importance to their war plans to connect Bangkok and Rangoon. The history is quite well known and is described in the 1954 book named after the bridge and made famous by the movie in 1960.
After a drive from Bangkok of some 3 hours or more, we arrived at the famous site, mother- in-law and cousin in tow. Because it was the rainy season, the tourist activity was considerably scarcer than normal. The Thai official posted there and tasked to escort us through and around the site was less than enthusiastic, especially after we woke him from his traditional nap, each afternoon. After trudging through the prison barracks and tiring from our attempts to translate the bits of information the official offered, my mother-in-law asked if we could get a better look at the auspiciously famous steel trestle bridge. After all, it was our raison d'etre.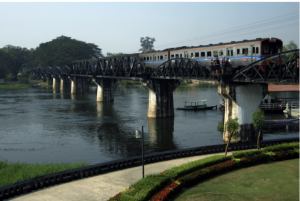 The Bridge was designed for rail traffic only, and the small gauge track was supported by two towers with steel railings spanning the approximate sixty-meter width of the river and which elevated to crossing about twelve meters above the water at the center. Well, my Susan's mother is quite a gal, having grown up on a farm in lower Covington County, Ala. and no stranger to railroads, bridges, and…adventure. She asked, '"Can people walk across?" Although not designed primarily for foot traffic, such a bridge can accommodate foot traffic as long as the walkers stay in single file and step carefully along the metal road bed railings which parallel the tracks. Our official mumbled the equivalent of "Be my guest" or similar. Having the distinction of being "her favorite son-in-law", I had no choice but to say "follow me, but remain close and do only as I do". Apparently, Susan's mom had observed that the track surfaces were still "shiney", something I either didn't note or chose to ignore much to my later regrets. Consequently, I still hear this point repeated over and over in the retelling of this story all these years later.
As luck would have it, we reached center span and were taking in the famous perspective, when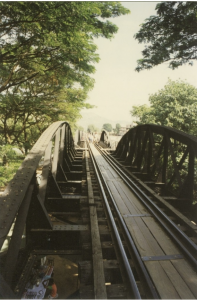 we ominously heard the distinct sound of a steam whistle blowing, followed by the sight of a steam engine passenger train about to cross in our direction. Well, Susan, Mother, and I, (Cousin Cyndi had wisely declined that part of the venture!), had some quick thinking to do. Susan proceeded to ask, "Joe, what are you going to do?" For those familiar with the children's song "Bill Grogan's Goat", you might suggest that we flag down the train, but, I had no red shirt and well, this was Thailand and I knew better than to even try. Jumping was out of the question, for Sue and Mom certainly, although alone, I just might have. I instructed them to stand behind me and hold on tight, motorcycle fashion, to the outside on the widest part of the rail border, no more than two feet wide. As the train went by us at nominal speed with the windows to the passenger section lowered so that dumbfounded passengers were able to gawk at me and my charges, our noses less than a few inches apart from each other. Sides of the passenger car bumped my arms now and then but miraculously the entire event transpired without calamity. Upon regaining our composure, we backtracked our steps to where we started. Susan, far more fluent in Thai than me, launched into a demand for an explanation from our still disinterested but slightly bemused Official. After a few characteristic gestures he responded with what is familiarly recognized and often accompanied by a shrug, "Mai pen rai!" (Never Mind!)