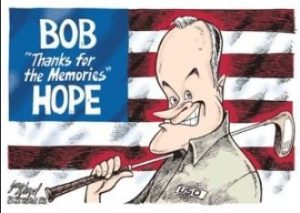 The kick-off for the Bob Hope USO tour in 1970 was at West Point on December 15. Since my dad was the Dean of the Academic board, one of three generals on the post, my mom and dad got to meet him after the show. Mom mentioned that two of her sons were in Viet Nam, so he said he would get them together for Christmas, and asked for their names and addresses. She thought nothing of it, and didn't tell us.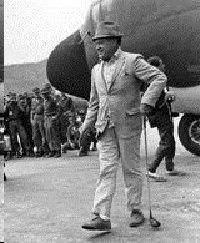 Lo and behold, on December 23, an Army Major showed up at Danang where my brother Jack (USMA '65), an Air Force pilot, was stationed. He was supposed to get my brother to Bien Hoa airbase the next day, for the show on Christmas Day. My brother, a Captain, went to his Commanding Officer with the Major, related the situation, and the CO said, "Well, if Bob Hope says so, I guess we better do it." There was no provision for in-country leave, but a plane with my brother on it left Danang for Bien Hoa the next day.
Also on December 23, a civilian came to Xuan Loc where I was an Engineer Platoon Leader, a First Lieutenant, in the 25th Infantry Division. He explained that there was one seat left on a chartered aircraft from Tan Son Nhut Airport, (Saigon), to JFK in New York, and if someone wanted to, he could take leave, pay the airfare, and go home for Christmas. I asked the junior enlisted soldiers first, then the Squad Leaders, then the Platoon Sergeant. I turned to the man and said that no one wanted to go. Immediately the Squad Leaders and Platoon Sergeant insisted that I go. They said that there was no need to be a hero. We had no missions, and all we would be doing is pulling Motor Stables (vehicle maintenance). Reluctantly, I agreed.
I left the next morning for the flight. I flew to JFK and was met there by my sister-in-law, Jack's wife, who was, with other waiting wives, living at Stewart Air Force Base.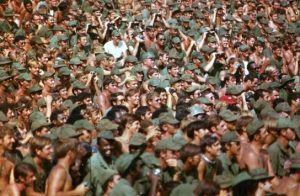 She drove me to West Point. I rang the back doorbell at 2:00 AM Christmas Day. My youngest sister came to the door, saw me, and screamed "Bobby's home". I went upstairs to my bedroom. When my mother saw me, she fainted. It was a wonderful Christmas.
I had to go back on New Year's Eve. We left about 10PM heading west to an airbase near Anchorage, AK for refueling. The crew had hats, whistles and confetti for the New Year's celebration on board. We went through several time zones, moving the clock back each time, so we never got to midnight before refueling. We got off, and saw the Northern Lights. Once back on board, and still before midnight, I and most all the passengers fell asleep instantly. I was awakened by a stewardess who handed me a breakfast tray. We were somewhere over the Pacific under a clear blue sky and had crossed the International Date Line. It was now January 2. I had missed New Year's Day.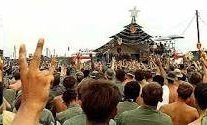 When I got back to my unit, the Platoon Sergeant said someone came looking for me an hour after I left. The man didn't say who he was, or why he was looking for me. I didn't think anything of it at the time.
I didn't know Jack's part in this until the next Christmas, when I saw him for the first time since he had come home from Viet Nam, and he related what had happened to him, and I pieced together the rest.
It turns out that an hour after I left on the 24th, someone from the USO tour came to get me. Finding that I had left, he called back to Saigon, who called Danang, who radioed the plane in the air and had it return to Danang.
Unwittingly I had spoiled Bob Hope's plan to get us together for Christmas. It's no wonder that he never spoke to me for the rest of his life.