The "Tales from Nick's FARRP" series are a fictionalized version of real events and are dedicated to the memory of friends and classmates from the Class of 1969.
"HEY, NEW GUY!" I felt every eye in the bar focused on me. "Gimme a beer!"
* * * * *
My Uncle Nick used to be a helicopter pilot in the Army. All I know is, he was in Vietnam for a long time when I was growing up. After the war was over, he got too sick to stay in the Army, so he was medically retired from the Army. So he opened a bar in Fayetteville, NC, which he called "Nick's FAARP" – why I never knew. It's right next to Fort Bragg, where he had been stationed at the time.
Last month the cancers finally took him. To my complete astonishment he left me his bar! Don't know why he did, because I really never knew him very much. Maybe he just felt sorry for me, after I flunked out of college in my first year.
By the way, my name is Gil Edwards. Anyhow, I had just arrived in Fayetteville, and only about ten minutes before had walked into Nick's FAARP, the bar I was now owner of. I had been warmly welcomed to the establishment by Miss Peggy. She was Uncle Nick's bar manager, now mine, who had been with him since the day he opened the place.
Miss Peggy had written me a letter after his death, telling me that her late husband and one other guy had been Nick's best friends, ever since they had all finished Army flight school together in the early 1960s. She had lost her husband in Vietnam in 1972, and had been struggling to raise their son as a single mother. So when Uncle Nick offered her the job as bar manager, she had jumped at the opportunity, and was fiercely loyal to him. I had been surprised when I met her, although I guess I shouldn't have been, to see she had a lovely milk chocolate complexion.
* * * * *
"Gil." Miss Peggy startled me out of my shock at being called "New Guy." "I told all of the regulars here at the 'FAARP' that you were arriving today. And that short, fat rude bastard who just walked in and yelled at you is Chief Warrant Officer Rod Jordan, your Uncle Nick's other oldest and best friend."
I noticed he wasn't really very short or fat either, but rude certainly fit. I also saw now that there was an amused twinkle in his eye. He sat down between two other guys in Army uniforms who were at the curve of the bar, looked me over, and said, "Well??"
I gulped, and figured I'd better do something, so I reached in the cooler and pulled out a can of the classiest beer brand I knew, Mitchell "Great Life!" Popping the top, I poured it into a frosty mug and set it in front of him.
All of a sudden the whole bar went silent. The look on this Jordan fellow's face got icier than the mug I had handed him. He stared at me, then at the beer, then me again, growled "FNG!" and stomped out of the place.
I looked helplessly at the guys at the bar, then at Miss Peggy. "What the hell just happened?"
Miss Peggy shook her head sadly at me and said, "Now, you've really done it."
"What?" I asked. "What did I do?"
"Kenny, maybe you'd better tell him," she said to the younger of the two men at the bar's curve. "By the way, Gil, this is Captain Kenny Wayne, one of our regulars here at the FAARP."
The soldier called Kenny looked me in the eye and slowly said, "You gave him Mitchell beer in a can. You don't ever do that to anyone who served in Vietnam."
"Why not?" I implored. "What's wrong with that?"
Captain Kenny patiently began to tell me the story: "It seems that during the height of the Vietnam war, when we had over half a million troops in country, the US government was awarding huge contracts to supply everything the troops needed. Every major American company was getting their 'fair share' of the government business. It seems the Mitchell Brewing Co. had a batch of beer that spoiled on them in their process. Instead of dumping it, they decided to can it anyway and send it over to the troops. Guess they figured, what the heck? They're just a bunch of GIs, so who cares?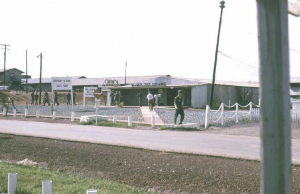 "Back in those days canned beverages came in steel cans, not these new aluminum pop-tops we have today. As soon as that Mitchell beer started getting distributed in country, the troops who tasted it began puking their guts out. Very soon the word went out, that stuff is bad, bad, BAD! The units quit issuing that brand of beer to the troops, so it just sat in the PX warehouses, corroding in the steel cans and getting nastier and nastier. Anyone who ever tasted that rotten stuff will never again in his life touch Mitchell beer from a can. And that's what you just gave to Chief Rod Jordan."
"Wow," I said. "I guess I'll never make that mistake again. Thanks for telling me, at least."
"The tale of the Mitchell beer doesn't end there," said the older guy sitting there beside Kenny.
Miss Peggy introduced me. "Gil, this is Major Williams, another of our regulars." I just now noticed some kind of gold leaf on his uniform.
"Gil, I'm Tony Williams," he said, reaching out his hand to me. "We all loved your Uncle Nick like a brother. Kenny," he continued, "let me tell Gil the rest of the story."
"Yes, sir, Major Williams, sir!" said Kenny.
"Oh, cut the crap, Kenny. You know we don't have rank in here." He turned to me and pointed to Kenny's collar. "You see those two silver bars? They mean that Captain Wayne here is still a probationary officer in the US Army. He is a company-grade officer, as we field grade officers refer to our juniors. After ten or twelve years of exemplary service, he might be selected for promotion to major, like I was."

"I'm Gil Edwards," I said, shaking his hand. "Guess I don't know a thing about the Army."
"That's ok. We don't mind –" and he turned his head and made a spitting sound, "– civilians. Now, as I was going to say, here is the rest of the story:
"By the time I got over to Vietnam for my second tour at the end of 1971, the American forces had been drawn down so far, there were more Korean troops in country than Americans. I was still a captain then, fresh out of flight school. My first tour had been with Special Forces, and I had been so far back in the boonies we never saw beer of any kind, so I hadn't heard about the bad Mitchell.
"I had just arrived in Saigon for a few days in-processing before going up-country to my flying assignment. In the PX there I noticed that beer was $2.40 or $3.60 a case, depending on the brand. But they had Mitchell 'Great Life!' for only a dollar a case. Sounded like a bargain to me, so I took a buck's worth of beer back to my temporary hootch. But when – "
"Wait a minute, Tony," I interrupted. "Hootch?? I thought that means rotgut liquor. What are you talking about?"
Captain Kenny interceded, "Gil, 'hootch' is Army slang for living space. It can mean anything from an infantryman's tent in the mud to the fancy apartments the Air Force guys have, even in a combat zone."
"As I was saying, thank you very much, Kenny," resumed Major Tony. "When I punched a can opener, what we called a churchkey, into my first can, I almost vomited.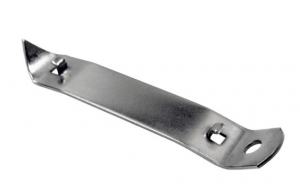 That's when I noticed the can was corroded, as were most of the others in the case. I took the case back to the PX and demanded my money back. The cashier showed me the asterisk on the sign, which said, 'Absolutely no refunds on Mitchell beer.' I just walked out, leaving the case behind.
"It seems the PX system still had tons of this nasty Mitchell beer in their inventory. With all the American units standing down and going home, the PX was desperately trying to get rid of this stuff. Under government rules they had to clear it off their books. They could write it down and sell it at a discount, or else they had to ship it all back to the US.
"A month later, Mitchell beer was going for a quarter a case, then a dime a case, then a nickel a case, but still no takers!
"Finally, in the spring of 1972, at the giant PX warehouse in Nha Trang, they got a great idea: 'Let's let the little people steal it!' That way, they could write off the beer as stolen and be finished with it. So one evening they moved all their pallets of Mitchell beer just outside the PX warehouse yard by fork-lift. Then they instructed the MPs to stay completely away for the entire night. That should take care of it!"
"So, what happened?" asked Captain Kenny.
Tony Williams continued. "Next morning, when they came in, the little people had been there in the night, sure enough. They had broken down the pallets of Mitchell beer and stacked the cases to build a ramp over the fence. Leaving the Mitchell beer behind, dang if they hadn't gone over the fence and stolen all the Coke and Pepsi in the whole PX storage yard!"
IN MEMORY OF BILL AND TERRY AND EDDIE AND JERRY