The "Tales from Nick's FARRP" series are a fictionalized version of real events and are dedicated to the memory of friends and classmates from the Class of 1969.
"So, Kenny, tell me what 'airborne' is all about." 
*     *     *     *     *     *
I was speaking to one of the regulars at the bar in Fayetteville, NC, that I inherited from my late Uncle Nick, Captain Kenny Wayne.  Kenny was known as a "master blaster," which is Army talk for somebody who has been a paratrooper for a long time.  All of the regulars here at the bar, known as Nick's FARRP, are Army guys.  Since I know nothing about the Army, I am always asking them questions.  My name, by the way, is Gil Edwards.
*     *     *     *     *     *
"Well, Gil," Captain Kenny began, "the obvious answer is that 'airborne' means the paratroopers who are qualified to parachute from airplanes."
"Yeah, I know that much," I said.  "So, how did you get into jumping?"
"Well, actually," Captain Kenny began, "I went to jump school back when I was at school."
"What Kenny means any time he says 'at school,'" interrupted Major Tony, another regular here at the FARRP, "is, 'when he was a cadet at West Point.'  He's trying to be modest, although being a West Point graduate is hardly anything to brag about, especially when he gets to sit next to a Texas A&M grad like me."
Captain Kenny responded, "Texas Aggies, like the illustrious major here, think they have the supreme pedigree as Army officers.  What I don't get is why you would ever pay out of your own pocket to go through officer training."
"You're just jealous," Major Tony shot back.
"As I was saying, before being so rudely interrupted," Captain Kenny continued, "I went through jump school as a cadet.  After I finished my second year, in 1967, I volunteered to go to Fort Benning on my summer leave, to earn jump wings on my own time."
"So, then, what does it take to earn jump wings?"  I asked.
"First off," Captain Kenny replied, "you have to be a volunteer.  You can't order someone to jump out of an airplane.  To become jump qualified, a volunteer must go through 'jump school,' a three-week course down at Fort Benning.  Then, to finish the course, you make five jumps from Air Force cargo aircraft.
"Then my subsequent duty that summer was serving as an airborne infantry platoon leader in the 101st Airborne Division.  I got three more jumps with my troops at Fort Campbell, for a total of eight as a cadet.
"Was that unusual?"  I asked Kenny.
"Back in the 1960s it was," he replied.  "A few cadets who had prior enlisted service had jump wings before entering.  But most West Pointers went to jump school as lieutenants after they graduated.
"So once my third year, we call it 'Cow' year, began, I got to thinking.  I wrote up a proposal that West Point should send all cadets to jump school during their summer duty that begins their 'Cow,' year.  I explained that, even though jump school is normally three weeks, a large part of that is physical conditioning.  So, a class of West Pointers could easily complete the course in two weeks.  There was already a two-week summer period for all new Cows (Juniors), called June Encampment.  We all called it June Entrenchment, because it was just a despised time killer.  Since cadets were already in pretty good shape, I said the new Cow class could just as well spend those two weeks at Fort Benning earning jump wings.
"In my proposal, I explained that the Army could save a lot of time and expense by not having to pay lieutenants travel expenses, since cadets would gladly do it for free, just like I had done.  Morale would go sky high.  I did fail to consider that all paratroopers have to be volunteers, because I couldn't imagine why anyone would not want to jump.  But some people actually don't want to.  Even cadets.  Beats me.
"Anyhow, I typed my two-page proposal up and sent it up my chain of command, through our Regimental Commander, a new colonel named Alexander Haig, to the Commandant of Cadets, Brigadier General Bernard Rogers.  Both of those guys wound up as four-star generals just a few years later.  Anyway, I never heard anything back about my idea, so I put it out of my mind and went on my way.
"But dang if, shortly after our graduation in 1969, West Point didn't open up Jump School as an option for summer duty for new Cows.  And a year later it became an option for ROTC cadets as well.  They actually adopted my proposal.  There's no telling how much money the Army saved by sending cadets to jump school instead of waiting until they are commissioned officers.  Maybe, it wasn't such a bad idea after all."
"You know, Kenny," Major Tony said.  "I knew that jump school was made an option for ROTC cadets in 1972, but I never knew that was your idea. Not bad."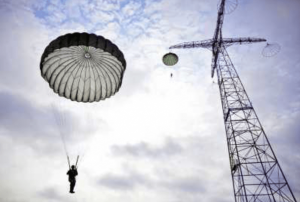 "Well, then," I asked Captain Kenny, "what did you do after you graduated West Point?"
"After graduation leave, I reported in to Ranger School at Fort Benning.  Already being jump qualified, I went through on jump status as an airborne Ranger.  From there I went to my Armor Officer Basic Course at Fort Knox, and from there I reported for duty at the 82nd Airborne Division here at Fort Bragg.  I got enough jumps in Ranger school plus once I got to the division that they covered me for jump status and pay through all of my basic course and leave and travel time.  Counting my two months as a cadet, I already had nine months on jump status when I hit the division.
"There is always rivalry within the paratrooper ranks.  When I was in the 101st, we put down the guys in the 82nd by calling them 'almost airborne.'  You see that red, white and blue painting of the 82nd patch on the wall there?  The 'AA' butt-to-butt in a blue circle on a red square stands for 'All American.'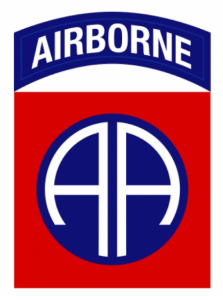 When I got to the 82nd, we in turn referred derisively to the 101st Airborne Division, whose insignia is the 'Screaming Eagle,' as the 'puking buzzards.'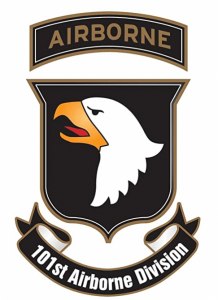 "My orders for Vietnam came through during the summer of 1970, and I was assigned to the airborne armored cavalry troop of the 173rd Airborne Brigade, E Troop, 17th Cav.  So, I stayed continuously on jump status from the summer of 1969 until the summer of 1971, when the 173rd rotated back to Fort Campbell.  By that time my branch transfer to the Corps of Engineers was getting processed.  So, I spent every day of my time as an armor officer on jump status, and never jumped again as an engineer until I got back here to Fort Bragg."
Major Tony spoke up, "I always wondered how you got enough months on jump status to make master blaster.  It takes 36 months on status and at least 65 jumps."
"Yeah," replied Captain Kenny, "when I got back here to the airborne engineer battalion, I had 27 months on jump status, but I sure did a lot of jumping during the next year."
"So, Kenny, what's so great about being a paratrooper, anyway?"  I asked.
"Well, Gil," interrupted Major Tony.  "Do you remember when you first got here and Chief Rod was telling you about the Cav?  He told you that armies tend to recognize elite units by their willingness to do something completely insane in combat.  When I was in the Mexican Army, their elite units are the horse cavalry troops, who train to attack tanks, artillery and machine guns on horseback.
"But for our American troops, it is the willingness to enter the battlefield suspended from a parachute.  Totally insane in this century.  And I say that as a Special Forces combat veteran.  All Special Forces troops, as well as Rangers, have to be jump-qualified as a prerequisite."
"Funny thing," Captain Kenny said.  "You don't have to be a paratrooper to go to Ranger school, but you do have to be jump qualified to serve in a Ranger unit.  And you don't need to be a Ranger school graduate to be in a Ranger unit, just airborne.  Another funny thing:  Ranger school is the only training program in the US armed forces where successfully completing the course doesn't necessarily earn you the course award.  Only some Ranger graduates are awarded the Ranger tab, that yellow arc that says 'RANGER' inside."
"Another funny thing," spoke up Major Tony.  "The regulations say there are two ways to earn jump wings.  Hardest way is to volunteer for a combat jump, whether you are jump qualified or not.  Primary way is 'to complete a ground course of instruction' and then make five jumps.  A jump is defined as to 'exit an aircraft while in flight.'  It doesn't say airplane, and it doesn't say use a parachute.  Sometimes, when a paratrooper, especially a senior officer, has been injured, he can continue to qualify for jump pay by making water jumps.  That means a helicopter hovers over a body of water and he hops into the drink, to be fished out right away by guys in a boat.
"During the Vietnam ramp-up," Major Tony continued, "I knew of specialists, mostly signal types, who were being rushed from Fort Bragg to fill critical billets in 5th Special Forces headquarters units.  Since all of Special Forces personnel must have 'silver wings upon their chest,' these guys had to be jump qualified.  Their jump school consisted of one afternoon at Sicily Drop Zone, being taught how to make a parachute landing fall for an hour or so, then taking five rides in a helicopter to make their parachute jumps.  Even the ones who were banged to hell by the third jump were loaded with Darvon and completed their final jumps semi-comatose.  They were told they could convalesce on their plane trip to Vietnam."
"Back to your question," Captain Kenny resumed.  "The real value of paratroopers is that they think they are supermen.  They have demonstrated the guts to do something, repeatedly and voluntarily, that no sane person would ever do, and they think all '*legs' [* is pronounced with a spitting sound] are inferior troops.  They are fond of saying, 'Yea, though I walk through the Valley of the Shadow of Death, I will fear no evil, for I am the toughest SOB in the valley.'
"Let me give you an example.  In the 82nd Airborne Division museum over on post, there is a display that illustrates what I am saying.  During the World War II Battle of the Bulge, when German forces were overrunning our panic-stricken troops far and wide, a US Sherman tank was racing through the Ardennes Forest.  Approaching a young corporal from the 82nd Airborne standing in the trail, the tank commander yelled, 'Hey, mac.  Do you know where we can find a safe area? 'The kid replied, 'Just pull in here behind me. I'm an American paratrooper, and they ain't coming past me.'"
In memory of Bill and Terry and Eddie and Jerry
Editor's note: The Nick's FARRP series was written to remember the lives of some special men, members of the Class of 1969. Four of them were lost as young men soon after graduating from West Point as they were serving their country in Vietnam. The author, Guy Miller, was close to each one of them. One of the them was not only a high school friend, but also a roommate at West Point. The two of them shared a room Cow year (Junior) with another of the men remembered in the FARRP series. Guy was roommates twice with one of the men in the stories: Yearling (Sophomore year) and Firstie (Senior) year. Besides being a West Point classmate, another of the men in the stories served with Guy in the 82nd Airborne Division as young officers. Guy's hope in writing this historical fiction series was to introduce you to his friends and to memorialize these great patriots. Miss Peggy is patterned after the widow of one of the men in the stories.  Each of the stories is based on real events given to you through the personalities of these men who were close to Guy and who are remembered fondly by Guy and members of the Class of 1969. We hope that you enjoyed meeting all of them.