My path into USAF from West Point was due to my dad. Army policy at the time allowed graduating cadets to be commissioned in another DoD branch if they were connected by way of a parent who was a career officer or NCO or if they were prior enlisted in that branch. My inspiration was my Dad's story from an Oklahoma farm to commanding a heavy bomber crew in WW2 to flight testing the first swept wing jet bomber (B-47) on the planet to Mach 2 in an F-4. Those of us that went to AF pilot training were pipelined into the system with newly commissioned USAFA grads so most of our student pilot classmates were zoomies. AF policy at the time was to not send newly graduated pilots to front line tactical fighters… F-100s and F-4s at the time. I ended up as a KC-135 copilot as did many others. Once in the system, it was common to move us around to seemingly unrelated parts of the Air Force.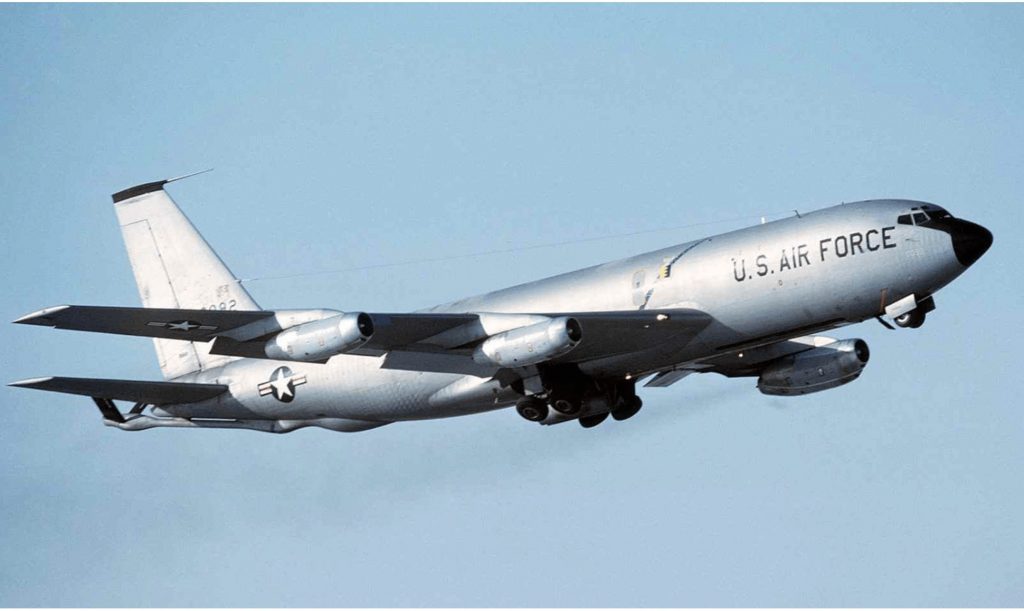 After pilot training at Reese AFB, TX, I became a KC-135 copilot at Dyess AFB, TX. It was a pretty typical first assignment at the time. In 1971, I began what would be most of my flying was out of U-Tapao Royal Thai Air Force Base, Thailand and Kadena Air Base in Okinawa. U-T missions were mostly fighter support over North and South Vietnam, Laos, and Cambodia. One that sticks in my memory was a night mission into southern China with 4 F-4s in formation carrying only air-to-air missiles and no external fuel tanks. My KC-135 tanker was for all practical purposes the "external fuel tank" for those 4 Phantoms. As a result, we were continuously "passing gas" as they took turns on and off of the refueling boom to keep topped off with jet fuel. A few minutes after passing the Plain of Jars in Laos my navigator exclaimed "Do you guys know where we are?" Yes, we did. The Plain of Jars, known in French as PDJ, located in central Laos, was constantly fought over, and changed hands frequently.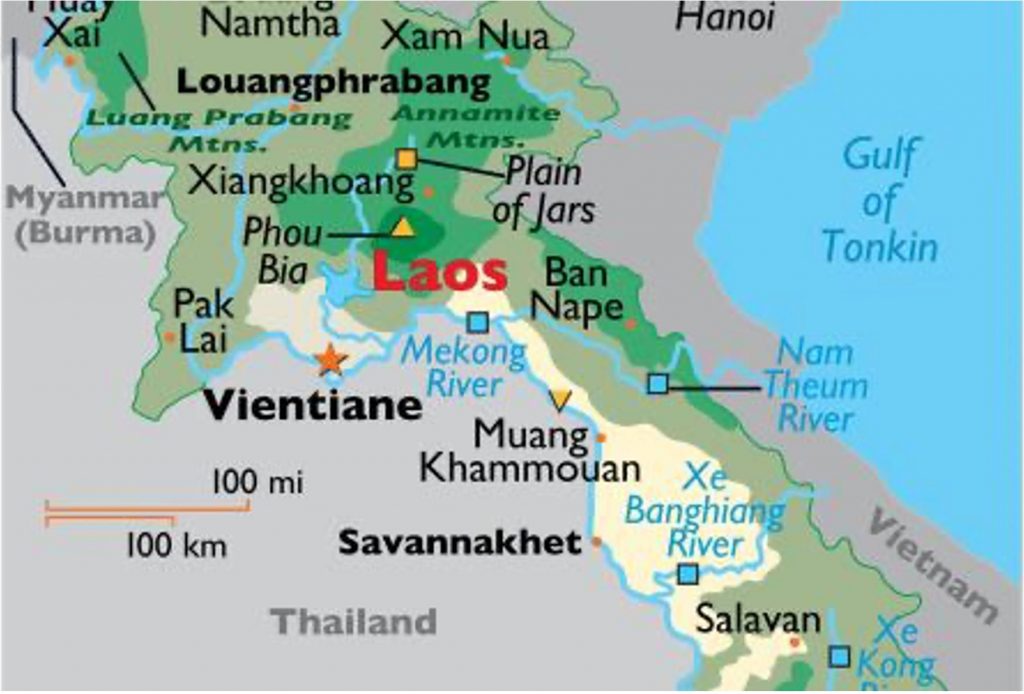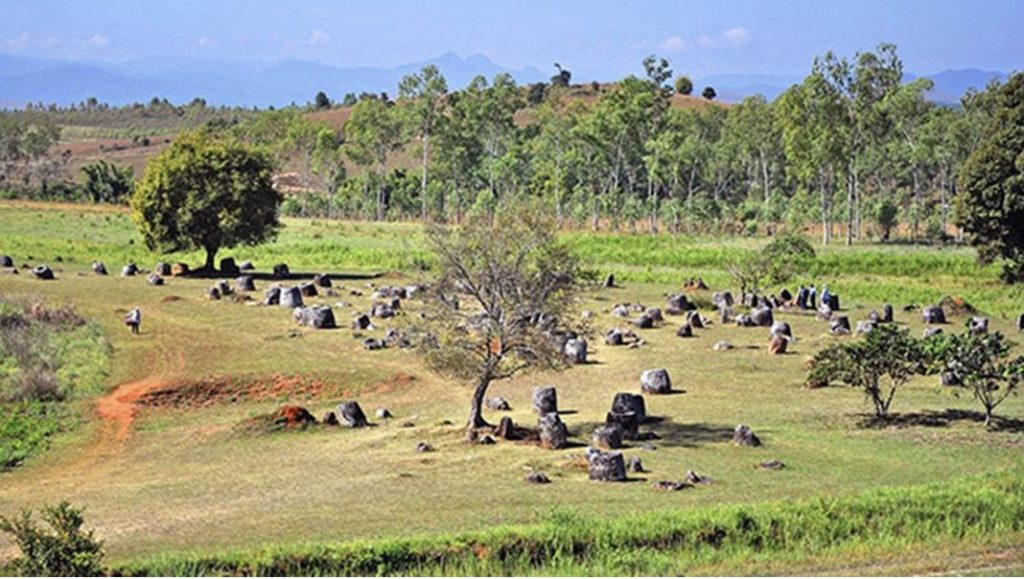 Ancient Laotian culture buried their dead in large clay pots there, hence the modern name. At the time "Plain of Bomb Craters" would have been more appropriate. Our F-4s dropped away and we did a couple of big circles and they returned after a bit with a lot of missiles missing. All done in radio silence; we then headed south back into Laos and then our bases in Thailand. One of 2 times I actually put on my parachute in the KC-135. A useless gesture since the airplane did not have ejection seats for high speed and high altitude.
Kadena flying was mostly B-52 support. The other time I actually put on my parachute in the tanker was when we came back to Kadena one night on fumes into a driving rainstorm dropping the visibility down to PAR (precision approach radar) minimums, the runway ankle deep in water, and maximum crosswind. Normally, a radar controller with a very precise 3-dimension radar talked airplanes all the way down to touchdown. A quarter mile visibility was usually our minimum acceptable, but if there is no Plan B, you'll take anything! Enough fuel for one shot at the runway and then bail out into Naha Bay. After landing it felt as if we were water skiing down the runway.
While at Kadena, I was assigned to flying an OV-10 Bronco at the 56th Special Operations Wing at Nakhon Penom Royal Thai Air Force Base in Thailand.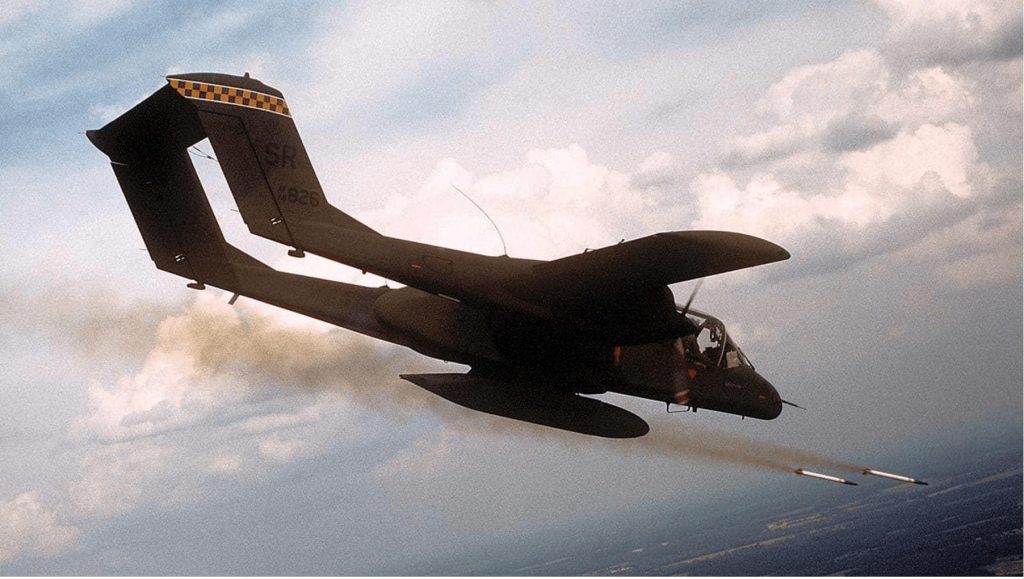 The OV-10 was designed as a counter-insurgency aircraft. It had two turbo-prop engines, long landing gear struts, and was armed with various bombs, rockets and 4 M-60 machine guns. It could operate out of small airfields as needed. It was flown by one pilot but had a rear cockpit for an occasional observer. The other airplanes in the wing were CH-53s, HH-53s, AC-130s, MC-130s, HC-130s, and EC-47s. The C-7s, A-37s and A-1s had already been transferred to the Vietnamese Air Force. Like the special operations forces in the other DoD services, we were USAF's swiss army knife in Southeast Asia. Perfect job for a bachelor too dumb to know that his 25th birthday was not guaranteed. One engagement (out of a lot of options) of note was an all-day running gunfight outside of a Cambodian provincial capitol under attack by the Khmer Rouge. Another of our OV-10s had been over head since sunup and had done a great job of setting up the fight that was rapidly building. Rick (later the USAF chief test pilot on the B-2 program) gave me a detailed briefing on the tactical situation and I set about dodging .51 caliber heavy machine gun fire, mapping out the attackers' positions, and telling the Airborne Command and Control Center (a highly modified C-130) to send me tactical fighters (an assortment of F-4s and A-7s as it turned out) with general purpose bombs on board. A couple of MK-84 (2000-pound bomb) Laser Guided Bombs from an F-4 took out (vaporized actually) an observation post on the 2nd floor of a former schoolhouse. Another F-4 put a string of 6 unguided MK-82s (500-pound bomb) within 50 meters of the friendlies. Scared the hell out of me but the translator said to keep it coming; we had caught a company plus in the open and there would be no survivors. And so, it went for a while; the good guys were winning. After a couple of hours my relief arrived, and I handed off the situation to him. By the time I landed back in Thailand, he was KIA. One of our helicopters picked up the body the next day. First Distinguished Flying Cross for me…not too sure I deserved it.
Post war, I got an assignment as an instructor pilot in USAF pilot training. Thus, began my tenure in the post-war peacetime Air Force. Probably about as frustrating to me as my Army classmates while political correctness overcame common sense. My dad's example from Depression Era farmer to WW2 combat pilot to flying what was then leading-edge technology jet aircraft was inspirational to me even if I didn't always grasp it growing up. Airplanes seemed like a natural part of my life and they fascinate me still.