My sister, Dotty, three years behind me in school, wound up being on two TV quiz shows, "Jeopardy" in 1970 and "Who, What, Or Where" in 1972.  I was instrumental in getting her to apply to the first, and there's a very cute story involving me on the second.
I knew that I was going to be assigned to Viet Nam after Airborne, Ranger, Engineer Officer Basic Course, and a few months stateside with an Engineer Battalion at Fort Meade.  I also realized that I would not be as good a contestant of the daytime TV show "Jeopardy" as Dotty would be.  I was a numbers man, with lots of courses in math and science, and that show was more for liberal arts majors.  She was high school valedictorian and majored in English at Princeton.  I was sure the "Jeopardy" folks would also like the fact that she was a very pretty red-head.  So I wrote for the application.  When it came, I said to my sister that there wasn't enough time for me to try-out and be on the show, so she should use the application instead of me.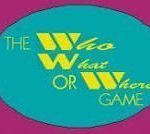 She sent in the application and I went to Viet Nam.  Sure enough, she was on for four shows.  I got to see three of the shows when I got home, because they had been videotaped.  The first one had not been.  It was a lot of fun seeing my own sister on the videotape of the TV show, set up in our living room.  She didn't win a lot of money, because she never got the Final Jeopardy answer correct, but it was quite an experience for her.  All told, she won $1,740.  Besides money, she also received a case of Mogen David wine, and a set of the Encyclopedia International.  I sampled the wine, and she didn't want the books so I had them for years.
"Jeopardy" was on at 12 Noon in our time zone.  On her own, she decided to apply to another show, ""Who, What, Or Where".  This followed at 12:30PM.
Most people know "Jeopardy" because it's still on, the original host, Art Fleming being succeeded by Alex Trebek.  The other show didn't have a long run, so I need to explain how it worked.  The contestants were each given a hundred dollars. Then a category was announced.  Let's say, for example, it was Thomas Jefferson.  A "Who" question might be: Who was President when Jefferson was Vice-President?"  (It might be any number of other questions, too.)  A "What" question could be "What famous document did he write in 1776?"  A "Where" question could be "He founded a University.  Where is it located?"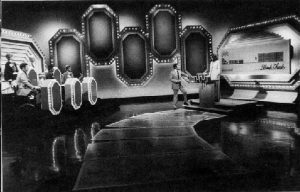 No one knew beforehand just what questions would be asked, and some of them were even-odds, and some might be 2-for-1 or even 3-for-1, meaning if you got it right, you got more money than you bet.  Once the category was announced, the three contestants placed bets.  If all three bet on different categories, each got to answer a question in that round.  But if two or all three bet on the same question, only the top bidder was able to able to continue, and the others were out of luck in that round.
In 1972 I was a Captain, commanding Company D, 43rd Engineer Battalion in the Harmony Church area of Ft. Benning, GA.  Usually, I ate in the Battalion Mess Hall at lunch time, or continued working as I ate a bag lunch in my office.  But one day I went into the nearest barracks, which we had just converted into two person rooms, doing the work ourselves as a part of the new VOLAR (all-volunteer Army. From 1940 to 1973, the United States required all young men, 18-25, to be registered with the Selective Service System. In this way, the Army could call up men to join the Army when needed. In 1973, after the Vietnam War years, the Army began to use only those who volunteered to serve.) Final Jeopardy was just concluding for that day's show.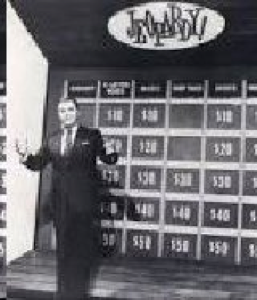 This was lunch time, of course, Noon to 1PM.  There were five soldiers in the room watching "Jeopardy".  One questioned what I was doing there.  I, in turn, asked if they were going to watch "Who? What? Or Where?" next.  They replied that they were.  I announced that my sister was going to be on the show, and asked if I could watch with them.  They didn't believe me, but several minutes later, out walked Dotty Jannarone.  Immediately, the word spread.  And then, of course, soon after came the plaintive cry, "Oh, Sir, in honor of your sister being on TV, can we have the afternoon off?"  I had no authority to grant such a request, but I said, "Well, I'll tell you what.  If she wins," and I hesitated, "a thousand dollars, I'll let everybody have the afternoon off."  So she answered a few questions right, so did the others, and going into the final round she had $645.  In the final round, she was outbid by one of the other contestants, so she couldn't compete, and had to settle for that amount.  When the show was over, I said "OK, men, let's go out for afternoon formation."
No one ever caught on that the show was taped a month before, and I knew all along what she would win.